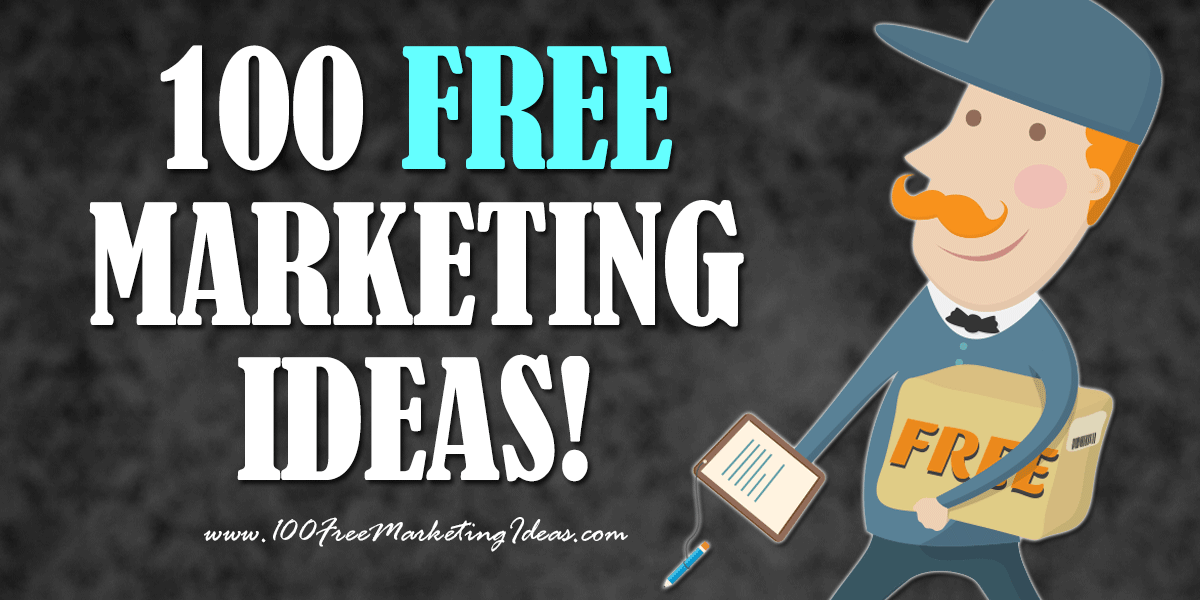 The 100 FREE Marketing Ideas have been rebuilt from the ground up!
It was funny, when I sat down to do this year's version, I realized that so much had changed in just one year.
Many of the ideas were just not viable anymore (like blatant SEO) and some were taken over by free technologies (who needs a meeting service when there is google hangouts and why have video email when you can pop a video into almost any email client now!)
That said, there are AMAZING new technologies out there that are now ROCKING the free marketing world…here are just a few of the areas that we cover:
Free Online Marketing Ideas
Social Media (of course – but just a bit)
Social Media Tools
Blogging
Media Marketing
Search Engines
Website Monitoring
Video
Content Marketing
Email Marketing
Meetings & Webinars
Reviews & Testimonials
Free Offline Marketing Ideas
Networking
Event Marketing
In Person Brandig
Public Speaking
Writing A Book
Free Giveaways
One-On-Ones
Direct Mail
Once you click the button, filling out your name and email in and click submit, you will immediately be able to download the PDF version of the marketing ideas that have been updated for this year! (if you have trouble seeing it in the browser, we will send you a link via email too!!!)
About the 100 Free Marketing Ideas
I am pleased to help small business owners with my TOTALLY FREE, 100 Free Marketing Ideas Handout to help grown your business! These are not re-hashed, out of date concepts but have been updated for THIS YEAR.
If you are here, you visited my Marketing Artfully website or attended a networking event or heard me as a marketing speaker somewhere!
I offer these 100 Free Marketing Ideas to anyone who wants them, with full rights to share them or send this link on to someone else who you thing could benefit from them! I only ask two things:
If you use them and have great success,  email me an let me know!
Please do not take off the link to this website
Thank you SO much for your interest in the 100 Free Marketing Ideas! This is actually a handout from a Free 15-30 minute speech that I give at networking events. If you have a networking event in the Denver, Boulder, Clearwater or Tampa area that you would like to have a speaker for, give me a jingle at 727-415-9165! Thanks Tara
(Visited 275 times, 3 visits today)