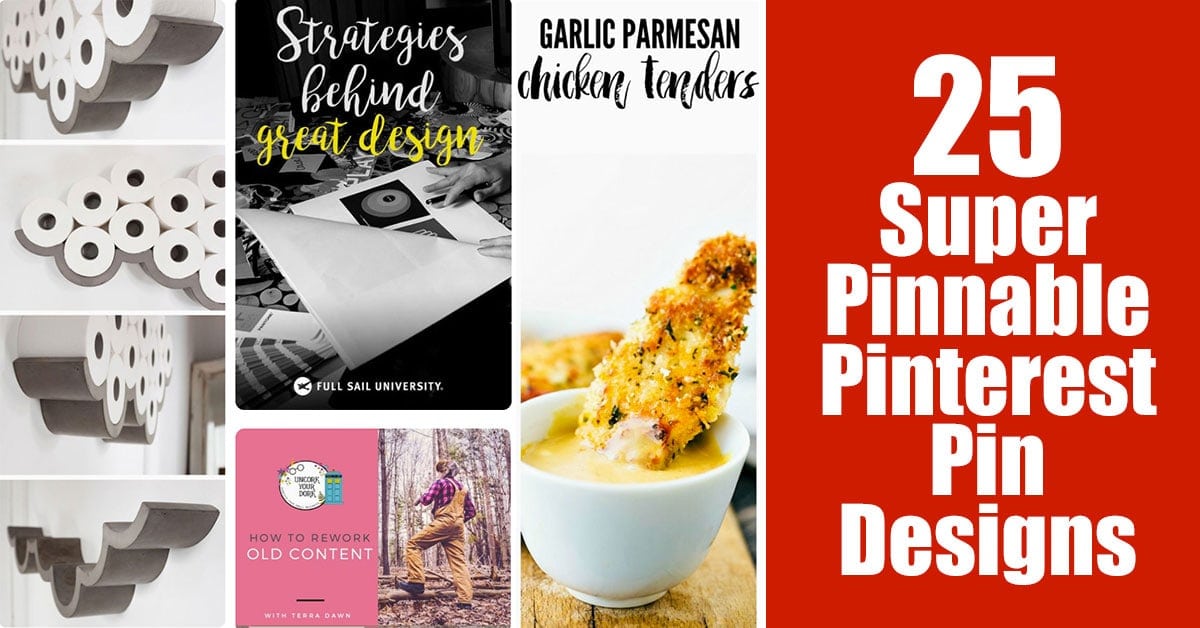 This post started out as many of my favorite posts do… I was curious about what made me like different Pinterest pins.
I have a plan in the coming months to really work on increasing my traffic from Pinterest so I wanted to get a feeling for what super pinnable Pinterest pin designs looked like.
With that in mind I picked 25 Pinterest pins to use as examples!
My criteria for picking – design. I had to be attracted by it or looking for a particular style. It is subjective because they are all picked by me.
My criteria for picking – Pin count. There are pins here between 44 and 248,000. While it would be great to only look at pins that have hundreds of thousands of pins, we don't know how they got that way. Did they pay for sponsored posts? Did their pin get shared on a site like Buzzfeed? I wanted to have a mix of design elements and successful pinning at a level that works for all of us!

White Background Bold Lettering
Main theme: Picture jumps off the pin and mixed lettering makes it fun and interesting
Ratio: 1 to 3
Number of pins: 77,000
Number of words: 4
Website: No
Why it works: I thought that this would be a fun one to start with since it is so graphically pretty (and yummy looking).
I stalk the food bloggers because of their huge numbers. Their web hits put most of us marketing peeps to shame and their pin numbers are huge.
This pin works because the picture is stunning, obviously this blogger is a good photographer, but also because of all the "negative space" in this pin.
That big white area is a place for your eye to rest on the Pinterest feed and then the bold contrast words at the top jump out.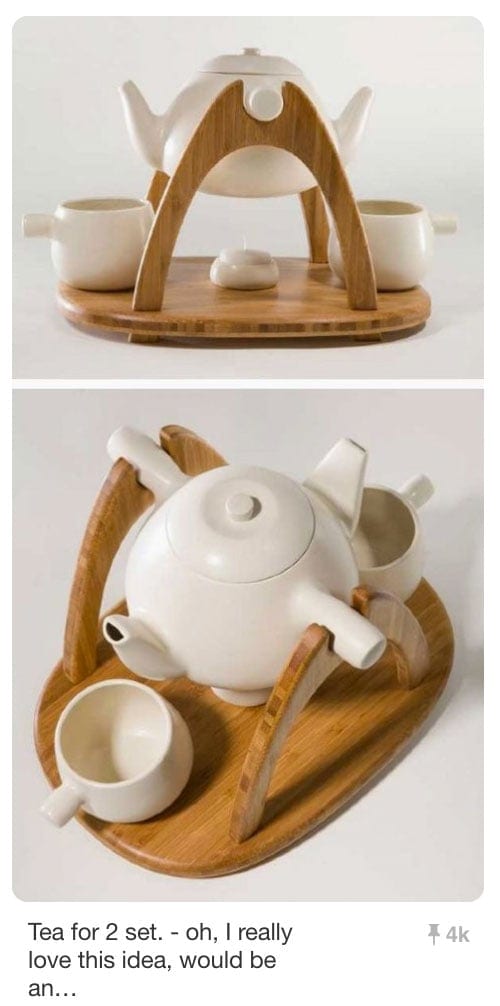 Product Photography, Two Views
Main theme: Factually correct pictures of a product
Ratio: 1 to 2
Number of pins: 4,000
Number of words: 0
Website: No
I sell vintage products on Etsy so I am always interested in seeing how other product sellers present their wares.
This one reminded me that I don't have to have 3,4,5 pictures to be effective, oftentimes having just two is enough to show the different angles of the product.
I think I might have used something other than a white background to make this teapot stand out more, but they have good numbers so they probably did just fine!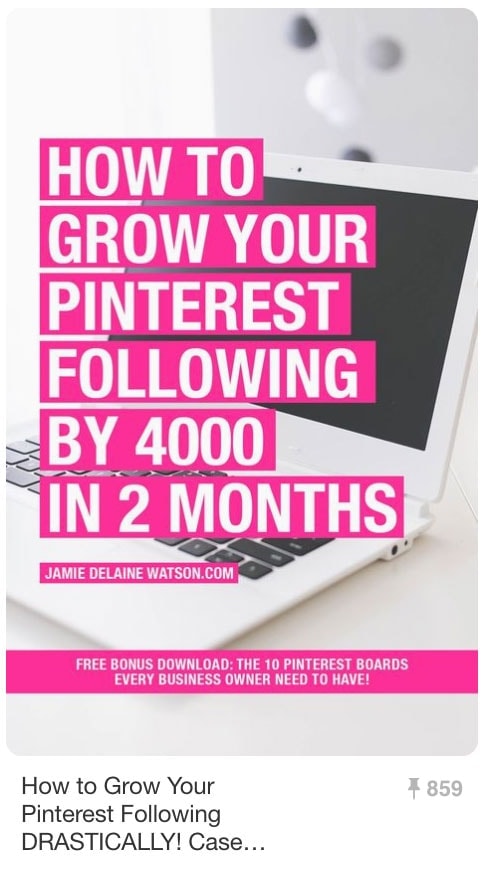 Colorful Contrast Cutouts
Main theme: Black and white picture with pink text overlay
Ratio: 1 to 1.5
Number of pins: 859
Number of words: 24 (holy cow!)
Website: Yes
Why it works: On this picture the pink cutouts jump off the page. Had they used even a blandly colored picture, there would have been way too much going on to really see the title of the piece.
I am surprised they didn't use "Pinterest Red" as the cutouts since that is what this post is about, but the pink works well for the female dominated audience on Pinterest.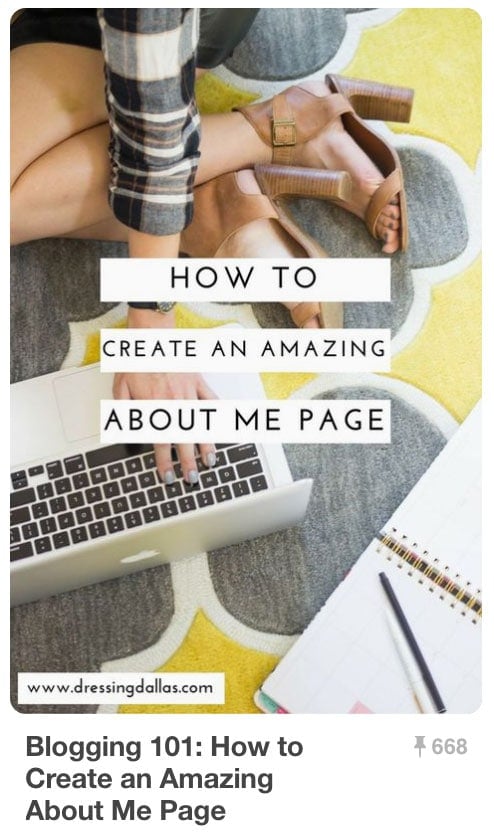 Feminine White Cutouts
Main theme: White and black overlay on a colorful picture
Ratio: 1 to 1.5
Number of pins: 668
Number of words: 8
Website: Yes
Why it works: This one is super interesting to me. The person using the computer is obviously a woman (with the high heeled shoes) which would appeal to the Pinterest audience.
On top of that, the rug beneath her is yellow and gray which are very complimentary colors and popular in home decorating now. It was the yellow popping out that caught my attention on this one.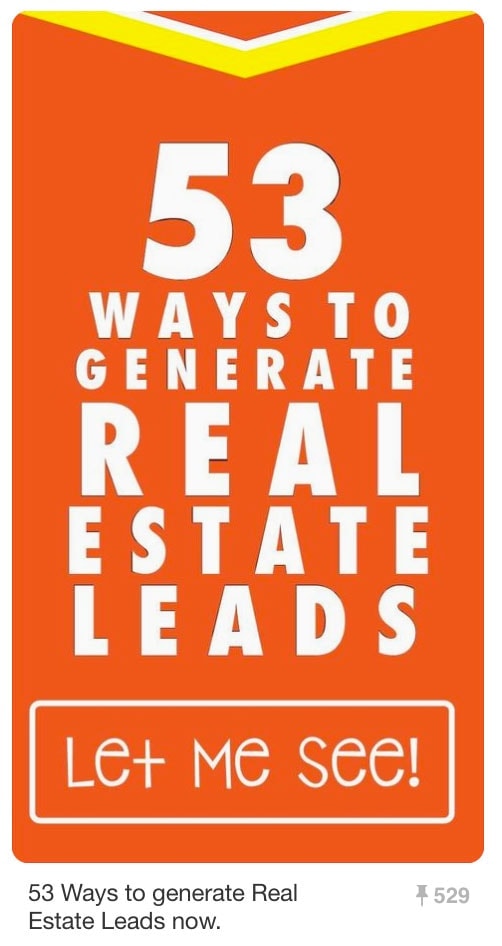 Plain Words On A Pin
Main theme: Stark lettering on a colorful background
Ratio: 1 to 1.75
Number of pins: 529
Number of words: 10
Website: No
Why it works: This is just a bit taller than 1 to 1.5. That made it stand out just a bit in the feed because it made the grid line up a bit differently.
It is very colorful with the orange background and yellow chevron at the top. As Pinterest is full of pictures and complex pins, this one stood out because of its simplicity.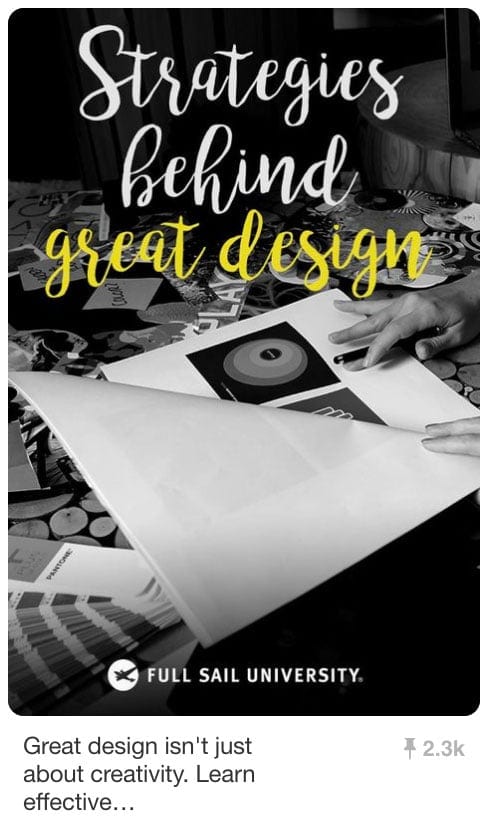 Fancy Words On A Black and White Photo
Main theme: Black and white image with only a pop of color from the words
Ratio: 1 to 1.5
Number of pins: 2,300
Number of words: 5
Website: Yes
Why it works: As a designer I have to say that I love this pin. It is very well made (as it should be from a design university!) The composition is pleasing with the words at the top, the picture in the middle and the website highlighted in black at the bottom.
It would definitely appeal to their target audience, wanna be designers who want to learn about how to make art.
This was the fanciest lettering of the bunch. While it is script, it was still super easy to read.

Multiple Views Of A Product
Main theme: Very monochrome photography with super high contrast in the image
Ratio: 1 to 3
Number of pins: 248,000
Number of words: 0
Website: No
Why it works: If you click through this link, this pin was designed by a Pinterest expert (duh). It is marvelous in its simplicity. Functionally all this is a gray squiggle with some dark circles.
But by showing all of the views it is super easy to understand immediately that it is a contemporary toilet paper holder.
Oftentimes you will find an "expert" who is self proclaimed, I found this pin to be so good that I will myself side in and say that Jess is a Pinterest pin expert.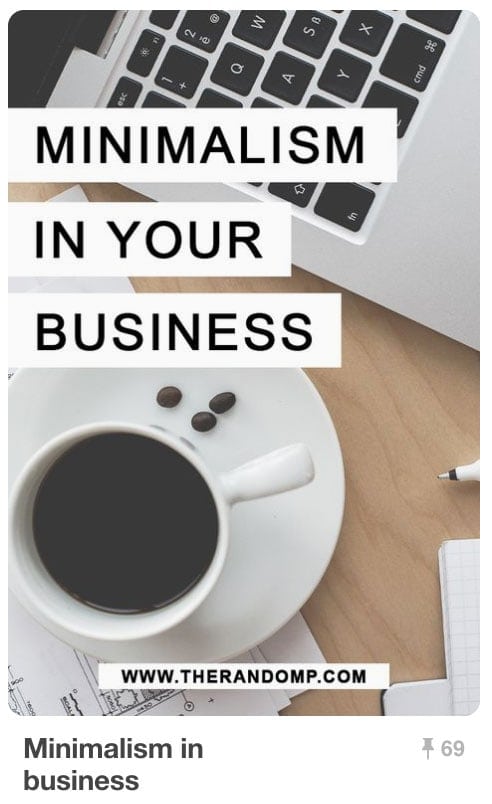 Plain Words On A Pin
Main theme: Black and white cutouts on a neutral background.
Ratio: 1 to 1.75
Number of pins: 69
Number of words: 4 (very minimal)
Website: Yes
Why it works: I know we already saw an example of white lettering, but this one jumped out because of the picture.
It is almost a picture of coffee rather than the laptop or pen. It was amazing to me how many pictures had very little to do with the topic of the link.
I know it is important first to catch eye of the pinner, but I do sometimes wonder what their actual click through rate is when they don't match.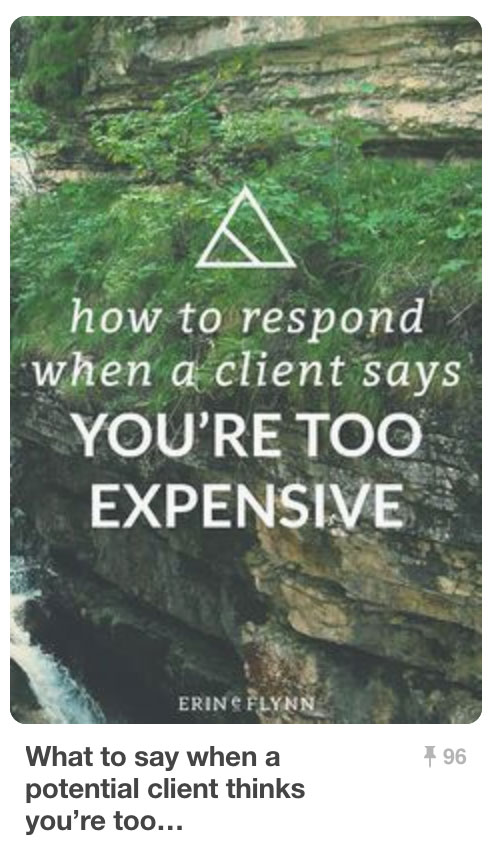 White Words Overlay On A Picture Backgrounds
Main theme: Semi colorful, non related picture with a word overlay
Ratio: 1 to 1.5
Number of pins: 96
Number of words: 10
Website: Yes
Why it works: This one is again a little perplexing to me. The background is just any old image (looks like it could be a river beside a cliff).
What makes it pop is the words and how they are formatted. the top words being in lower case and italics stand out from the lower words that are in a heavier font and all caps.
This is a design "trick" that works well when you want someone to read something.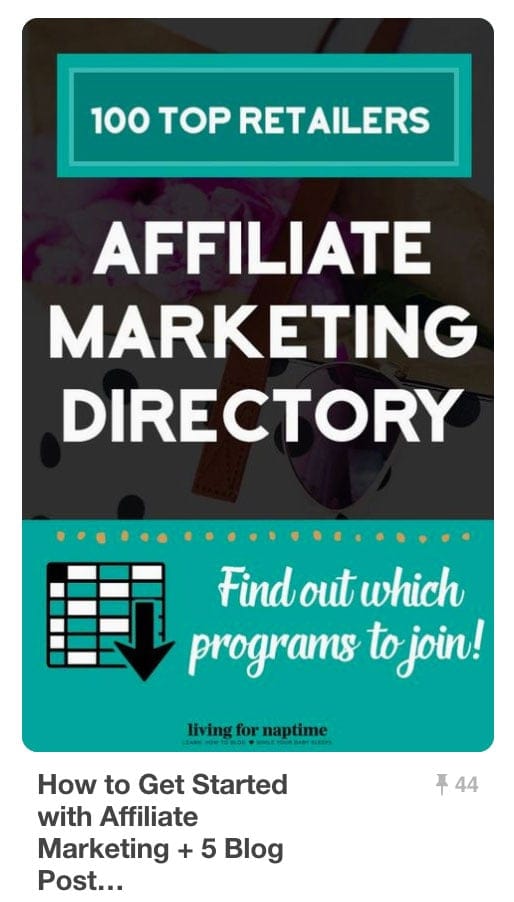 Plain Words On A Pin
Main theme: Dark picture (almost indistinguishable) with lots of words
Ratio: 1 to 1.5
Number of pins: 44
Number of words: 12
Website: Yes
Why it works: This one is super busy but so well designed I had to include it.
This is a great business pin in that has all the elements that are needed in a business setting (it is almost book cover like).
Making the picture almost black is what saves this pin as there are functionally only three colors, black, white and teal.
It is see the main point with the high contrast white letters on a black background. The other information becomes important once someone realizes that this is a pin that might pertain to them.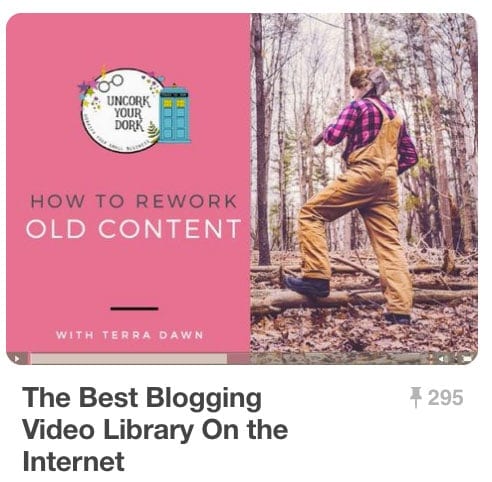 Divided Pin, Half Plain Graphics, Half Picture
Main theme: Website branding, graphic content and picture
Ratio: 1 to .5
Number of pins: 295
Number of words: 8
Website: Yes
Why it works: This one is the shortest pin by far. It works because it is pink (yes pink works on Pinterest) and the two sides are very eye catching.
Because most pins are vertical, a well done horizontal pin does tend to stand out in the feed.
Uncork your dork does a fine job of using her branding on this piece. that round bit is her logo. It is not overwhelming the pin but still makes her branding prominent.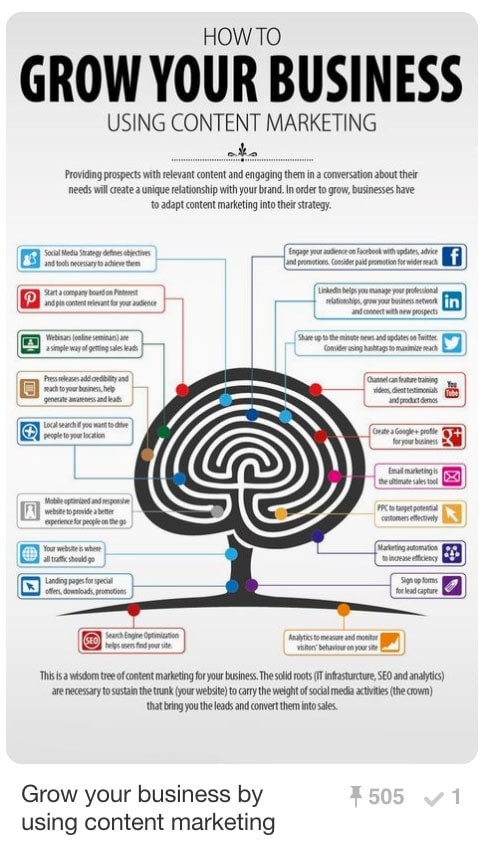 Infographic Picture
Main theme: Infographic
Ratio: 1 to 2
Number of pins: 505
Number of words: 100s
Website: No
Why it works: This is just one example of an infographic … it is not necessarily the best one, but is a representation of the genre.
I am human so my Pavlovian response on seeing an infographic is to salivate. But over the years I have realized that rarely are these helpful.
It is almost impossible to read the tiny little words and they are definitely just "link bait" to get a pin.
Because I am focusing on actual results rather than just the lure of high pin numbers, I wonder how many people actually VISIT a site to check out the infographic. I may be horribly wrong, but the time and energy needed to create one of these seems disportioncate to the amount of traffic to my site I can expect to receive.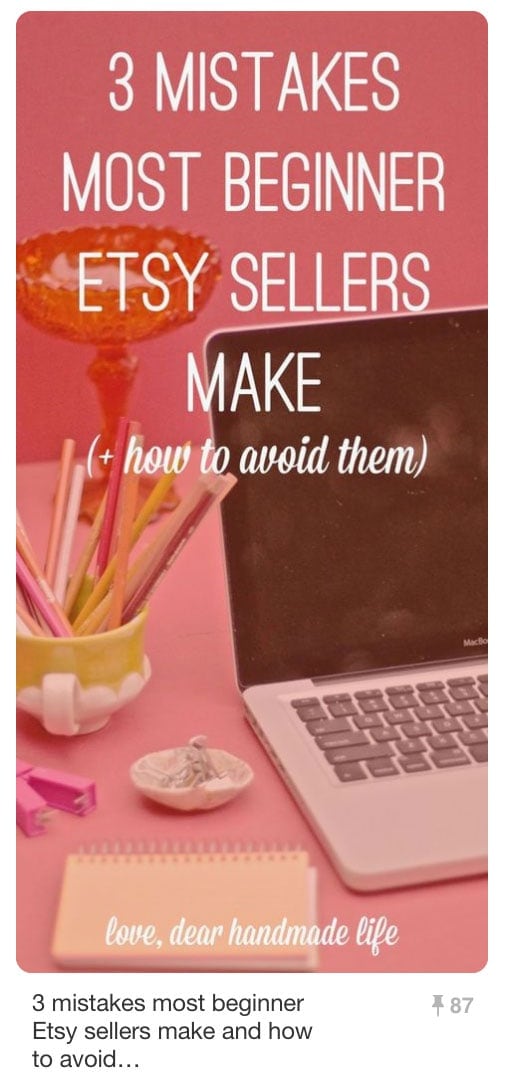 Colorwashed Picture With Words
Main theme: Templated design with words
Ratio: 1 to 2
Number of pins: 87
Number of words: 11
Website: yes
Why it works: These colorwashed pictures seem to do well on Pinterest. Functionally they take any image and overlay a solid color onto it, giving the whole picture a cast or tone of that color.
It is easy to use this kind of design as a template that you can use for any post, simply changing out the picture behind the overlay and using different words.
This is the kind that I talk about in my observations below.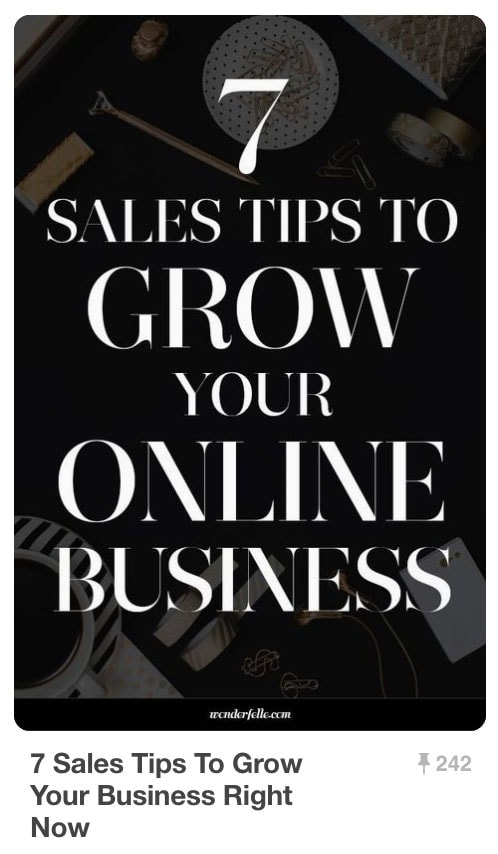 Super Dark Background With White Words
Main theme: Mostly words, slight design for the background
Ratio: 1 to 1.5
Number of pins: 242
Number of words: 8
Website: yes
Why it works: This is the most factually correct kind of pin with very little design (but I see lots of them with many pins so I included it).
In this kind of design you simply screen back the background until almost invisible and then overlay word on top of that.
To me it feels like a step down from the one above that actually has some more useful information on it.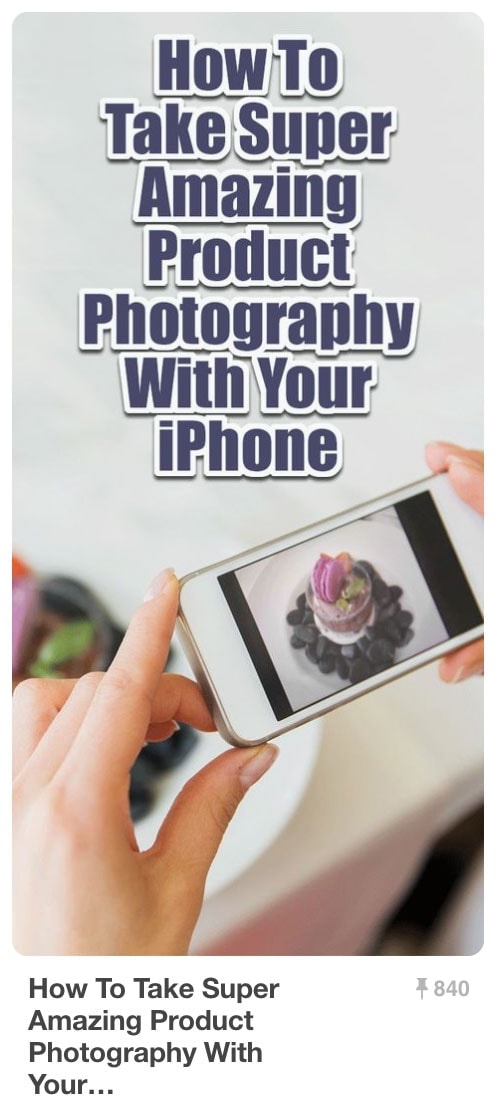 Words Super Imposed On A Picture
Main theme: Relevant image with the title of the blog post imprinted on it
Ratio: 1 to 2
Number of pins: 840
Number of words: 10
Website: no (what was I thinking?)
Why it works: This is my pin and I use this style frequently. It is factually correct in that it is a post about how to use your phone for photography.
Because I can see the analytics for this one, I can tell you that I have received 783 website hits from this pin in the last month. That is 28.85% of all my Pinterest hits. 
Like everything, your pins will probably be an 80/20 kind of thing. 80% of your hits will come from the top 20% of your pins. For this reason I try to make lots of pins and then see if they work or not. It is a combination of great, relevant content with an attractive pin that will get you results.

Lots of Pictures With A Header of the Theme
Main theme: Book covers that people might recognize with a header that shows the genre of the pin
Ratio: 1 to 3
Number of pins: 30,000
Number of words: 9 (not counting the book titles)
Website: yes
Why it works: Book Bub has done a BRILLIANT job of capturing an audience. They have a huge email list of readers and make boatloads of money recommending books that they think people will like.
It seems that their expertise extends to Pinterest. With 40k+ pins, it is easy to see that they understand their audience and what makes them tick.
It is not just a huge list of mysteries or novels, but a super specific list of books that have plot twists in them. I am sure had I looked there would be pins of "cozy mysteries" and "bloody battles".
This pin works in that someone who sees a book that they have read and liked before will probably be willing to pin this to a read later board to find more like that book.
Well done Book Bub, well done.

Two Views With A Title
Main theme: Pictures of a completed recipe and the name of said recipe
Ratio: 1 to 4 (just under)
Number of pins: 216 (+ 1,000s – this pin has been shared by different people and has thousands of hits)
Number of words: 5
Website: no
Why it works: This pin comes from Pinch of Yum (one of the food bloggers that I stalk).
Lindsey, the author and photographer has a style of taking pictures as well as using this middle bar with the dots around it as a template for her tall pins.
That said, there are pictures on Pinterest of this pin, the top one by itself with no words and the bottom one by itself with no words.
When you are doing pin design, it can get really fussy really fast.
It is not always necessary to have this kind of pin. Instead test this kind, stand alone pictures and other variations to see what works best in your market.
I am surprised that she doesn't have her website address on this pin, but then again I didn't have it on one of my best referring pins either.

Tall Pin, Multiple Pictures and Palate
Main theme: Pictures of different parts of a wedding in a color theme
Ratio: 1 to 3
Number of pins: 5,800
Number of words: 3
Website: no
Why it works: This is a super interesting style that is used often in weddings, design and other visually inspiring genres.
I love that there are all those pictures that some designer has pulled together to show brides how their wedding could be color coordinated.
This is super pinnable style that would be fun to figure out for boring markets like marketing or sales.
The color palate at the bottom is another fan favorite of Pinterest pinners. I have noticed that pins with the palate attached are frequently pinned at a higher rate than non-palate pins.
Fully Complete Pin
Main theme: Wedding songs for a "country" style wedding
Ratio: 1 to 3
Number of pins: 30,000
Number of words: 100
Website: no
Why it works: This pin is complete on its own. you can read the words of the song titles and do not have to click it to get the information that you are looking for.
That said, it is one of only two that has a "button" to click on the pin. Interesting because there really would be no reason to click this pin as all the information is right there.
When you click the pin it actually goes to a page that has all the songs in YouTube format there to listen to.
I just noticed now that the title of the post says 60+ and the list is only 14 songs long. That additional amount may help them get more website clicks from this pin.
The reason this pin caught my eye was the cowboy boots at the top that matched the theme of this pin perfectly.

How To Pin
Main theme: A complete start to finish guide on a pin
Ratio: 1 to 4
Number of pins: 71,000
Number of words: 5
Website: yes
Why it works: This is a super cool pin that works on so many different levels.
First off, it makes doing these flowers look super easy. If you can finish a bouquet like this in just 4 easy steps, why not give it a try!
There are a LOT of pictures on this post, 6 in total. That said, it doesn't seem overwhelming because they are all exactly the same style on the same background.
Had they used a different picture at the bottom it might have been overwhelming instead of being unified and calm.
They used and interesting font combination for the words that seems "artsy" to along with the creative theme of the pin.
If you were a crafter and saw this, it would almost be impossible not to pin it. It shows you enough that you think it is possible to do, but complicated enough that you would probably click through for directions!

A Story In A Pin
Main theme: A complete outfit and then all the parts broken out
Ratio: 1 to 3
Number of pins: 1,200
Number of words: 10
Website: no
Why it works: I couldn't do a post like this without commenting on Polyvore. They are a HUGE reason women know better how to dress themselves all matchy matchy.
The website allows normal, non-designer people to put together "looks" and make pins like this that show complete outfits as well as all the pieces that go into making it.
I find the fact that most of their pins are user generated to be BRILLIANT. They aren't working their fingers to bone making pictures, instead they made software that allows their users to make their pictures for them.
There is a "call to action" button on each of the Polyvore pictures that directs people to see 25 more looks. I have to think that the click through rate for these kinds of pins is high.

A People Picture Looking At The Title
Main theme: Be skinny with yoga (oh, relax with yoga)
Ratio: 1 to 2.5
Number of pins: 70,000
Number of words: 7
Website: no
Why it works: Pinterest users are people, and because we are people we tend to do what we see other people doing whether they are in a picture or not.
There has been a lot of research done into how to use the sightline of a pictures person to get people to look at something you want them to.
In this picture the yoga girl is looking at the headline of the post. This is great for this pin as it will let the pinner know where to look too.
Because the words are a similar color to the picture this is almost mandatory or they would get lost.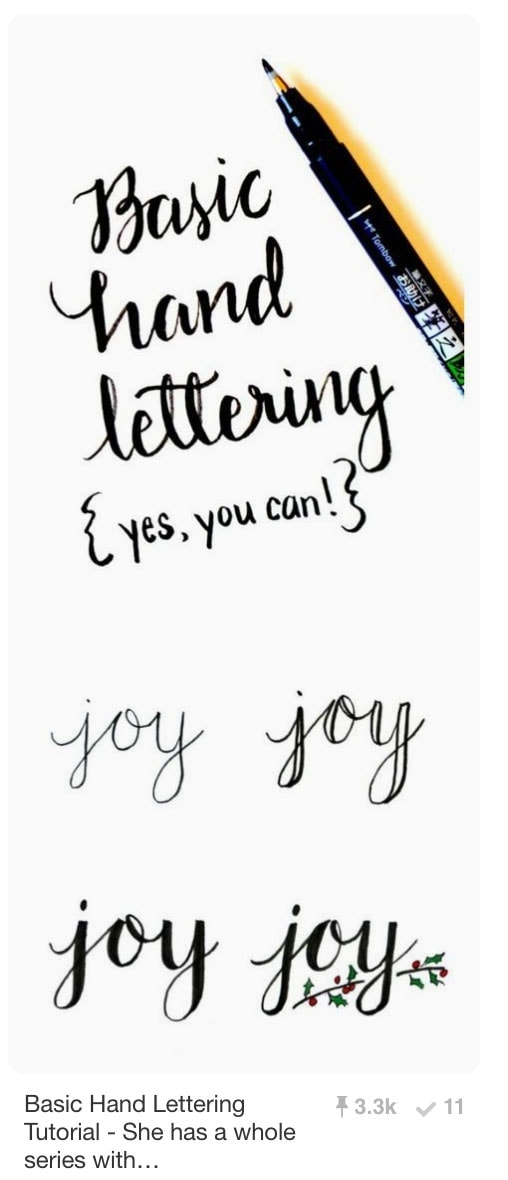 High Contrast How To
Main theme: You can do hand lettering just by looking at this pin
Ratio: 1 to 2
Number of pins: 3,300
Number of words: 6 (not counting the lettering)
Website: no
Why it works: This one is a hybrid of "how to" and "high contrast". There is lots of negative space on this pin which allows the pen and wording to pop off the feed.
it seems like you could just do what they have done in this pin and make pretty lettering for your Christmas cards.
This is a highly templated style for this pinner. All of her pins have the pen, lettering plus a black and white theme.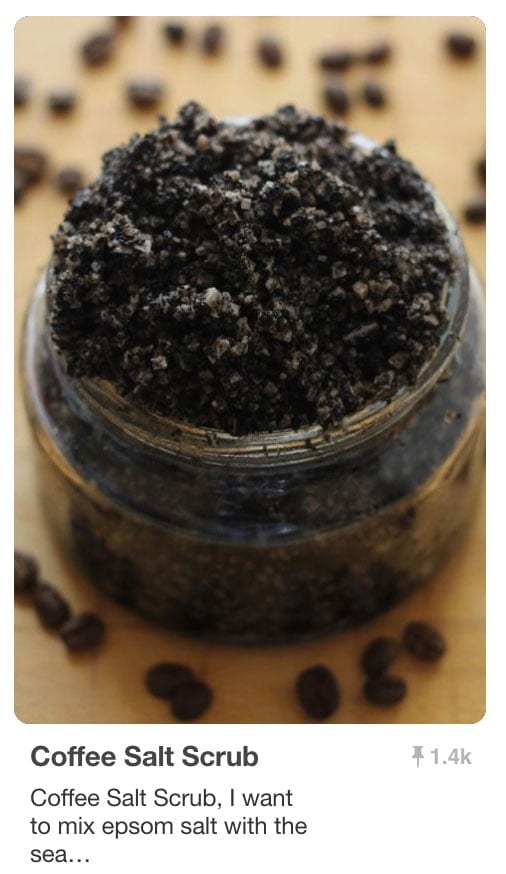 Just A Picture Pin – Dark and Light
Main theme: Coffee and salt scrub
Ratio: 1 to 1.5
Number of pins: 1,400
Number of words: 0
Website: no
Why it works: I couldn't complete this whole post and talk about the elephant in the room, great pictures with no words at all.
Many, many pins are not as designer-y as the ones that I have shown here. Most in fact are just a picture of the item with no words or website.
Now that may seem perfect you to… that is a lot less hard to make, BUT is it really?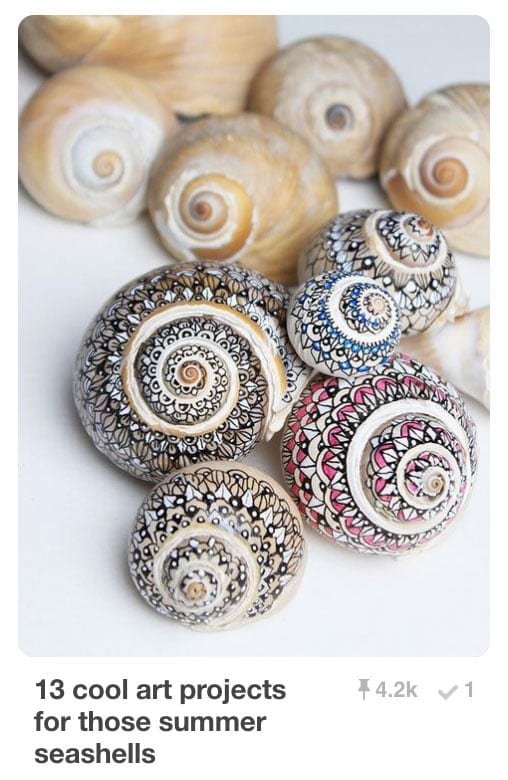 First off, to use just a picture you have to have a GREAT picture. Pinterest is littered with thousands of pins that are just not good enough to pin to one of our precious boards. Most real pinners have a standard that must be met, whether they know it or not.
Then the next barrier is the words. If you are not going to have words on your picture, your first words of your post better be darn good!
Lastly, to be seen well on the feed I found that having either a very dark picture or a very light picture was the most visible. Even super colorful pictures got drowned out in the sea of pins, but dark and light jumped right out!
Interesting things about these pinnable Pinterest pin designs
If you were just looking for Pinterest design inspiration (like I was) you can probably head off now. That said, I did find some super interesting things as I went along checking out these pins and here are some of my top observations.
1. It is great to have "a brand" but it becomes boring when they are all together. Looking around the Pinterest, I found some sites use a template to make their pins. It might be a way of putting them together or a standard color wash or any other number of things. Yes, it did make it easy to recognize their "stuff" immediately, BUT it made distinguishing between the topics of their pins hard.
2. Making your pins just a bit taller than 1:1.5 or 1:2 made the grid of Pinterest arrange itself differently and the pins stood out a bit.
3. While I did not include them a lot, many of the most pinnable images were just single good pictures with no words on them.
4. It is interesting to see how some people put buttons on their pins. One of these was very subtle with just an outline and was was a deliberate button, but I wonder if that inherently makes someone want to click it to open up the pin or share it. (addon – I wonder if it is against Pinterest's terms of service to put "pin it" with an arrow at the top of your pins…hmmm haven't seen that, maybe it is verboten)