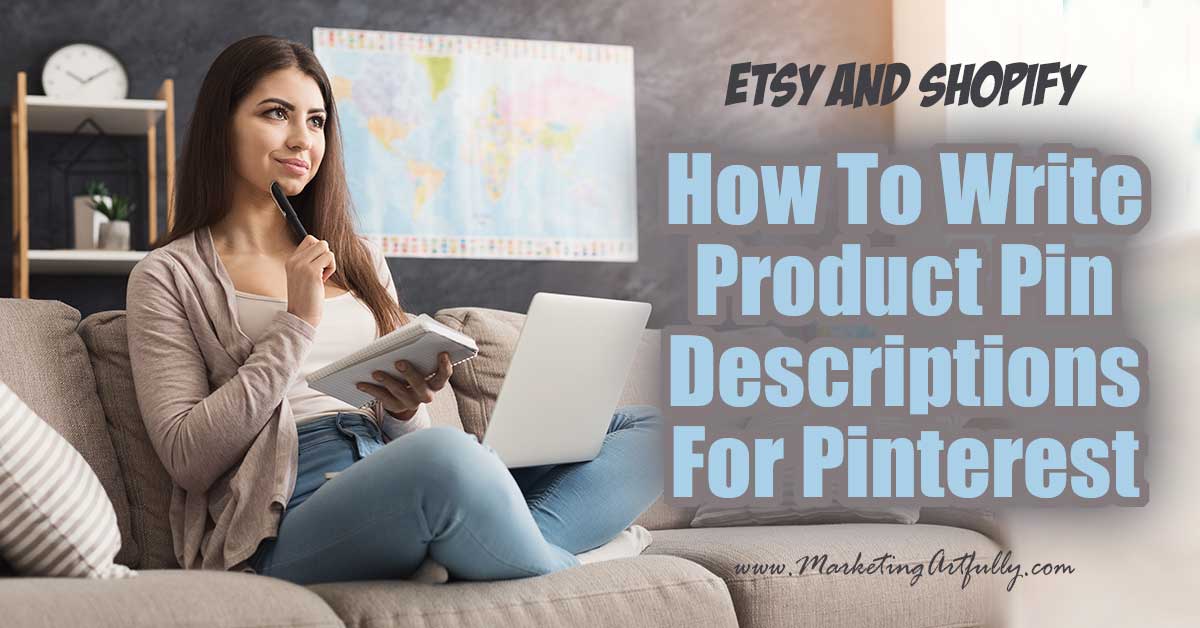 Step #1 …. Make A Compelling Pin
Because Pinterest is such a visual site, none of this will work without having a compelling pin to share. Yesterday I showed how to make pins like these in Canva, you can of course use Gimp, Photoshop, PicMonkey or any other graphic design program.
I recommend Canva for my peeps because it is easy to use and free! Whoo whoo!
Recommended Resources: Canva Tutorial To Make Free and Easy Pinterest Pins For Shopify and Etsy (Includes Printable Checklist)
Step #2 … Figure Out What Words To Use
Okay, now we need to figure out what words to use in our pin description. But why does that matter?
Pinterest Is A Search Engine
Pinterest calls itself a visual search engine! This means that they are acting very much like Google, but returning visual search results instead of blog posts or product listings. For example, say we were searching for specific product like "leather stacking bracelets", this is what a Google search results page looks like…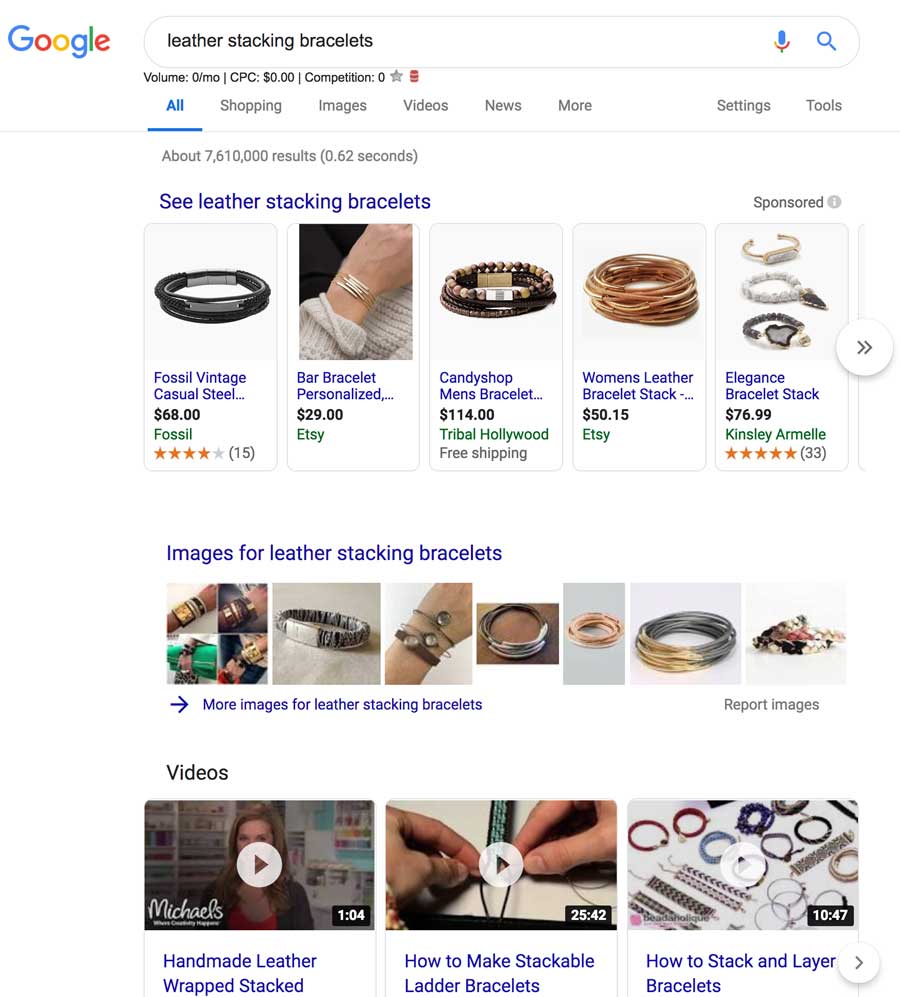 As you can see it is a mix of products, images, videos, products, how tos, kind of a mish mash of everything all at once!
This is Pinterest's search results page…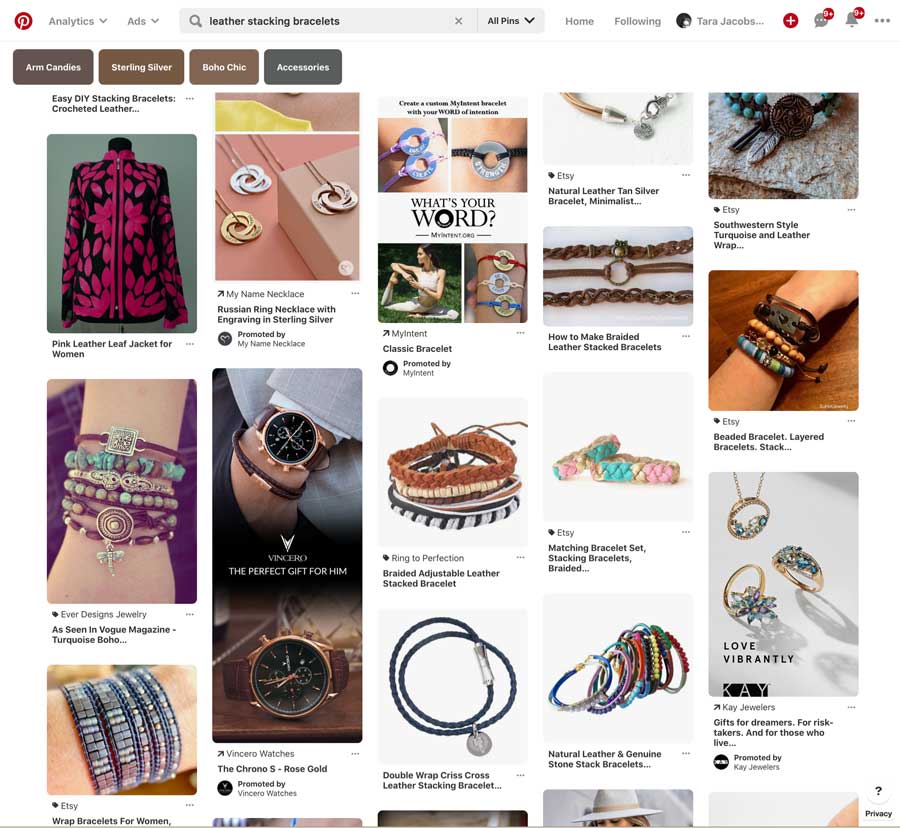 As you can see we have a much more homogenous look. There are functionally 3 kinds of pins, white background, bracelets on arms and more "marketing wordy" pins. Today we are going to focus on more marketing/wordy pins!
How Pinterest Search Works
Before we get too far into this, let's talk about how Pinterest search works, and how they make it so easy to figure out what to write in your pin descriptions!
For example, let's say we were selling a super cool, upcycled jean jacket with butterflys, roses and tassels like this one from OrquidiasCreations on Etsy. Seems like it might be a bit hard to write a great pin description that would help someone find that exact product to save and buy in the sea of pins on Pinterest…. but never fear! We can do this!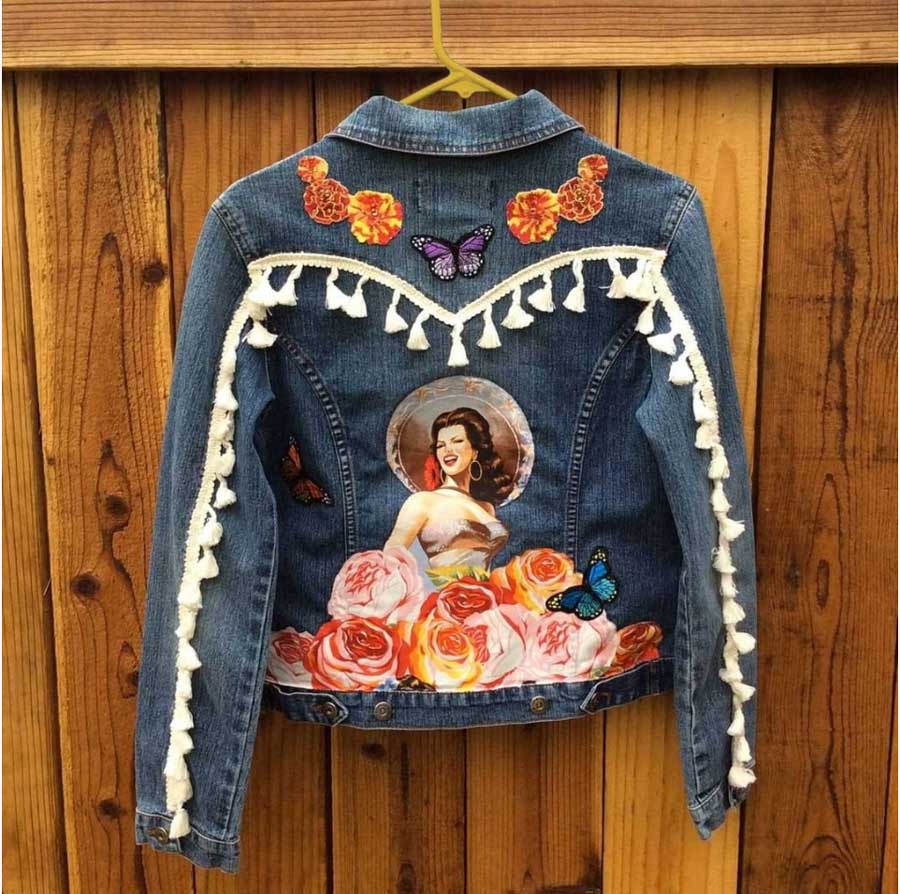 Doing Your Keyword Research
First we start with the base level of what this is… a jean jacket! Here is the Pinterest search for jean jackets…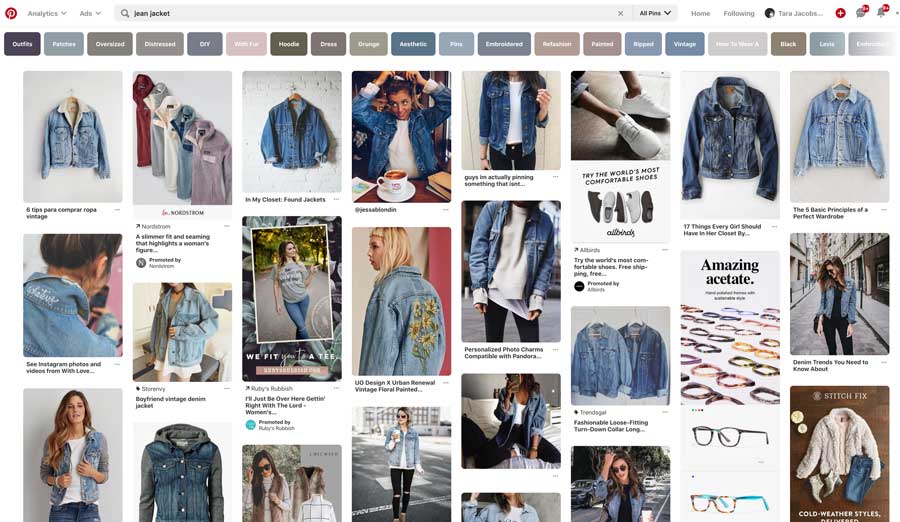 Hmmmm not too close to our fancy-pants jean jacket, but right up there under the search we see more words that Pinterest thinks are related to a jean jacket search! Here are some of the keywords that could apply to our jean jacket too…
Patches
Refashion
Painted
Vintage
Art
Dark
So if you click the button with "patches" on it, we find that these are like old fashioned girl scout patches or souvenirs, NOT Like our jacket so we don't need patches!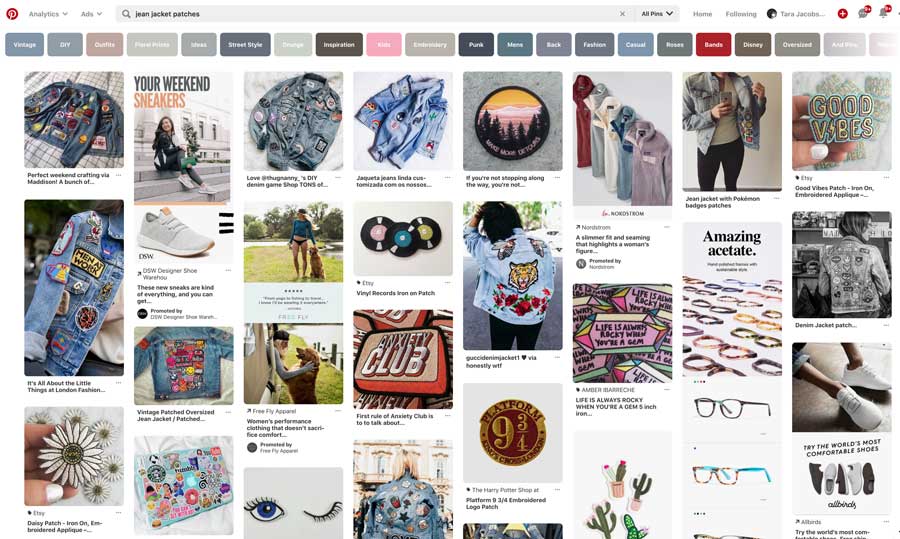 But when we click through the "refashion" suggestion we get these…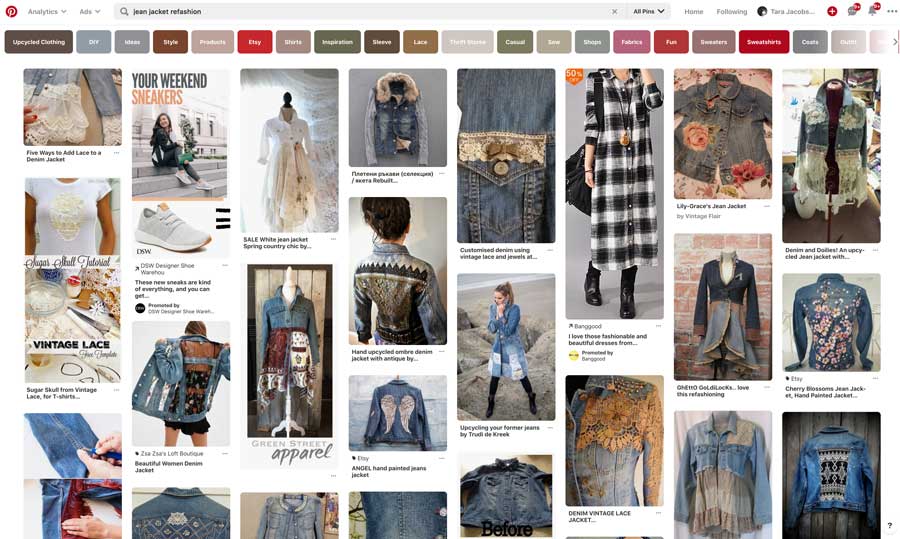 Oh, my, gosh… this is the exact right place for use to put our fancy jean jacket! But wait, there is more! We can keep checking the keywords that Pinterest is suggesting so right now we have…
But under that search is
upcycled clothing
products
etsy
fun
And if we click through the "upcycled clothing" button we get this search…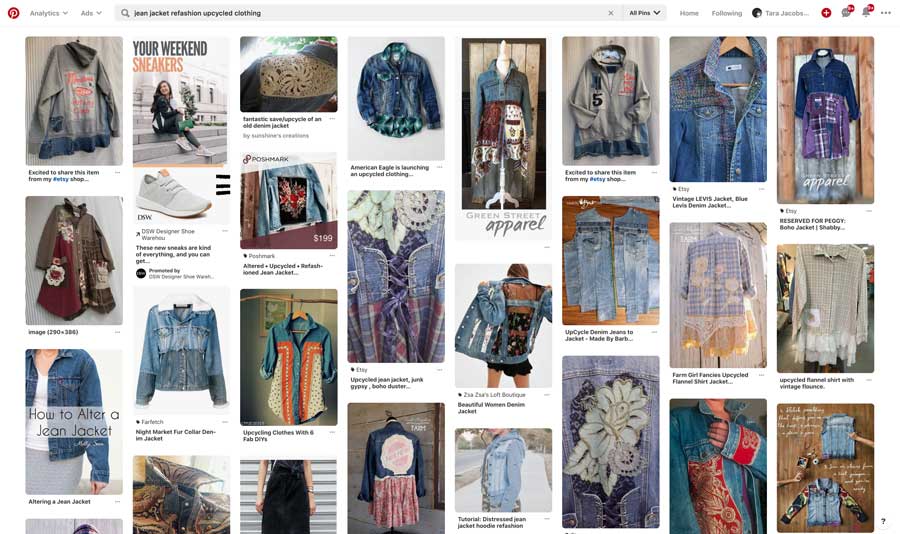 And underneath there are no more words so we need to try to something else if want more keywords to use! So let's do "jean jacket art" to see if we get anymore keywords!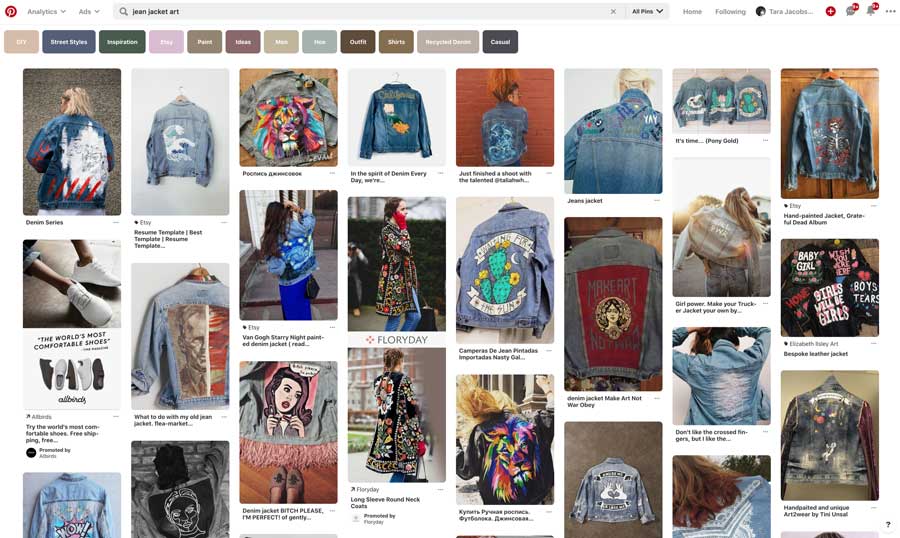 And these fit right in so using the extra keywords we got here, we wind up with a great list to write our pin descriptions…
jean jacket
refashion
upcycled clothing
products
etsy
fun
art
street styles
ideas
recycled denim
inspiration
Hold the phone… what the heck is that "inspiration" doing there in an Ecommerce post?!?!
Whoa lady, hang on there… WHY would I put "inspiration" there? We are talking about trying to SELL a custom handmade product that Orquidea put a ton of time and a piece of her soul into making.
Well, let's put it this way, more people are looking for jean jacket inspiration than are looking to buy an expensive jacket that might not even be in their size.
Also, our goal is to promote her shop as a whole, not just to sell that one item so we want her jean jacket to spread far and wide, being pinned over and over again until everyone knows her great work!
Step #3 – Writing The Actual Pin Description
Okay now we need to use those words we have collected to write the pin description! I tend to do this super fast while I am posting the picture I have made (as you can see in the video), but you could do it in a spreadsheet or Word if that makes it easier to visualize.
Here is what I came up with using all those keywords!
This fun refashion jean jacket is such a great example of the upcycled clothing art, street styles trend! I made this from a recycled denim jacket that I got at a thrift store and currently have it listed for sale in my Etsy products. Feel free to use it for inspiration or ideas if you are creative like me.
As I was doing the research I saw "thrift store" in there too so I threw it in for fun!
Again, wait one minute… why is "etsy products" in there?
Well, when you are selling on Etsy itself, you don't have to clarify that it is an etsy product, but when we were doing the keyword research we saw that Pinterest suggested that term, so of course we used it!
Step #4 – Posting Your Pin On Pinterest
Now, it would seem like a great idea to upload the cute pin you have made to your product listing on Etsy or Shopify and just pinning from there right? Then they can click directly through and buy that item.
But wait, what happens AFTER you sell that jacket because your pin has been repinned THOUSANDS of times?
Well, Etsy will now show any random jean jacket that they think someone will want to buy. Or you will get a dead link on Shopify and Pinterest will stop promoting your pin… so here is the best tip I can give you today!
USE YOUR SECTION, COLLECTIONS OR CATEGORY LINK INSTEAD!!!
That's right, link to the category page of your ecommerce store rather than to the exact product so your pin doesn't "break" when you sell out!
How can you post pictures on Pinterest?
Here goes… click the + at the top of the Pinterest site…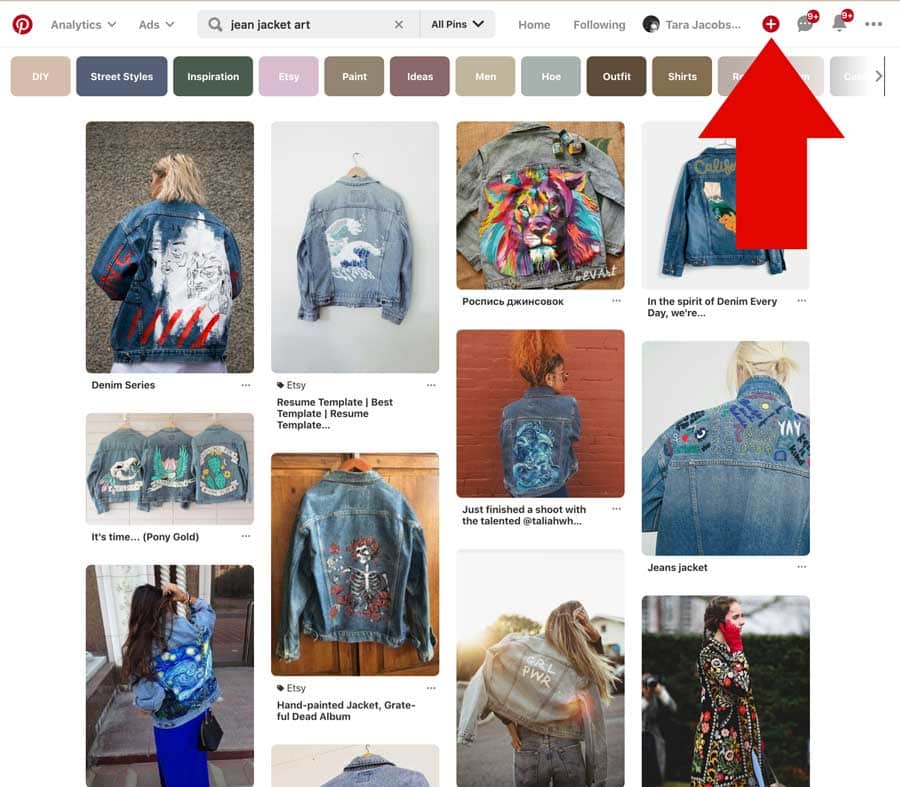 Select "Create Pin"…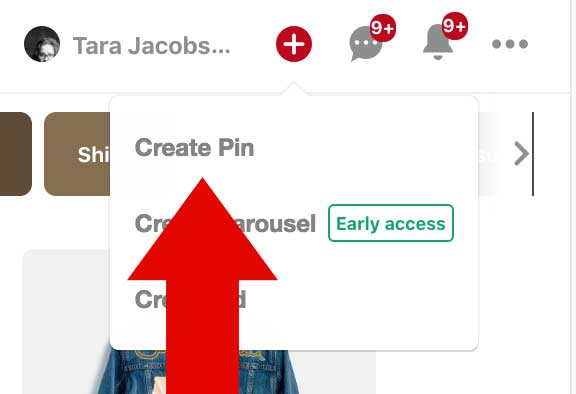 Click to upload your pin…
Then add the URL to your Category, Section or Collections page. You want to do this rather than making the link to the item because if it goes out of stock or sells, you will still be able to sell other, similar products!
Choose board… Okay this is a big one! You want to add add it to the most relevant board. For example, if Orquidia has a "jean jacket" board, that would be the best one, with "refashion" being the second best!
The reason for this is that when you add it to the "right" kind of board, the title and description of the BOARD attach to the pin and then follow it around Pinterest, adding even more metadata to help you get found in search!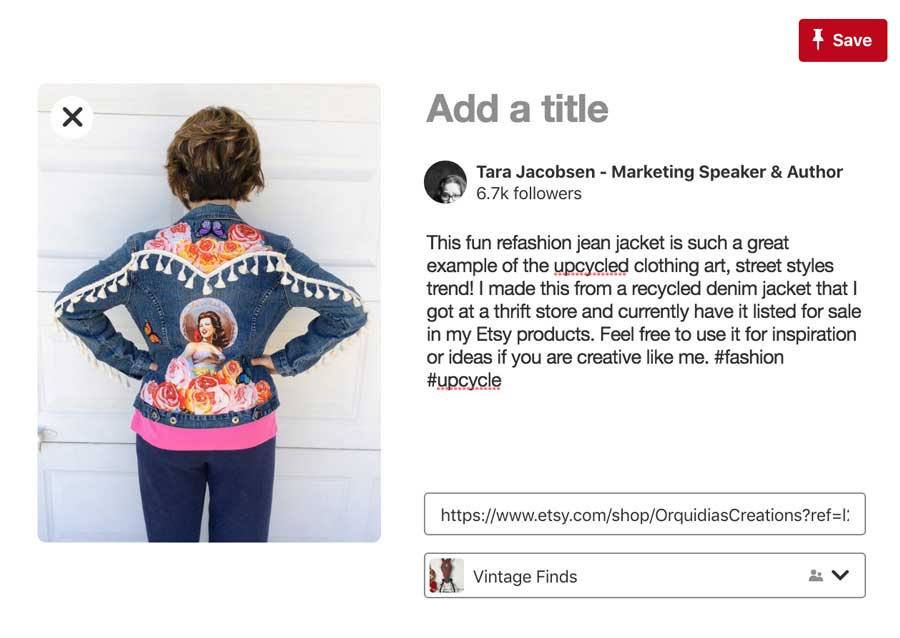 Last but not least, add the description that you wrote using the keyword research and you are done! You could add the Etsy or Shopify title for extra credit, but it isn't totally necessary since we found the exact words that Pinterest will like us to use to be found in search!
Writing A Product Pin Description FAQ
There are a few questions that have come up during this post!
Can I use hashtags on Pinterest?
As you can see I did add two little hashtags on the end of the description. They are not totally necessarily because they expire super quickly, but if you know how to do them it is worth taking a second to add them.
How many hashtags should I use on Pinterest?
Some of the gals I have seen on webinars from Pinterest have said no more than 3-5 hashtags is optimal. This is not Instagram so don't spam it with 20+ Hashtags.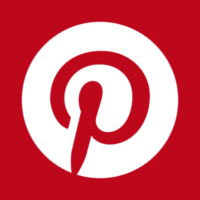 How To Write Your Pinterest Pin Description For Etsy or Shopify
Prep Time: 15 minutes

Active Time: 10 minutes

Total Time: 25 minutes

Difficulty: Medium

Estimated Cost: Free
Instructions
Step #1 .... Make A Compelling Pin

Step #2 ... Figure Out What Words To Use
Use the additional search terms recommended by Pinterest
Step #3 - Writing The Actual Pin Description

Step #4 - Posting Your Pin On Pinterest
Click the + at the top of the Pinterest site
Click to upload your pin
Then add the URL to your Category, Section or Collections page
Choose board... you want to add add it to the most relevant board
Add the description that you wrote using the keyword research and you are done!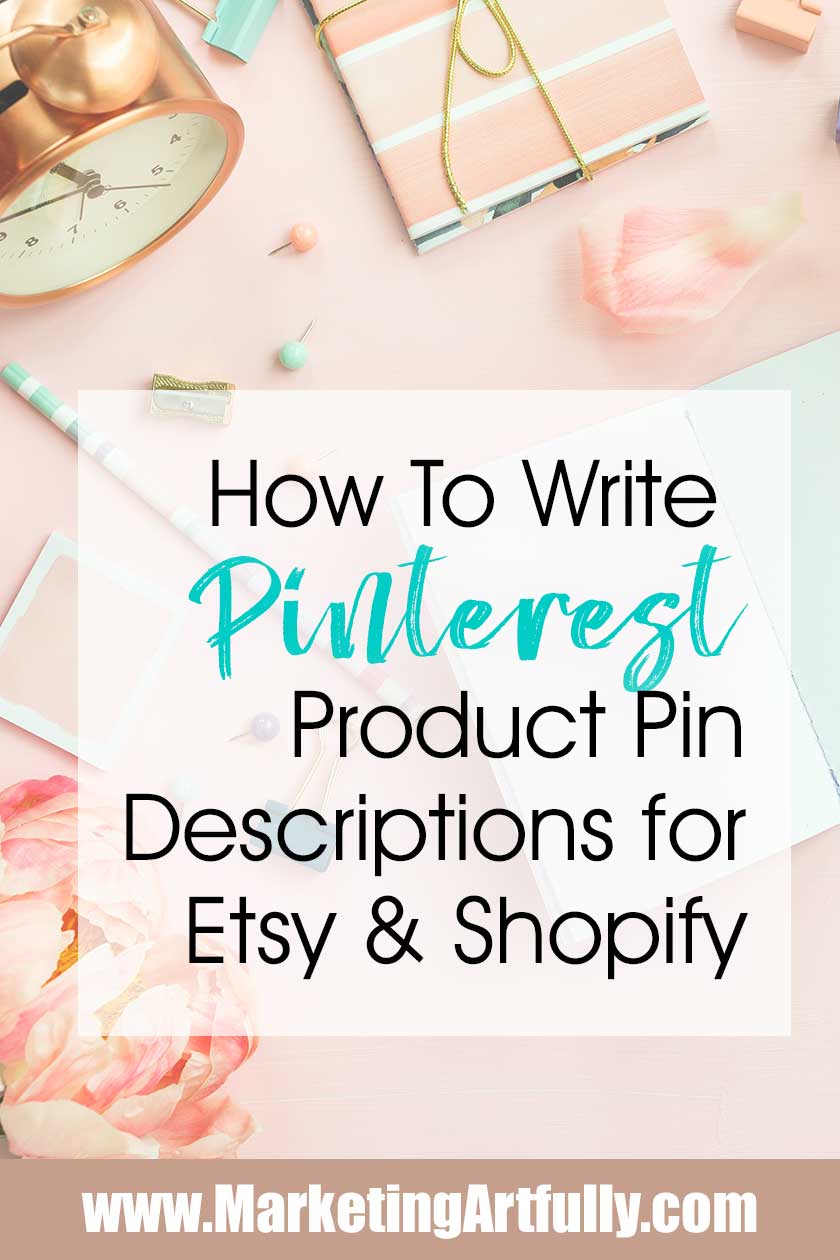 (Visited 313 times, 17 visits today)

Today we are going to talk about how to write product pin descriptions that will help your pins get shared on Pinterest! This works for any ecommerce site, but the examples are specifically for Shopify and Etsy sellers!