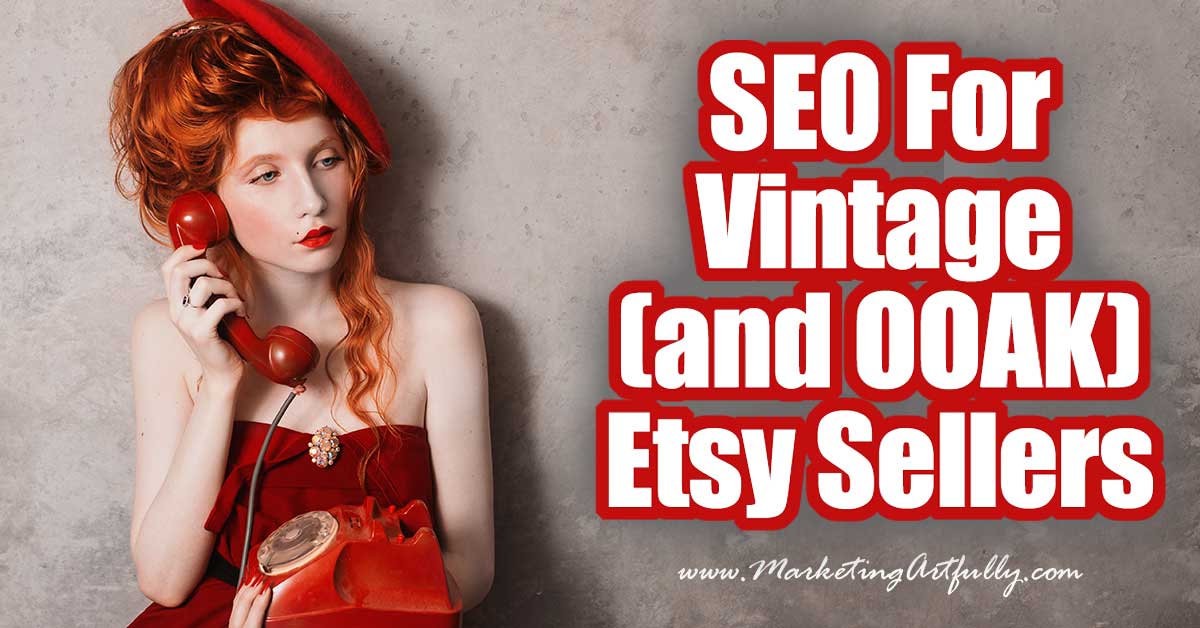 This post is specifically about Etsy SEO for Vintage & OOAK (one of a kind) Etsy sellers. I am going to break down how to find keywords that will help you continually rank in Etsy search.
How does SEO for Vintage work?
I KNOW this is the part that you all like to skip over because you are beyond the "what is SEO" stage, but as this is going to be an advanced post, please take just a couple of minutes to read this so that we are on the same page!
SEO actually came from web search back even before there was a Google (I have been doing it since 2001 professionally). Functionally it means that you pick "keywords" to use in areas of your website like your title, description, headings, etc. that are indicators to Google that a page or site is about a certain topic.
Google uses "algorithms" to make rules about what will cause a site to rank … things like site age, incoming links, content length, etc. These algorithms are computer programs that search the internet and try to find the best solution for the searcher's problem and then they display it on a SERP (Search Engine Results Page).
Doing web SEO is HARD and like watching paint dry. It can take YEARS to build up enough authority to rank for different keywords in Google search.
How does Etsy SEO work?
Etsy SEO is much different than Google SEO. In some ways it is easier because you are only competing with other Etsy sellers (many of whom are not interested enough in it to read a huge post like this!)
Etsy SEO is officially based on things like:
Exact match keywords – having certain keywords in a specific order (more about this later)
Recency of your listings – when was it first listed and when was it renewed (as vintage sellers we are seriously blessed with this one)
Listing quality (conversion) – how many people look at your listings versus how many favorite and then how many favorite versus how many buy
Customer experience – reviews, shop policy and about section filled out
Location – meaning how close you are to the buyer
Diversity – meaning that Etsy will only have one of your listings on each SERP (search engine results page)… this one is HUGE for us! we don't want to get 20 listings to rank for the same keyword!
Attributes – this is a newer feature and one that we should ALL be focusing on as we load our listings!
Removed from the reference page on Etsy in late 2017:
Item attribution relevancy

– having your tags exactly match the order of your keywords (INSIDE the tags so if you have "red silk scarf" in your title you should NOT put them in in this order in your tags "scarf red silk")
source :: how etsy search works
Some things that make a difference but are not official:
Selling the same things – this is where you sell a "vintage jean jacket" and then sell another one right away. Etsy's algorithms said that you were good at selling this one thing so let's see if someone else will buy another one just like it!
Ranking for things that are popular in your store but not necessarily strong in your individual listing.
There are things that we can control and things we can't control … this post is about making the most of the things that we can control!
Classes, Kinds & Exact Match
Okay, now we are getting down to things to think about if you are a vintage or OOAK seller. Your listings could be…
a "class" of thing like desk accessories
a "kind" of thing like metal pencil sharpeners
an "exact match" you sell a lot like chandelier crystals
The First Thing You Should Do
Okay, now let's get going! The very first thing you should do as a one of a kind seller is to pop over to Etsy and see what they think you should use as your keywords!
We are going to start with "linens" which is a CLASS of things that Cynthia of Picket Fences Vintage sells… she said linens are a top seller for her (aprons, dresser scarves, tea towels, fancy napkins)!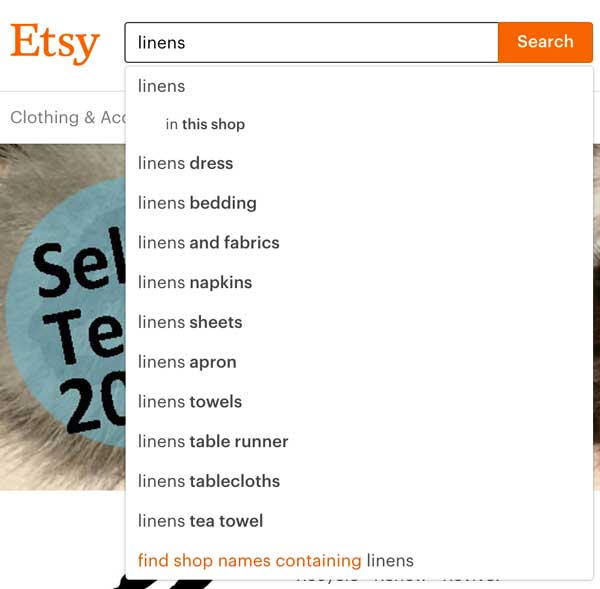 By doing this we see that her CLASSES of linens are
linens
linens and fabrics
her KINDS of linens are
linens napkins
linens apron
linens towels
linens table runner
linens tablecloths
linens tea towel
Just for giggles lets take a look and see if doing a "linen" (with no "s" at the end) makes a difference. You may need to do this kind of search for your products too!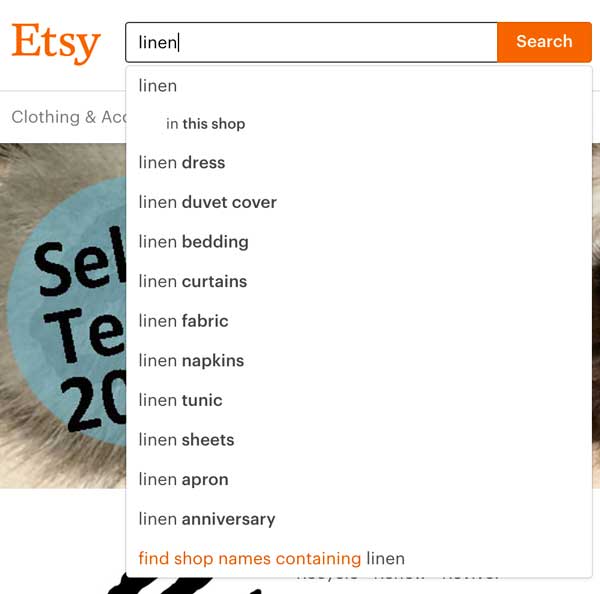 This seems like it is just okay, I feel like way more bedding and clothing items are creeping in.
So we are going to stick with "linens and fabrics" as one of her main keywords that she is going to have in EVERY listing that fits that CLASS in her shop.
Classes Of Products
Now, this is a VERY competitive category that she will have a hard time ranking for so these are keywords that should be at the end of her titles and tags. Etsy and Google both use order to determine which words you are saying that are most important to that listing or webpage.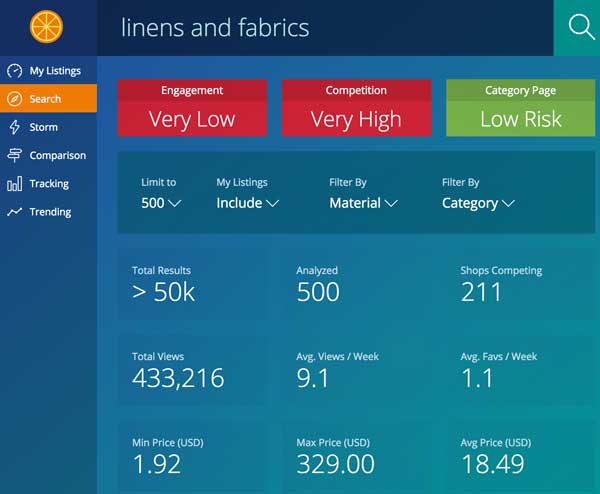 I use a tool called Marmalead to do this search. As you can see there are LOTS of views for this search term a month and Cynthia could get about 9.1 views a week on each of her listings with this keyword.
But wait! There's more….
We don't JUST sell linens or pencil sharpeners or jewelry, we sell VINTAGE goods.
Vintage buyers are NOT looking for handmade or brand new items. They are looking for things that have age, patina and history to them.
So now let's do that same search with "vintage linens"…

and THIS is why we don't get all kinds of "vintage" keywords in our stats results. Etsy is using the age attribute to sort out the vintage items, rather than relying on us to be responsible for marking our items as vintage.
And because search is dynamic on sites now, when I do a search for "linens" and have previously searched for vintage linens, I get all kinds of cool sub search categories that I can choose from.

So now we can see that we have "vintage linens", "antique linens", and "vintage bed linens" to choose from. THESE search terms are coming from our keywords and tags!
I KNOW… this is all frustrating! How can we know what to use in our keywords and tags if everything keeps changing? Suck it up buttercup and just know that if you get good at SEO this will all sort itself out!
Using Your Classes In Your Titles & Tags
So now lets think about what Cynthia should do with these CLASS keywords.
She should write her titles with "Linens and Fabrics" at the end
She should use "vintage linens linen" in the tags of all of her listings that are appropriate
She could even use "vintage linens" and "vintage fabrics" in her materials
What will this do? This will let Etsy know that many of the items in your shop belong in that CLASS of products. THIS is how a vintage Etsy seller could get on the first page for this top level keyword for a one of kind vintage item!
Kinds Of Products
Let's look at kinds of products now! Tracey from Viva Terra Boutique says that she sells "vintage evening bags" using wedding keywords. She sells a lot of cream or white colored evening bags and white or cream colored gloves for weddings.
Just so we are all on the same page, her CLASS of keyword is "wedding bags". I got this by doing a Marmalead search to see the competition first and then found out that "wedding bags" gets 414,436 searches and "wedding bag" gets 409,883 views a month, pretty close but let's get every little help we can have! (just by the by, wedding purses only gets 93,267 views so that is less than 1/4 the amount of potential reach)

Now let's look at her KIND of product which is "evening bags". Doing a keyword search on evening bags we can see that…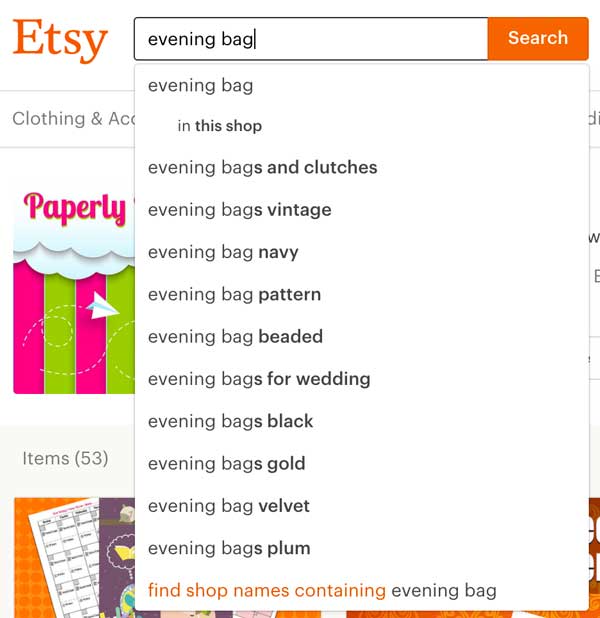 … we have some cool keywords that are going to be good for her KINDS of bags:
evening bags vintage
evening bag beaded
evening bags for wedding
So now let's figure out what Tracey's KIND and CLASS keywords would look like…
<exact match keywords that we haven't figured out yet>, Vintage Evening Bag, Evening Bags For Wedding, Wedding Bags
She would use her "Wedding Bags" CLASS keyword on every listing that even comes close to help her shop rank for that keyword. She would use "Evening Bag" and "Evening Bags for Wedding" as KIND keywords on every one that would be relevant.
THIS is how you can use Etsy search combined with a tool like Marmalead to save yourself time and start to rank your shop globally, SO THAT when you sell a one-of-a-kind product, Etsy just slides one of your other ones into that top ranked search position because they know you are good at selling those kinds of things!
Exact Match Keywords
Okay, now you have list of your keyword CLASS and KINDS, now you move on to the EXACT MATCH for this particular item.
Kelly from Sentimental Vintager said that she has "vanity items" like perfumes, powderboxes and lipstick holders. I was intrigued because I do vanity items like tissue boxes, ring bowls and mirrored trays.
All these different kinds of products are going to belong to a CLASS and KIND of keyword…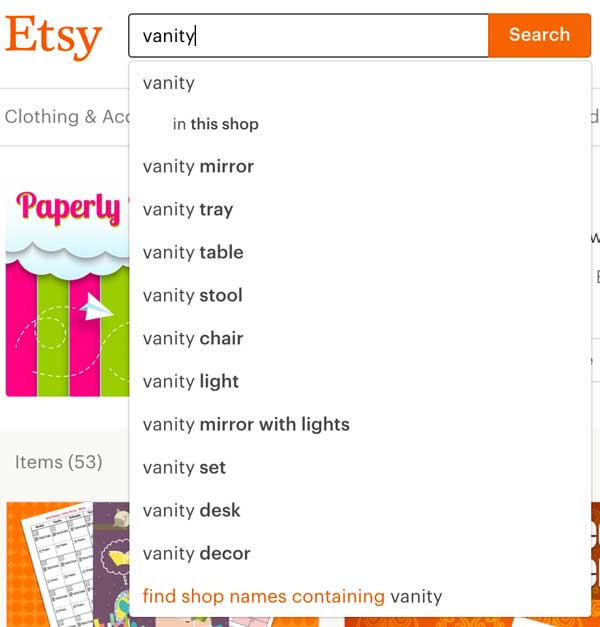 Kelly and I both use vanity a lot in our listings and that COULD be our best CLASS keyword, but it is worth taking a peek and seeing which other keywords people are using (I am using Marmalead, you could just click into all the other listings and look at the tags they are using and make a list.)
Checking just "vanity" I got a lot "vanity mirrors" which is not exactly what I think is perfect (rarely will one word get you close enough to your CLASS word).
Now, "bathroom vanity" would encompass all of Kelly and my items… so let's take a peek at that… darn it, still the actual piece of furniture that would go in a room, but then I did bathroom decor and found something that I thought would be relevant (and is in the dropdown) "vanity decor".

Oh snap, why didn't I think big enough for my CLASS keyword, we should be going all the way up to "Bath Beauty Vanity" to do our CLASS and then back down to "Vintage Bathroom" and "Makeup Cosmetics" for many of Kelly's KIND of items.
So her listings would be…
<exact match keywords that we haven't figured out yet>, Vintage Bathroom, Makeup Cosmetics, Bath Beauty Vanity
and then we would drill down to the EXACT keywords by using the "Tags Used" in Marmalead (I have heard people say that they don't understand how Marmalead could help one-of-a-kind sellers, but if I had to do the work of researching all these keywords I would surely quit!)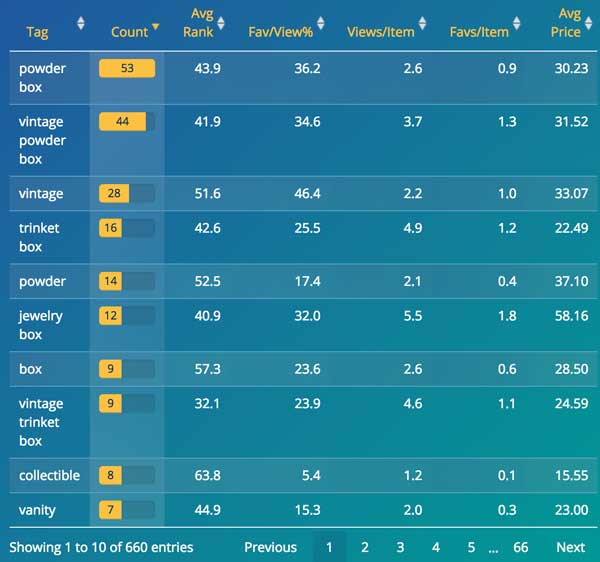 Interesting, no one else calls them "powderboxes" but Kelly, so we need to start using "powder box". I don't see "powder boxes" there so I would use that, and we see that "collectible" worked its way in on this search so her final keywords would look something like…
Vintage Powder Box, Collectible Powder Boxes, Green Glass Powderbox, Vintage Bathroom, Makeup Cosmetics, Bath Beauty Vanity
This leaves her A LOT more keywords that she can use for her particular item, but overall it will help her shop rank well for those high level keywords that she is targeting at a shop level.
So How Do You Start
This is all well and good, but how do you get started on your SEO for vintage if, like me, you have hundreds of listings?
Start with your categories. You have already sifted your products a bit so you can take a peek at your categories and start there! For example I have these categories in my SoGlamorouslyVintage shop: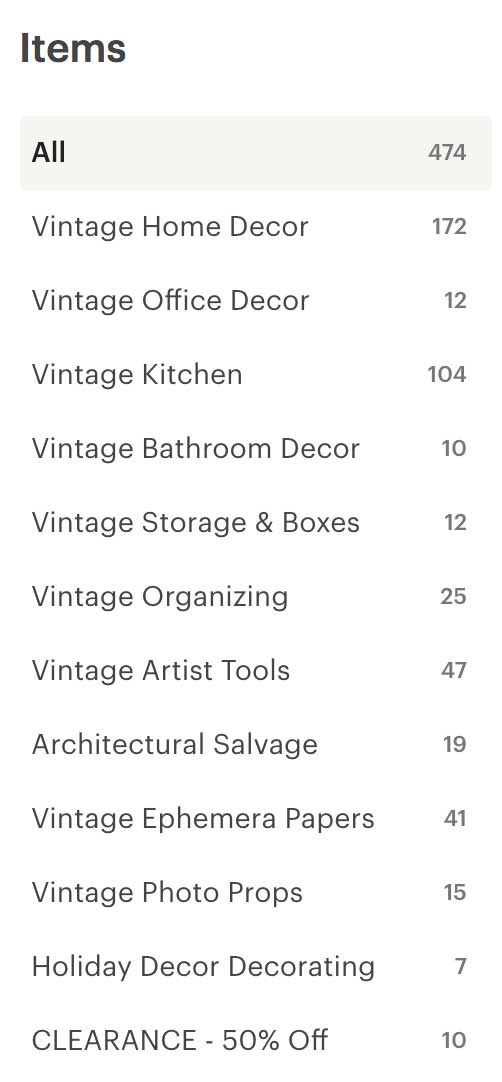 I will start with "vintage home decor" and see which other categories I could get even more niched down with my KINDS of items.
I should also change Bathroom Decor to "Bath & Beauty" which is more Etsy speak than what I picked to start.
Check your sales. Take a high level look at your sales. Just walking back and seeing how many many of the same kinds of thing you sell can be a great way to start finding those CLASSES of items you will sell.
Source more specifically. Okay, last but not least, let's talk about being vintage or OOAK sellers. We can spend our time and energy sourcing or making certain kinds of products.
For example, say you have $100 to spend at an estate sale. You see that there are a bunch of old cookbooks there BUT you don't have any other kitchen items. Maybe pass those up and head to the master bedroom to find some things that match the CLASS of your store.
Or if you are shopping at Goodwill and see a super neat sweatshirt but you don't really sell outerwear, really take a moment and think about whether you want to open a new category in your shop or if you should just pass that up and see if there are any cool bridesmaid or prom dresses on the racks!
We are all super creative and can figure out a million things to buy and market, but our time is probably best spent working on things that we know we are good at selling already!
Shop Friends
I couldn't do this for everyone who sent me their keywords, but I did want to take a moment and shout out all the great vintage sellers who sent me their info!
Michelle (ElleVintage369) – I sell a lot of hat poms – recycled real fur and faux fur!
Jennifer (SweetGingerVintage) – The majority of my sales are women's clothing, specifically dresses/gowns. My highest searched keyword is plus size vintage prom/bridesmaid.
Sara (Sfuso) – I do very well with Vintage Kitchen, specifically Canisters.
Kat (BebopBoutiqueuk) – My vintage hats tend to sell out quick. Also gloves and formal dresses.
Vera (2nHalfEmptySuitcase) – Selling Vintage garnet necklace.
Ellie (HuntedandStuffed) – I sell cushion made from vintage kimono & obi. My top keyword searches are kimono silk vintage and vintage navy pillows.
Leslie (zephyrvintage) – I mainly sell vintage jewelry. My top sellers are typically brooches/pins and sterling silver jewelry. Sterling silver jewelry.
ADDITIONAL RESOURCES FOR ETSY SELLERS