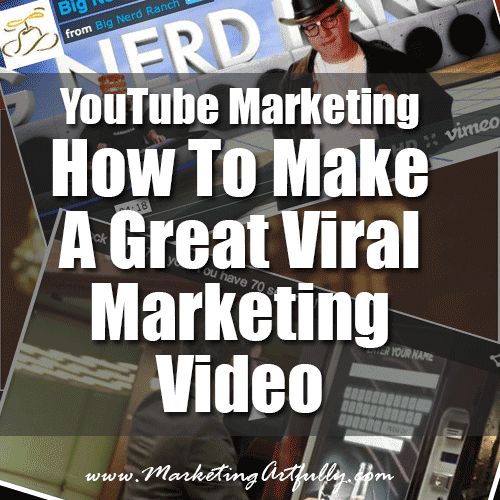 YouTube marketing can be a fun and creative way to market your business and the ultimate goal of any video is to GO VIRAL. Viral like Psy? Viral like a million hits? Or really marketing viral?
So what makes a marketing viral video? Let's break it down…
It should be directly targeted to your audience!
In the "real" world, you could make a cute video of your cat wearing a costume, riding rumba and chasing a duck (I SWEAR that is a real viral video) BUT how would that sell more of your product? So number one, make sure you know who your target is!
In this video by the Big Nerd Ranch (which my nerdy husband, John Jacobsen, sent to me), geeky guys flail around mocking C Code. They talk about things that non-coders would never understand but which geeky coder guys will think is funny. Seriously.
Now is this video striking a chord for you my marketing friend? Probably not but these guys sell advanced computer training for big bucks and their target audience is probably eating this up with a little giggle.
Big Nerd Ranch's Cocoa Got Blocks from Big Nerd Ranch on Vimeo.
The Devil Is In The Details
If you watch this one about the new James Bond movie, there are LOTS of little clues going on all over the place. The violinist is playing the James Bond theme, all the hazards are making the guys look (sort of) like the antics performed by Bond, James Bond and overall, the effect is brilliant!
You Should Go All In
Now, nerdy guys dancing around may not be your cup of tea but DAMN, they gave it their all and everyone looked like they were having a great time. This reminds me of Justin Timberlake. I was never really a fan of his until I saw him on Saturday night live in a wine bottle costume making an ass out of himself. That changed everything for me and from that day forwarded I was happy to listen (and buy) his stuff. This video is really great with broad appeal and shows that he is a singer (a good one) and also fun to watch!
So do you have to make a huge YouTube marketing viral video with top level production? Nope, you just have to go all in! I am sure the nerdy video took a lot of time, but it is not ridiculously high quality…it is good enough for their viewers.