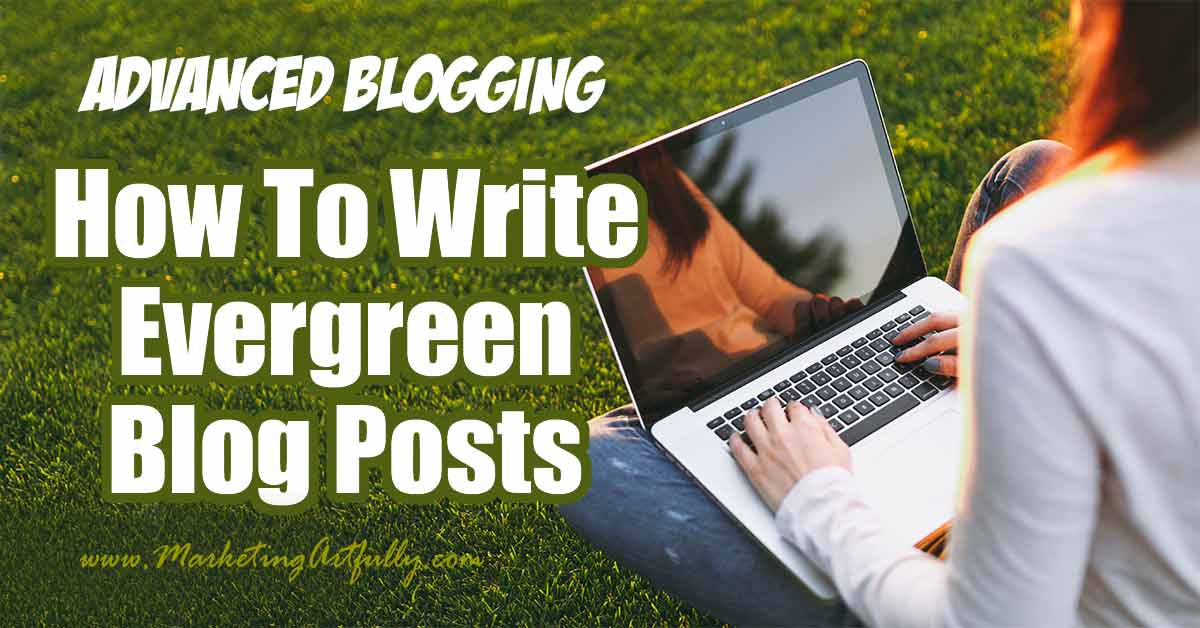 Writing evergreen keyword rich blog posts is a great way to generate traffic for your site. Once you target a keyword phrase, all you have to do is make sure that the technical bits are right and you should rank well for that phrase.
In my business there are two types of blog posts
(1) ones that I can write off the top of my head and that are great for generating a little bit of traffic and reinforcing my keyword ranking for may main three search terms, small business marketing, entrepreneur marketing and realtor marketing and
(2) evergreen blog posts where I want to rank consistently over time for a specific keyword or long tail phrase.

What exactly are evergreen blog posts?
Evergreen blog posts are ones that do not change over time and which are keyword rich in content that you want your site to rank for.
In my case I target marketing terms like social media, direct mail (newsletters, postcards, logos and collateral), email marketing, keyword marketing and blogging as subsets of my main three keywords. In this way I can rank highly for entrepreneur marketing PLUS postcards or real estate marketing PLUS postcards.
When you are just starting out it is great to have those major keywords in mind and then use minor keywords to add up to the whole.
For example, you might write about bookkeeping tips and tricks, then how to do your general ledger and which accounting software is best to use, all which help Google add up to the fact that you provide small business bookkeeping services.
Google is super smart and knows the little bits of the whole which make up the major evergreen keywords.

What keywords you should be TRYING to rank for?
Google Search Console
I check my google search console (webmaster tools) and see what search terms people are looking for that they use to get to MarktingArtfully.com even if I haven't targeted them that way yet. For example, I found out that I ranked well for the term "funny realtor postcards" even though I did not have a post specifically targeting that (although I did have a direct mail post about postcards and did have those other words in there). With a laser focused post I was able to truly rank for the tip top of page one for that search phrase.
Keyword Research
I use Serpstat to see what words I rank in the top 20 of google for, and reinforce those so that I can keep my standings or branch out to different targets. I also check to see what keywords are better.
For example, I wrote a post about Email Marketing Writing Great Subject Lines. When it started out it was actually a post about writing great email marketing headlines because that is how I thought of it.
Luckily, I popped over to Google and found that no body but me calls them "headlines" and that there are 14,800 searches a month for the phrase "email subject lines" as opposed to "email headline" which is only 9,900. I will take that extra potential 5,000 visitors anyday!
Writing Blog Posts Outside Your Niche
I have a habit of writing about things that are not necessarily in my "marketing" niche. I rank on page one for such obscure terms as "customer demographics" and "selling to c personality types" which I rank twice on the first page for because I am interested in how the DISC personality types work with sales and marketing.
BEWARE BEWARE that you do not let your personal interests drag down the focus of your site. Check the keywords your blog ranks for and make sure you are staying true to what you really want your website to rank for.
Learn more about evergreen marketing!