Today I am taking care of my Twitter accounts, making sure that my blogs "feed" the right posts to the right accounts. Now, I don't have a million of them, BUT I do have enough that getting all of them hooked up to the right RSS feeds for my websites is important!
This post is an honest opionion of all the services I could find out there and how they work. Some I have used extensively and some I have tried for 15 minutes (and abandoned because they were too hard!) If you have a favorite, please leave a comment and I will check it out and add it if appropriate!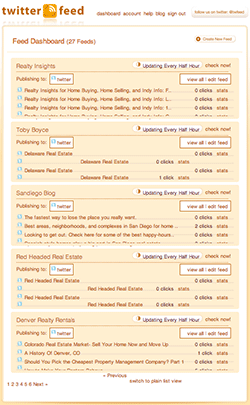 Twitterfeed has made sad over the years. I want to love them because their service is free and they do perform the function of posting to Twitter effectively. My problem with them is twofold (and my besty has a problem too!)
First and most importantly, the site is PAINFULLY slow. If you are adding a feed, it could take up to 15 minutes to get to the right page, load it in, set the parameters and then move onto the next one.
Secondly, they have used Twitter to login, AuthId, emails and about a million other different login systems. Half the time I have to spend a good chunk of time just figuring out how to get into the darn thing!
Bonus, my Besty the Colorado Connector uses it to post her RSS feeds to her Facebook and she says it unhooks itself often. Now, we KNOW that is a combination of problems between Twitterfeed and Facebook, but for her it means having to constantly check and see if her connections are working!
Cost: FREE
For right now I have taken MarketingArtfully.com off of there and moved it to another service. I have a Twitter account that publishes a bunch of Realtor blogs and for now I am leaving that there (mostly because the time to get all those unhooked would be prohibitive!)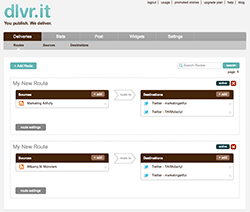 I have moved my important sites over to this service. For now, the 15 social profiles for ten bucks a month should take care of what I need to do…:) I am sad that I have to pay BUT thinking of the old saw that we get what we pay for!
I am EXTREMELY pleased with how easy it is to set up accounts and and move around which feeds publish to which Twitter accounts. I will be doing the $9.95 per month for now and checking to see if I want to move up in the future.
It appears that they have post to Google Plus on paid versions which I will be checking out today too!
Cost: FREE (5 Feeds, 3 Social Profiles), $9.95 month (50 Feeds, 15 Social Profiles), $19.95 month (Unlimited Feeds, Unlimited Social Profiles)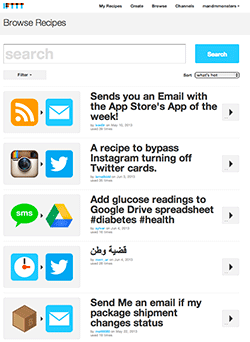 Holy heck is this one hard to use! The concept is that like some database functions you can say If This Then That. So for my purposes I was trying to say "If marketingartfully.com publishes a post, then post a link to my TARAdactyl Twitter". So far, so good. Next one I tried to make "If marketingartfully.com publishes a post, then post a link to my MarketingArtful Twitter". DOH, it so only wants to post to TARAdactyl. Delete, try again, no dice.
This site seems like it might have a really cool function but my normal little marketing brain (not super mathy or logical) cannot get wrapped around how to write "recipes" or even use current recipes and modify them to work for my stuff. Sigh. Seemed like neat site but do not have the time or inclination to learn how to do all those bits.
Cost: FREE
SocialOomph
I have used SocialOomph in the past for scheduling posts and I thought, I bet they have some kind of RSS feed generator, lets go check them out! DOH, they charge $17.97 bi-weekly (which is $35.94 a month!). Now, I am sure they have many other services for that price, but for my needs, thirty-five bucks a month is astronomically expensive!
Cost: $35.00/month
Feedburner By Google
Seems like a good idea! Hustled on over and I CAN hook my feed to Twitter…SCORE! And I can hook it to another Twitter…Double Score…DAMN…you can hook up as many accounts as you want, but you have to pick which one will be the primary one and actually post!
Hootsuite
Hootsuite does this with an owly link. I don't especially like those because I know they are pre-posted and sometimes ignore them. For this reason I am not using Hootsuite to publish my RSS feeds…although they do have a sweet deal…
Cost: Free (2 Feeds), $8.99 month (Unlimited Feeds)
PLEASE let me know if you know of any other good RSS Feed to Twitter accounts… I am open to hearing about any good ones!