Answering some major marketing questions today like…do listicles work equally well across the social media marketing platforms? Is it worth my time to make listicles?  A will I be able to look myself in the mirror after listical-ing?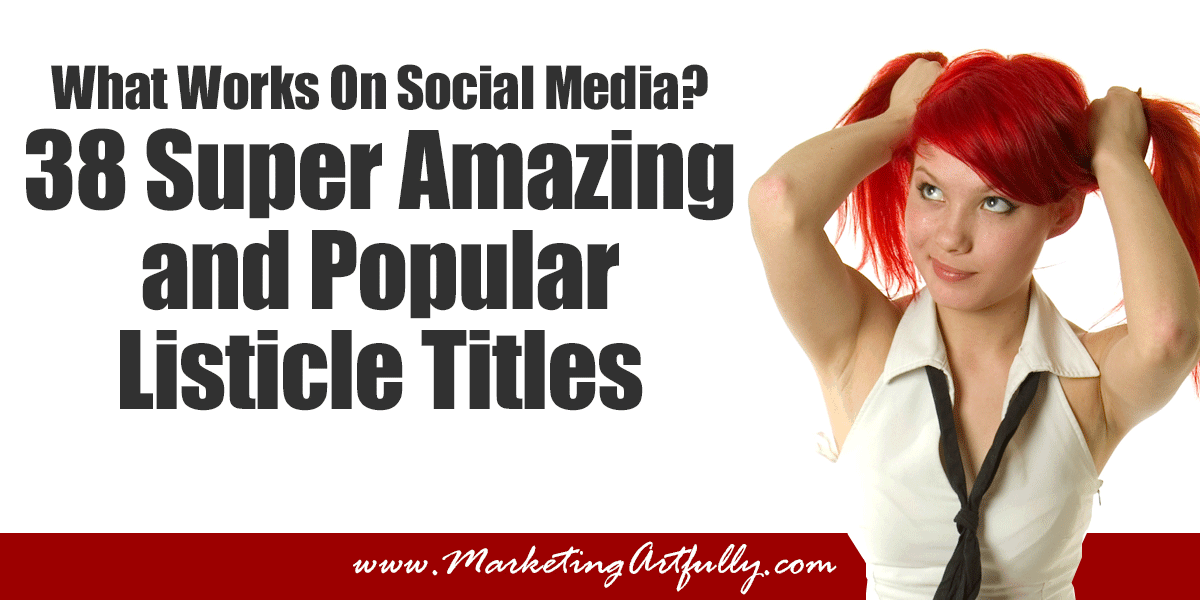 So I heard a question about "Listicles" the other day and wasn't absolutely sure that I knew that term. Well over the few days I have learned more than I ever wanted to know about what listicles are. Functionally a listlicle is a blog post that has a number associated it with it. So my (ironic) title, 38 Super Amazing Listicle Titles is actually a listicle itself (very meta I know!)
When I started this journey I was very ANTI LISTICLE. I find those types of posts to be hyperbolic and rarely are something that I would be interested in reading about anyways (think, "36 of Usher's Sweetest and Sexiest Moments"). Now, you might be loving on the Usher and hating on me for bashing this, but really, I am a business person with little interest in celebrity gossip.
Social Media Listicles
Since most of my readers are business people like me, let's step back a minute and figure out what purpose a listicle serves for marketing. It is supposed to be sharable and create viral-ity so that people are compelled to come to your blog to read about your interesting list.
I find that my listicles work the other way. I get great traffic from the Google search engine to 3 of my top 5 posts that are listicles, 100 Great Email Subject Lines, Real Estate Marketing | 100 Great SEO Keywords for Realtors, and 100 Great Twitter Tweet Examples.
These three posts count for over 4,500 hits a month to my website!
But today I wanted to take a look and see how social media could boost listicles by looking at what the most popular types are according to each social media network.
Here are my findings based on the purely unscientific results of either clicking the "popular" tab on the social sites or doing an internet search of historic data. I made this post because I was fearful that only by turning teeny-bopper and hooking all my lovely marketing posts to celebrity gossip could I survive.
My results may shock you!
Popular on Twitter
Let's start with my biggest fail. I spent hours searching on "best Twitter Tweets" or "popular Twitter Tweets" and came up with two ho-hum ones in that whole time. On the popular lists for Tweets NONE of them were about listicles. They were funny and clever, biting and caustic, but none where "link bait" listicle articles.
Not a good start but nice to know my lovely Twitter feels like I do about these types of posts!
Popular On Google Plus
Next I headed over to Google Plus to see what was trending using their Explore tool. Now, Google's idea of popular (4 likes and a couple of shares) is a little different than mine. None of the posts listed here had even a hundred likes, but that is what Google+ is saying is popular so who am I to argue.
This site seemed the most interested in listicles with about a 1 in 20 ratio of "normal" posts to listicles. While not out of hand, at least the Google+ algorithm seemed to think that listicles were okay to show.
(note: I think that it depends who you are following. Based on the fact that most of the ones shown on my account were marketing related, I used a couple of client accounts to check for popular posts that were not marketing related!)
Current listicle titles that Google+ is showing as popular:
Overall I have to say that photography posts and less hyperbolic business posts were considered popular more often than celebrity or "shocking" posts were.
Popular On Pinterest
The next site I checked out restored my faith in humanity! Using the "popular tool" in Pinterest I was able to find a great array of kinder, gentler listicles without the major come-ons or puffery.
While listicles were present, about 1 in 30 popular posts, "Pinterest Popular" is much more about the pictures and less about shocking headlines.
While it is just an observation (after looking at about a gagillion Pinterest posts), the ladies of Pinterest are looking for "cute, easy and fast" more than any other kind of listicle!
Popular On YouTube
There is a "Popular on YouTube" channel. Now, I am not sure if this is an official channel, but after having checked out a bunch of other sources, this one seemed the most on target.
I was super surprised at the video listicles that were popular on YouTube (only about 1 in 50 videos). Because so much of YouTube is dominated by celebrity news and gossip, I expected that the listicles that would shine would be of the "Usher" variety. But NO! Many of the most popular were actually useful and not over-the-top screaming "read me".
Popular On Facebook
So where are all those over-the-top, crazy sounding, hyperbolic blog posts being shared if not on social media sites like Pinterest, Google Plus and YouTube. Well, you guessed it! On the Facebook!
While I cannot share the links to these posts as Facebook is a closed system, here are the top listicles:
30 of the Most Powerful Images Ever
40 Must-See Photos From The Past
40 Maps They Didn't Teach You In School
22 Unbelievable Places that are Hard to Believe Really Exist
33 Amazing Ideas That Will Make Your House Awesome
31 Haunting Images of Abandonded Places That Will Give You Goosebumps
Top 10 ways to ensure your best people will quit
The better than Ultimate Guide To Landing Page Optimization
(Note: Some of the listicle posts from Bored Panda list and some others from the internet randomly.) 
Overall really pretty tame based on some of the titles that I have seen out there (think, 23 Frightening Tinder Messages That Prove Romance Is Dead.) It seems that even the people cruising Facebook for entertainment are not wiling to go that far off the reservation when posting listicles.
Additional Listicle Research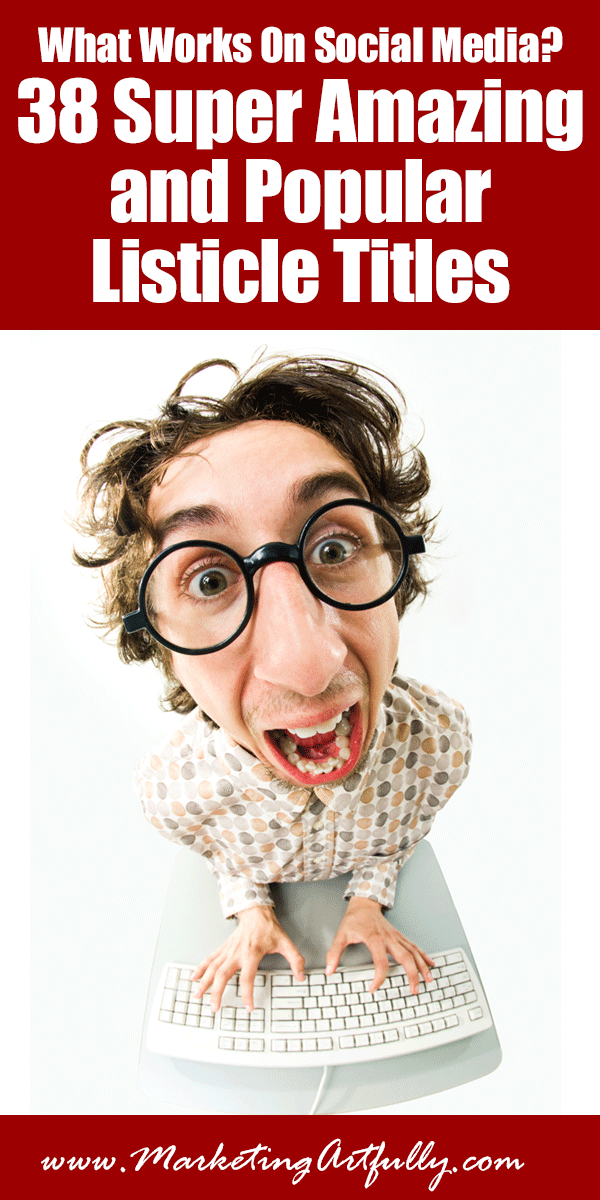 Wrapup
Well I have to say that overall the listicle seemed at the end of the day more meaningful than I originally thought, but ultimately less important than it gets credit for. None of the sites popular lists were crawling with listicles in any true way, although there did seem to be a place for them in the marketing mix. I am not sorry that I wrote my 38 Super Amazing and Popular Listicle Titles that work on social media post, although I do feel like the outcome was a little bit ambiguous.
Where I actually see the most opportunity, based on my admittedly flawed research data is YouTube and Pinterest. Both seem to have a spot for listicles that is not quite so skeevy feeling as they are on Facebook!