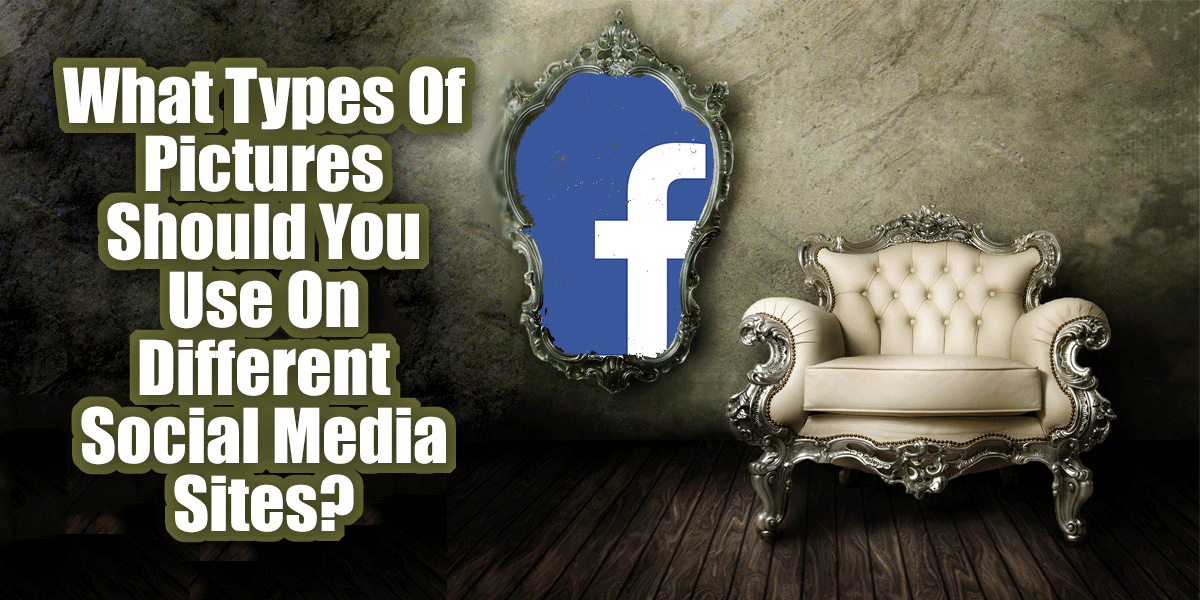 I am a picture junky…there I have said it! I like making pretty pictures for the social sites that get more shares and likes. With that in mind I have done some (very) non-technical studies to find out what gets the best reaction across the social media sites. This is going to be a rather long post that talks about picture strategy and also what is working now.
I am going to break it down by social platform in order that I like (worst to least) for pictures. I am including LinkedIn, Facebook, Twitter and Pinterest.
Picture Strategy
Before we get started on the best types of pictures to use, let's talk a little bit about picture strategy. Back in the "old days" of the internet it was nice to have a picture but it didn't have to be snazzy or even especially related to the post that it was placed on.
Here is an old post of mine with a picture that was okay…it went with the "naggy" theme of the day, but it is too small to be effectively shared now (more about that later) and would not jump out on a newsfeed.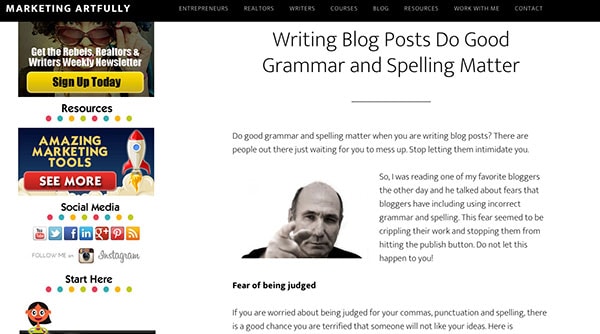 And here is a post from this month. As you can see, it is much more dynamic as well as having the title of the post on the graphic. As people are skimming through their social feeds, few have time to figure out what your article is about UNTIL they decide that it will be of interest to them first.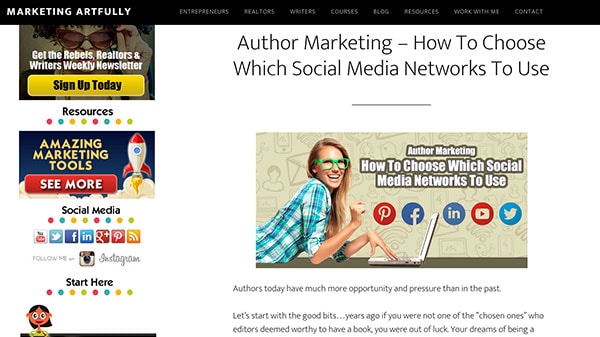 In this picture there is a woman with a face (humans like to see pictures of faces, it is genetic), there are social buttons easily visible (so they know it is about social media) and it is big enough to show up in sharing apps.
See it live >> Author Marketing – How To Choose Which Social Media Networks To Use
Picture Size
There are "perfect" picture sizes for each of the social networks and none of them match. If you have all the time in the world or a designer on staff, making all the sizes might be a great idea.
Here is my "go to resource" that I use when I actually am paying attention to picture size >> Sprout Social – Always Up-to-Date Guide to Social Media Image Sizes
For me, I make two sizes, one wide and short and one tall and skinny. They are either 600X1200 dpi (dots per inch) or 1200X600. The tall ones go on Pinterest and the wide ones go everywhere else. Here examples of these sizes in their native environments: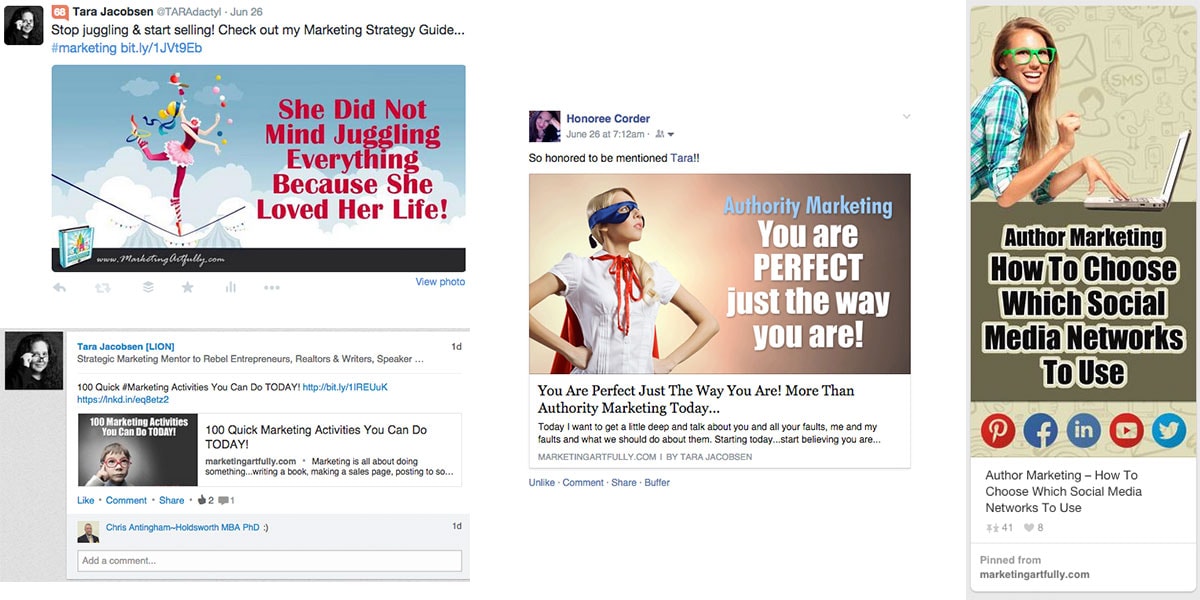 As you can see my "simple" versions strategy works well as the the photos show up in total across the sites.
Making Pictures
I use Photoshop to make pictures. It is fast and easy and you can use layers easily. That said, there are scads of great resources out there to make images for social media.
Where To Get Stock Images
Doing a search on Google and just using a picture you find there is a really bad idea. There are a wide range of pictures to choose from, but some will be copyrighted and you could be fined up to $600 EACH if the copyright holder finds them on your website.
I am not an expert on finding free photos (I pay for stock subscriptions), but I found this great article on Inc. Magazine that might help if you are looking for pictures >> Where to Find Free Stock Photos Online: 29 Sites to Check Out
If you are going to be using photography as a big part of your marketing strategy, it would be good to sign up for a site that allows high numbers of downloads like BigStockPhoto.com (what I use) or Istockphoto.com (good selection).
Lastly, Canva has a WHOLE bunch of stock photography embedded into their software that you can buy for $1 each. If you don't want a subscription based model, I would recommend using those as you will know for sure you have purchased the right to use it.
Pictures on social sites
Okay, now to the meat of what you probably came for! What Types Of Pictures Should You Use On Different Social Media Sites!
LinkedIn Pictures
LinkedIn is the least "picture friendly" of all the sites. It only allows you to upload a picture when it does not have a link. When you are including a link to a website, it will automatically pull in the picture that is attached to the link. Here is what this means:
A picture without a link posted on LinkedIn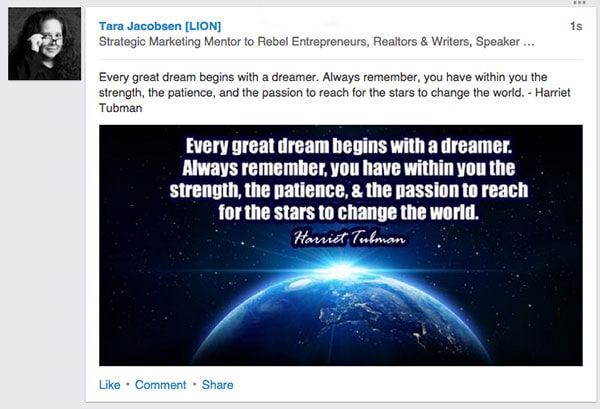 Picture with a link posted on LinkedIn

THIS is one reason that it is so important to have your pictures formatted in the right way on your post pages. If you had a square picture or a tall picture, it would not pull in as well.
What is popular on LinkedIn?
Finding out what posts are popular on LinkedIn is not easy (hell finding out what you have posted on LinkedIn is not easy!) The second highest post did have a picture that was sort of snazzy, BUT I do think LI is anti having words on your pictures and more into straight shots.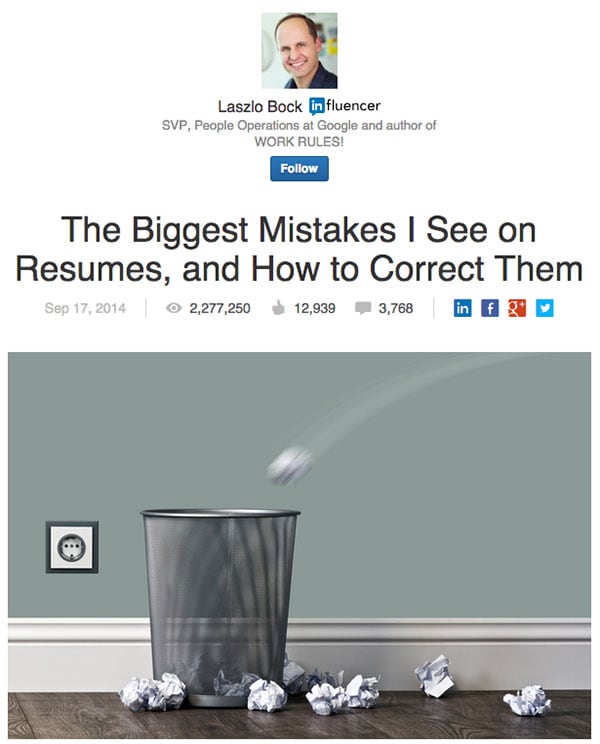 Pictures On Facebook
Facebook is very challenging to say the least. They change the algorithms of what they show in their news feed frequently so the only thing you can do is to include a mix of different types of photos in your postings. These can include:
Pictures uploaded directly with words but no link: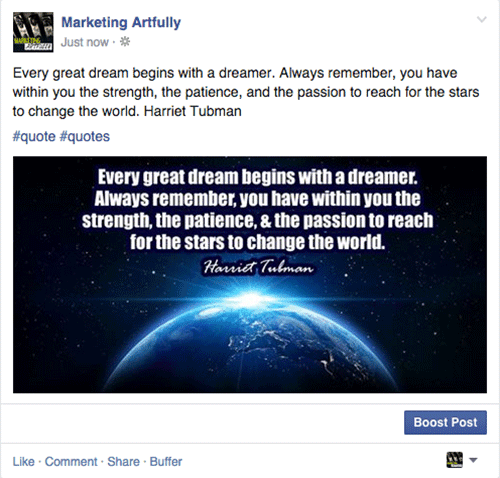 Links uploaded, letting Facebook "pull in" the picture from the post: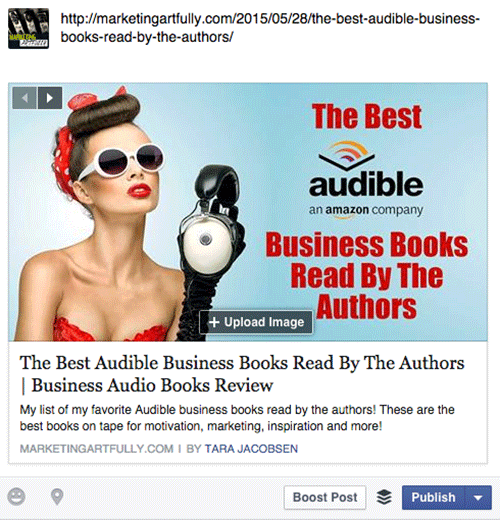 Or you can even include a link, but override the "pulled in" picture by uploading your own. Judging by what is going on right now, letting Facebook pull in the picture when you hand post is the best for getting seen in the newsfeed, but remember that can change at any time! Best to include a nice mix of pictures in your marketing.
What is popular on Facebook?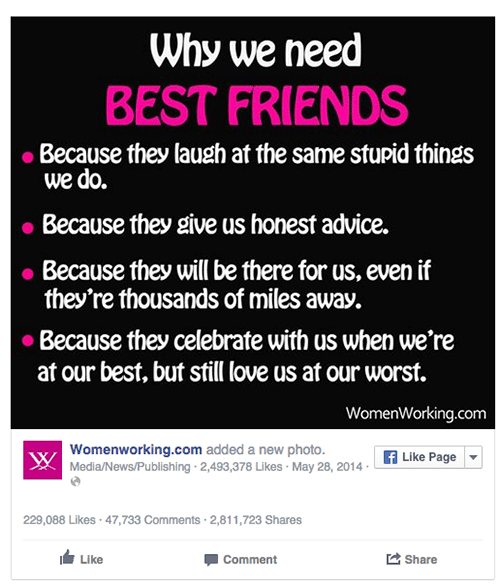 Some things to note. It does not have a marketing message, rather it has a "sharable" saying that would appeal to their target demographic of women. Additionally, there is no way to knowing whether those likes were all organic or if they paid for them. The one thing to note which is true across the board is that it has high contrast in the picture. The black and pink is a very graphic and jumps off the page. Since our goal is to stop people scrolling in their news feed, anything that "catches the eye" is good.
One place to look for popular images in your industry is to check a site like FanPageList.com and start checking what the popular pages are sharing. One thing to consider is that you need to avoid celebrities when looking for these kinds of posts. Because celebrities already have a huge audience their data is sckewed by their fame instead of the validity of their pictures.
This post from Gardeners World Magazine has a great picture and a message that is timely to their audience of almost 200K followers. Keep in mind they have 2,000-ish likes for 200,000 followers so they are getting about 1% response rate.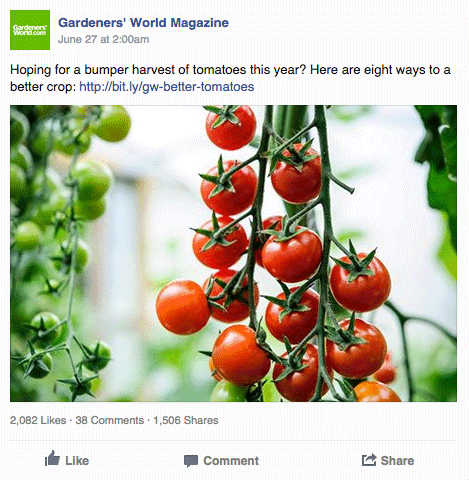 One last interesting note. Content can trump your pictures anytime. This is a post from Facebook marketing expert Mari Smith where she is talking about the new way to get "authorship" credit on your Facebook posts.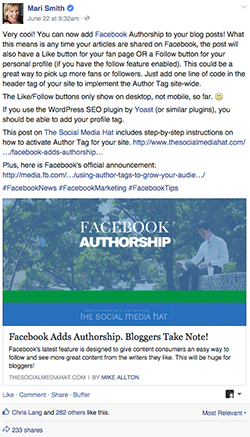 I think the picture does not have any interesting factors, but the content was strong enough to stand on its own and carry the day!
Paid Ads on Facebook
I like to use the paid ads on Facebook to test my picture creatives. Do they like just the picture or can I include call to action words? For example, they liked the frog without the words 3X better. Now I would want to do more testing, but I would definitely use a wordless frog if I was going to pay more going forward.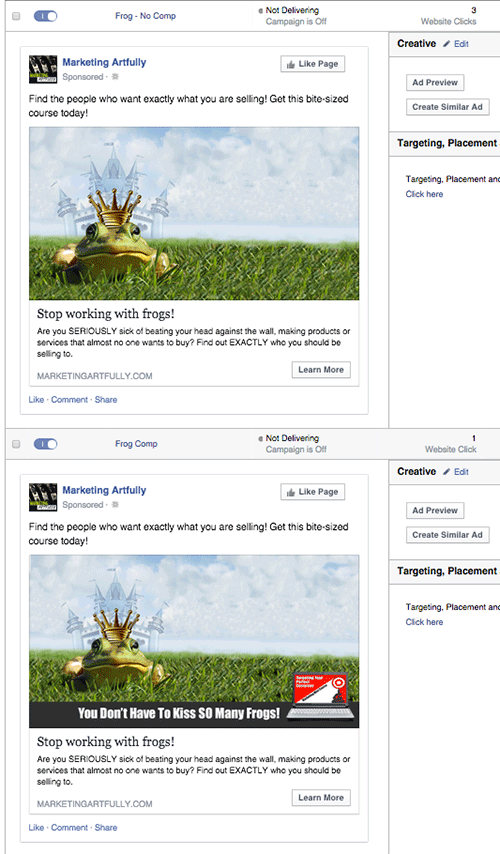 Pictures On Twitter
YES! I said pictures for Twitter! If you have taken a peek at the Twitter timeline lately, you will notice that there are many pictures that jump out of the newsfeed at you. I think that one of the reasons for my success on Twitter is that I take the time to add a picture to each post. Take a peek and see which posts pop out at you…the pictures right?!?!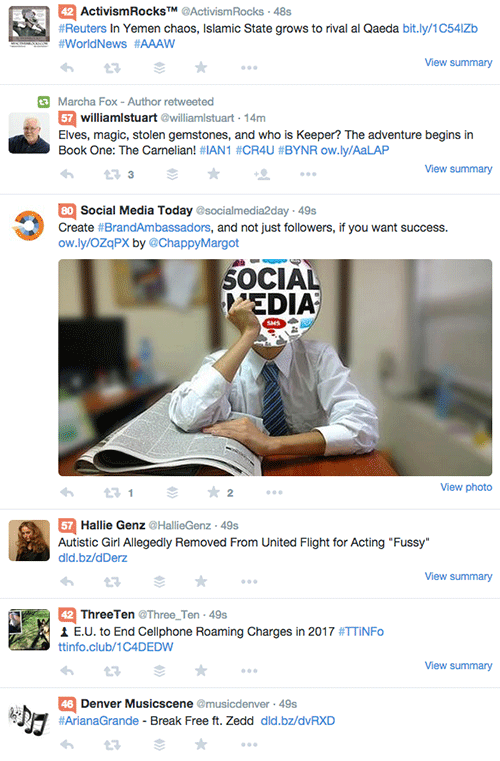 The best kind of picture for Twitter is the short and wide kind. These show up so much better than if you are trying to use a square picture that might work on all the social networks, sorta.
Here are some recent Twitter picture posts that have gotten good engagement!
#ContentMarketing Tips: 11 Types of Content That People Love To Share http://t.co/dMFuITg0zt #Marketingtips #smm pic.twitter.com/lD41HgMijT

— Jeff Bullas (@jeffbullas) June 23, 2015
Yes indeed, #RonR… RT @stevekrohn: Ted Rubin.- @tedrubin #quote http://t.co/XuBmT4cWMO pic.twitter.com/wRmu3zW6wF

— Ted Rubin (@TedRubin) June 25, 2015
Build a social media empire to get more readers & increase your #book sales! http://t.co/M81pxxFdu1 pic.twitter.com/ggrGE8UsTt

— Tara Jacobsen (@TARAdactyl) June 10, 2015
As you can see, the images can be amazing and complex, simple quotes or even a marketing message and still get a great response (clicks and shares).
Paid Ads On Twitter
I have to say that Twitter is my second favorite way to do paid advertising! It is not super crowded so you can still get clicks for cheap. For example, I got 16 clicks to this post with a mix of organic and paid.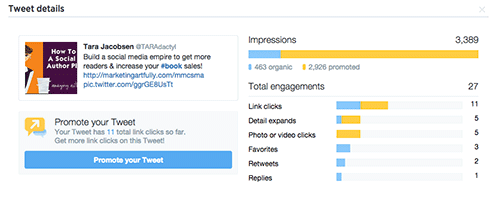 Pictures On Pinterest
Oh lordy, I love the Pinterest! After search engines it is the highest referral source for my website. The reason I love it the most is that the posts stick around much longer than on any other site. The shelf-life for a Twitter tweet is about 20 minutes, Facebook post you might get a day, but a Pinterest post is FOREVER! For example, it took 32 weeks for one pin to "go viral" but after that it was off to the races >> check out A Viral Pin's Family Tree.
So what kinds of pictures should you post on Pinterest? Pretty ones! Pinterest marketing is all about having great photos and easy to read call to action words on your pictures. For example, here some of the top marketing pins from today's Popular on Pinterest category.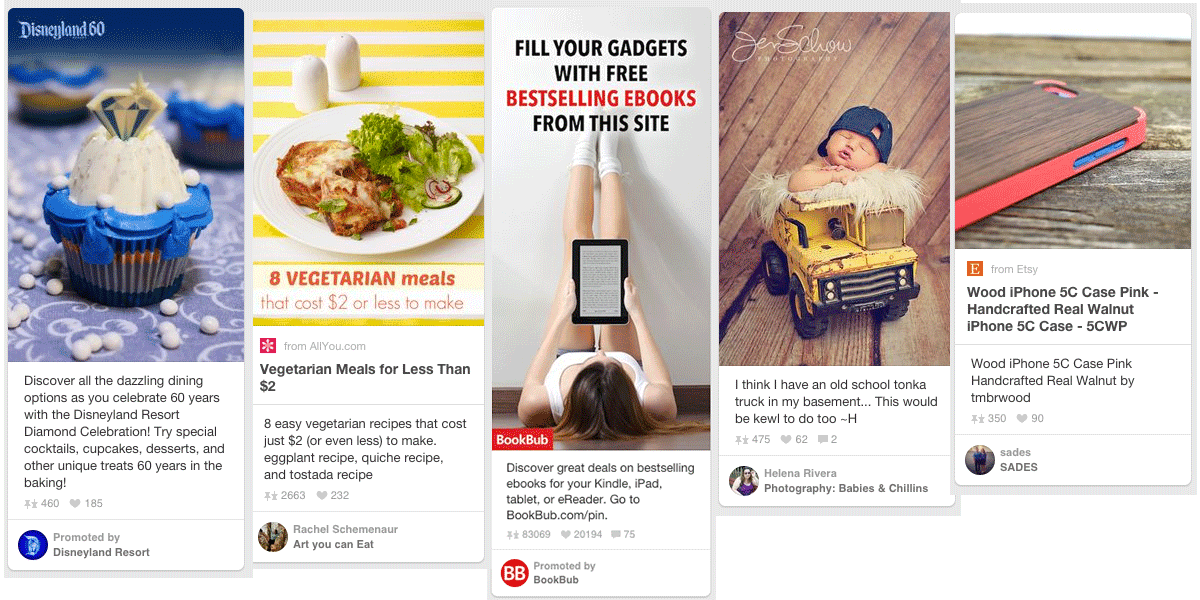 Now, a couple of those are promoted but that does not negate the fact that they are striking. I have found that the pins that do the best on Pinterest have "hard" side edges and lots of contrast. For example, I feel like the left pin is less striking than the right one and may be the difference between 2 and 2,000 repins!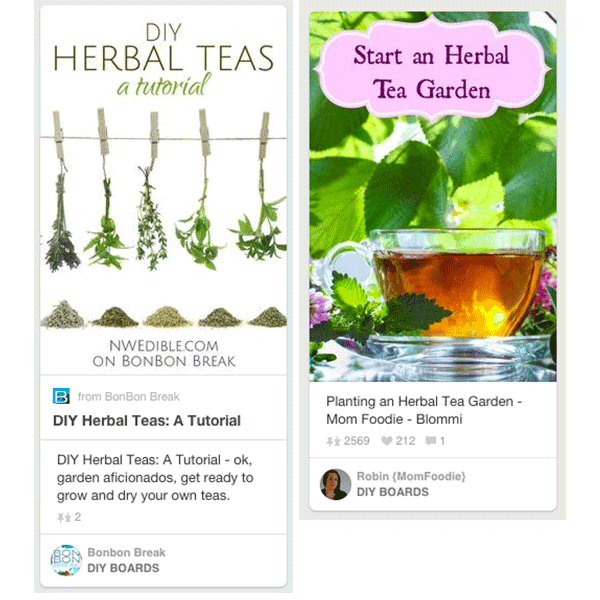 Wrapup
Well there you have it, the types of pictures that work best on different Social Media sites!
My tip-top tip is to remember to tailor your message and your images for the different social sites. 20 hashtags works on Instagram but may not be the best for LinkedIn where they will call you a spammer. Just be mindful and HAVE FUN making pretty pictures.