What to say on your Facebook profile for your business? This is a big one for many small business owners. While you do want to jump into the conversation or post witty remarks, you also don't want to be the schmoe who does a mis-step or ruins your company with a badly worded post. So what SHOULD you say on Facebook?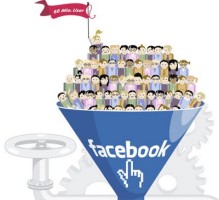 Posting as a human
Let's start with who you are posting as. First off, you post as a human on your profile page. These posts can be fun and humorous, related to your favorite causes or charities, about your pets, kids, travels, etc.
What they should ALSO be is about your business. If you meet me for cocktails at happy hour, you will notice that I talk about marketing A LOT. It is my business but also my passion. With this in mind, I post marketing things on my Facebook wall often and the people who know me in real life know that this is what is like to be around me. That having been said, I DO NOT often post "sell me" messages on there. For instance:
I WOULD say, "getting ready for my class on social media marketing on Tuesday, the handout is going to be AMAZING"
I WOULD NOT say, "sign up for my class on social media marketing, the price is $49"
Overt selling should be done on your business page which you can share (infrequently) on your profile. Now, I do have one friend who has been VERY successful selling HARD on her profile, BUT she has grown a following two or three times over as her human keeps getting banned from Facebook for violating the terms of service. Here at Marketing Artfully, we focus on growing sustainable, long term internet properties so I do not recommend that, BUT it is one way of doing things.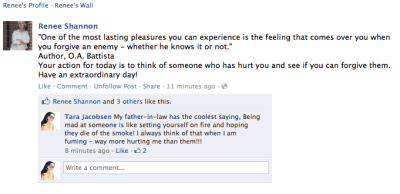 Don't forget, posting (putting up your own content) is only half of the equation. Commenting on other people's posts is also a way to get engaged. In this post, I shared a bit about myself, mentioning my father-in-law and commenting on this post. The author (a person who is not a friend friend, commented back, strengthening our online friendship.
I KNOW, Facebook friends are not "real", EXCEPT that I had a Christmas party at my home and two of the 30 or so people there were ONLY Facebook friends who I had never met in real life before. SO happy to get some new peeps and have a great story to tell here!!!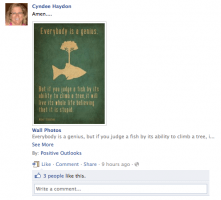 This post is by a real life friend, but is one of my favorite quotes of all time. It is empowering and uplifting and would in no way embarrass any business owner who posted it.
So great quotes, uplifting pictures, info about a charity or event that helps others is ALWAYS acceptable!
What NOT To Post On Your Facebook Profile For Business
This one is SO going to get me in trouble but I have to say it…STOP posting information about politics, religion and sex if you are using your Facebook for business. If you are only using it for personal use, talk about whatever you like!
If you are posting about politics, religion or sex, it may seem like you have finally found an outlet for your passions. There is a platform where you can find like minded people who will commiserate and agree with your point of view (or argue with you if you like that kind of thing). That having been said, it comes across as being angry… angry at the government, angry at the people who don't share your religious viewpoints, angry at people who do not share your opinions on same sex marriage, abortion, gun ownership, the death penalty or any of the other polarizing issues that face us every day.
As a small business owner, let's just look at politics. Our country is almost equally divided between Democrats and Republicans. Can you truly afford to alienate HALF of your potential customers by airing your political opinions on a platform that just keeps getting bigger and bigger each day? That is a really big line in the sand to draw when it comes to making a living.
What To Talk About For Business On Your Profile
Here are just some of the things that are great to post:
Links to articles or videos about your industry that you or someone else has posted
Gentle sales messages about your products or services (one example is to put a picture about the new item you added to your shop and how excited you are about it, NOT this is available today for $17.95)
Pictures of you at work
Pictures of you with your happy clients
Pictures of your pets, kids, house
Uplifting quotes, photos, sayings
Shoutouts to friends or clients (use the tagging feature of Facebook)
Links to help your favorite charities (I recently helped to get a pre-school a new roof by sharing a Pepsi contest for them)
Things in your life you are proud of like your kids accomplishments, new clients, major milestones like accomplishing goals
Funny things you find (I am not that into funny things, but they are some of the most shared items on Facebook!)
Basically, if you find something interesting, post it! I would recommend that they all be positive rather than negative (do YOU like hanging around with someone who is bitching about everything all the time?)
If I have missed anything, please do not hesitate to post a comment!
thanks to Logo & Wallpaper collection for the photo!
(Visited 336 times, 1 visits today)