The level of vitriole and hate on Facebook is amazing to me as a human, let alone as a small business marketing expert. The reason for this post is to maybe let some business types know how their comments look from the other end of the Facebook AND to offer some suggestions about how to promote your agendas and beliefs in a positive way.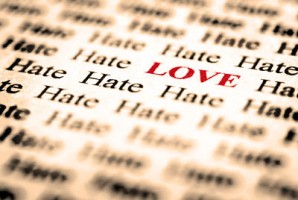 Notes about this post…1. I TRY not to be mad on the Facebook as it looks bad, that being said, I have occasionally (like yesterday) vented my anger at people who do not put their email address on their business cards or further back, people who spam on Facebook. I am not a saint, just a little more judicious about who I want to alienate on the Facebook and 2. No names were used and this is not about civil liberties, free speech or any other thing. This is about how you are perceived on social media by potential customers who would like to buy things from you or your company.
Hate On Facebook
So I took a little walk around the Facebook block today after seeing a post denigrating witches (a group I have some friends in). Now I know that this person is not thinking this is hate (because I know him well), but…heck it is hate. Here are some of the other things I found on Facebook this morning…
Last night, at Bible Study, I was thinking Islam is against homosexuality. Islam is against abortion. Christianity is against homosexuality. Christianity is against abortion. I'm totally confused about just what religion, if any, oblahblah really follows!
I will never pay any taxes to support abortion in any form. It would have to be over my dead body! I use to wonder how these things happened in red china ,the ussr, and nazi germany. I have not lived this long to ever give in to that. I have worked all my life helping and saving lives, not only as a nurse,but volunteering as a red cross nurse and helping pregnant girls etc. How can this evil be growing in our once beautiful country????
Criminalizing abortion again? Let's not let this country be run by over-zealous bible thumping bigots with no sense of practicality and flexibility.
This is a little old but someone needs to tell me that they agreed with this. 1.2 Billion of our tax dollars given to black farmers only! How come this was never reported in the Lame street liberal media?
Bill O'Reilly – #1 among the most misinformed people in America. The perfect love story.
Gays are demons, swine-bandits and crocodiles. In a sane society, they would all be hunted down by the police and brought before a court of law for prosecution. Unfortunately, that is no longer the case in Europe and America, but virtue still reigns in Africa. Perhaps it is not too late for the west to return to the path of righteousness?
your representative is leading the charge to get those queers in uniform back in the closet where they belong.
For somebody to say this is repugnant enough, but to take away our rights by law and claim to be doing it FOR us, shows once again the hypocricy of the GOP party.
Those were just a few of the comments I found and they represented the opinions of people who…
hate gays
hate republicans
are anti abortion
are pro abortion
think the liberal media is biased
think fox news is the worse network ever
truly believe the GOP is killing america
or think democrats are killing america
god is good, if you are not following his teachings you are going to perish in the fires of hell
say that bible thumpers have no place in america
actually said that blacks and women should go back to their place
want the world to be how it was when they were young
or think that there is some kind utopia where we could all live in peace if big business would just go away
keep the guns, shoot the unwilling
lose the guns, they are the root of all evil
execute all rapists and child molesters immediately
work to fix the problem of child abuse by spending money on programs to help the needy
Whew…that was…well disturbing to say the least. So what EXACTLY am I trying to say here? I am saying that as small business owners, doing small business marketing, you CANNOT afford to alienate potential customers by sounding off with hate filled rhetoric on your Facebook wall.
I KNOW, it seems like everyone agrees (or disagrees) with you. I KNOW you have the right to have opinion and voice them. But here are some fun statistics….there are a little more than 300 million people in the United States, in the last election (2008), 49% of the men in this country who voted voted for Obama (our Democratic nominee) and 48% voted for McCain (our Republican nominee). A poll done at the end of 2011 showed that 78% of the respondents self-identified themselves as Christians. Some women are pro-choice, some are pro-life. Some people are gay supporters, some are anti-gay. To my uneducated eye, it really seems to be about 50-50 on just about every issue out there.
As a small business marketing pro, I can tell you that most of my customers cannot afford to alienate half of the potential buying pool for their product or service. Image you are a plumber who works on pipes. Are you going to turn down a job because the client is against your political idealism, is it even going to come up or do they just need their dishwasher fixed.
Believe me, I DO understand idealism and sticking to your beliefs, but do you really have to share them with the buying public?
So, how would you be able to share you viewpoint and beliefs without running afoul of what I am starting to feel like, the marketing nazi? BE POSITIVE!!!! And I mean positive without that snarky thing after, so no, "dogs are great! and all you cat lovers who think you know the right kind of pet are stupid and uneducated".
Two of my favorites who do this AMAZINGLY well are GodVine and the World Wildlife Fund.
What I think they do well is spread the good parts of Christianity, the love and acceptance and GREAT THINGS HAPPENING, without judgement and stating that their way is the only way. While I have not seen the inside of a church in a while, I do visit Godvine almost every day, watching a great coming home story or a dog rescue. They epitomize how to share a message without having to hit people over the head with it! (PS – I shared the story about the dog and his military dad on my Facebook wall).
Okay, this another favorite, Klout and WWF (World Wildlife Fund) paired up (IE – the WWF did a marketing campaign with Klout). I LOVE that this has a real marketing component! So the thing that jumped out at me was the free FB Timeline photos you could download. Happy pictures of polar bears and pandas without one dying or starving animal in sight (I KNOW, shock and fear sell, but not to me, I am all about the positive!) The idea is that Facebook peeps can use the photos with the WWF logo on the picture, a subliminal reminder to help and support the WWF.
So now I feel like I have written war and peace about the subject of HATE ON FACEBOOK. I am really hoping that getting this off of my chest will make a difference in how my small biz peeps post to their Facebook accounts! Happy, not hateful. Sunshiney, not snarky. Just remember that no one wants to work with someone who is perpetually angry so be aware of what you look like from the other side!
(Visited 31 times, 1 visits today)