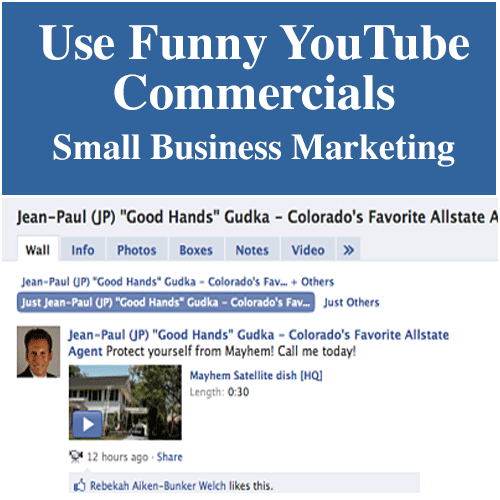 The easiest way to jump start your small business marketing is to use funny YouTube commercials for small business marketing. Piggy backing a funny YouTube commercial that a national company has spent GAGILLIONS to produce is a great way to help build YOUR brand!
National advertisers spent audacious amounts of money to produce videos and buy airtime. Some scary numbers for us small business marketing types are $250,000 on up for taping a commercial, $10,000 to $2.4 million to buy air time (that higher number is for the superbowl, how many of the super bowl advertisers are out of business now?)
Use Funny YouTube Commercials For Small Business Marketing
So how can we compete? Use their high priced commercials for our own marketing (with proper references of course – we are marketers NOT plagiarizers!) It is easy to find funny commercials on YouTube. Here are some marketing ideas that you can use for your company, even if you are truly a mom and pop with no parent company!
Insurance Company Marketing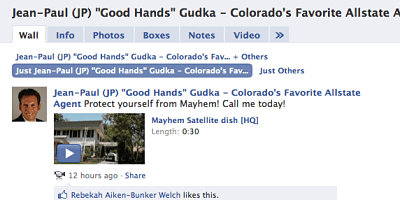 In the picture above, Jean-Paul (JP) "Good Hands" Gudka, an Allstate Insurance guy posted the Allstate Mayhem Satellite Dish video with the tagline on HIS facebook account "Protect yourself from Mayhem! Call me today!". In addition to that YouTube video, he also has a "Storms cause major damage in metro Denver" and other links to pop media and current events around the Denver Metro area.
NOTE: We are approached by businesses ALL THE TIME who are in the real estate, financial services and legal fields who are terrified to market. PLEASE understand that you CAN do fun and interesting things without compromising your integrity or putting your license in jeopardy!
Bookkeeping Marketing
For the financial peeps, it can seem IMPOSSIBLE to find something that would be fun and festive about bookkeeping. Well a two minute search on YouTube turned up a funny parrot ad that QuickBooks had put out. You could post it to your profile with the message "Is EVERYONE nagging you to get your business books in order?!?!?!…:)"
[youtube]http://www.youtube.com/watch?v=bf85HqiQKD0&feature=player_profilepage[/youtube]
Those are just two examples, you can literally find HUNDREDS of funny YouTube Commercials that you could use as teasers to help market your business. All I did was do a search for "funny commercials" and got 174,000 results!
Other Funny YouTube Commercials Ideas
For health and beauty – Old Spice Swagger with Ray Lewis
For auto dealers or tire stores – Changing tires can be dangerous from Goodyear
For realtors – A funny commercial from My Realty.com – you could tell your prospects that you will even list it here for them!
Long story short, most humans like funny things and if you use funny YouTube commercials for your small business marketing you can save yourself the time and trouble of producing them yourself! If you have any other good commercial ideas, please feel free to leave a comment!