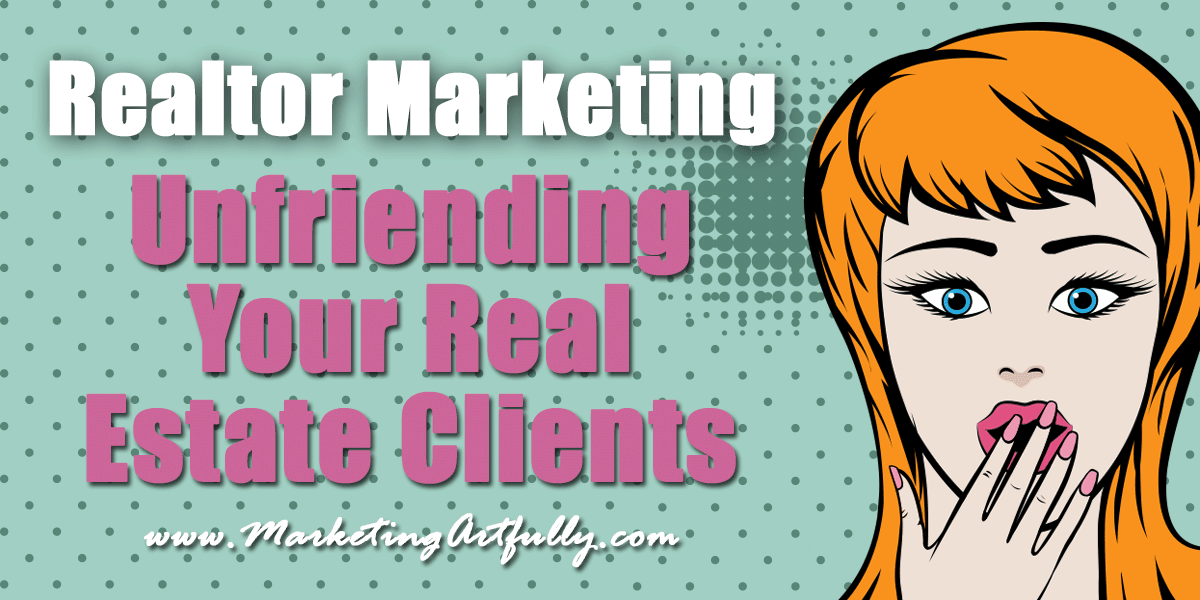 Real estate marketing question – should you be unfriending your real estate clients on Facebook? This week we got A LOT of questions asking about a post that one person had written, suggesting that if you have friends on Facebook you could be, scary music sounds go here, ruining your real estate career and putting your license at danger of being revoked.
First off, I hear a "sky is falling" thing EVERY day. Earlier this week was that agents should stop using Facebook as a lead generating tool, talk to people who they like, are a client or might be a client.
On Wednesday I got a frantic call from another client who said, "DID I KNOW THAT THERE WAS A FACEBOOK PHONEBOOK AND THAT EVERYONE'S NUMBER IS LIKE PUBLIC?!?!?!" I did know that and so what. If you are in business in general, your number is on your website, on your business cards, in your ads and generally available for, huh, people to call you. If you are a real estate agent, your number is generally in eight inch high numbers on each of your yard signs.
So let's address this new "calamity". Per Facebook's terms of service, "You will not post anyone's identification documents or sensitive financial information on Facebook." There. If you are an agent, do not post identification documents or sensitive financial information on Facebook. This will protect you from violating your terms of Facebook service.
Facebook for real estate marketing is like everything else in life, have a little common sense and you will be fine!
Here is one person's opinion that got everyone in an uproar:
For example, what are your obligations in terms of protecting your clients' private information? Do you need a disclosure that says that if a client becomes your Facebook friend that Facebook may distribute their contact information including their cell phone number to third-party advertisers? Could you be sued for violating client confidentiality?

The bottom line here is that if you are doing a transaction with a Facebook friend, the smart move may be to unfriend your clients immediately. For friends who do become your clients, the moment you enter into an agency relationship, you may need to remove that relationship from Facebook as well.

If your clients ask about your decision, explain to them that you are concerned about protecting their privacy and that you will be communicating with them either through a transaction tracking platform, e-mail, phone or text messaging. http://lowes.inman.com/inmaninf/lowes/news/137520
BIG DISCLAIMER – you are a grown up, if you agree with this writer and want to unfriend all of your clients, do that. If you read my opinion below, you lose the ability to sue me for saying what I believe, should you do something stupid and lose your license.
So what does that mean to real estate marketing on Facebook. Nothing. If you are a normal agent, you have clients on your Facebook and you talk to them about your dog, the weather, showings you have done, listings that are neat, etc. THEY know that per the terms of service they should not post sensitive financial information on the Facebook and I am sure YOU know that you would not be putting their closing updates on their wall for the world to see. Additionally, THEY have posted whatever contact information that is relevant to them on THEIR page and you do not have any control over that.
Like everything else in life, this requires a little common sense. I would not post updates to their file on Facebook, I would send them an email or use a transaction software. If we are negotiating a contract I would not post it on Facebook, I would give them a call or send them a PDF.
I see things come through on Facebook every day. Yesterday one of our client's client posted that he wanted an update on the showings on his house. Since the client instigated it online IN PUBLIC, the agent could have answered, but I wouldn't do it there. I would say something like, "hey I will shoot you an email with an update" and get on with my day.