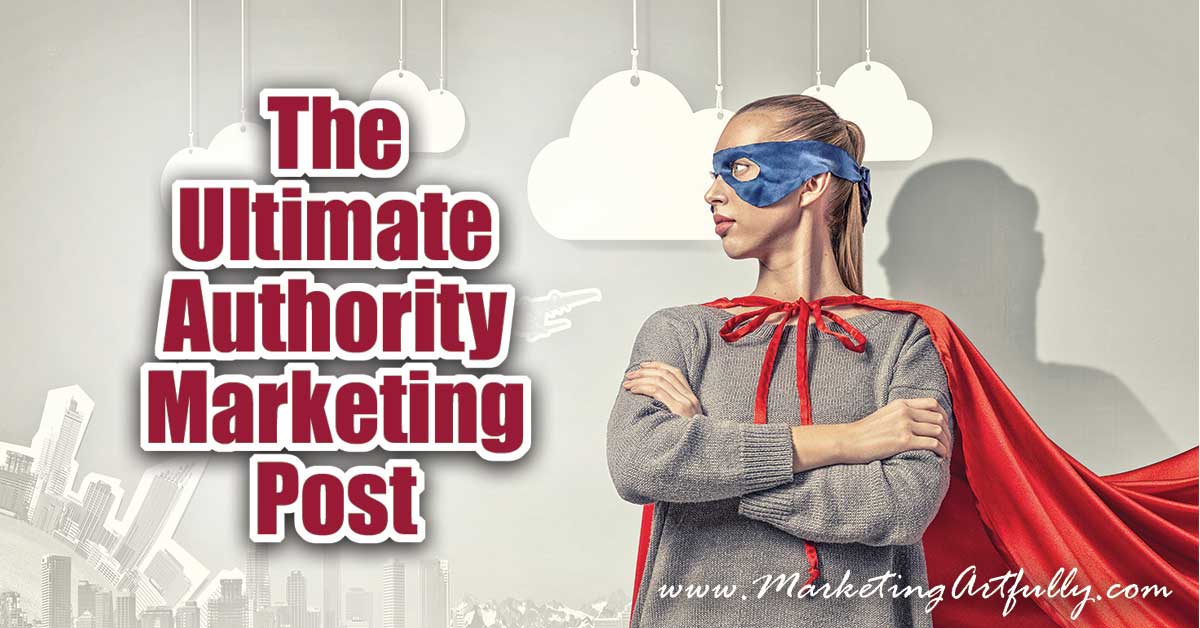 Authority Marketing is all the rage right now and I super excited about that! Basically authority marketing is putting a stick in the ground and saying that "I am going to be an expert about" something!
What Qualifies You To Be An Authority?
So how do you know when you are an authority? Is there some kind of class or course you can take to be certified?
Yes, and no.
Some people like to have specific training to be an authority. They feel like taking a formal class to be a "Certified Life Coach" or attending college classes will help them feel qualified to put themselves out there. And if this is you, then DO IT. Take the classes, sign up today and get started!
For the rest of us, there is no formal training. My degree is in psychology (which has proved surprisingly helpful working with entrepreneurs), but my background is actually 15 plus years of marketing… reading, eating and sleeping about it everyday.
There is no college class I could take to become a "marketing expert", instead I started learning by doing, taking specialized courses when I thought they would help and then starting a blog, speaking and working with marketing clients.
I recently met a man who is an authority on New Zealand soldiers. Aaron IS a soldier, but he also took that one step further and documented his deployment and then made a documentary about it. His mission and goal in life is to get recognition and exposure for the Kiwi soldiers and their families.
But to do that he has to BECOME an authority on the topic. Yes, a documentary is a huge undertaking, but he now has to put himself out in the world and talk about it. This post WILL help you, but it is actually a love letter to the team that is working tirelessly for these soldiers. I wanted to let them know what kinds of things they could do to get their message out to a broader audience!
What About Haters?
Before we get down to the nuts and bolts of things, you need to know about haters. They are the trolls of the internet who delight in saying mean things behind the anonymity of their computer screens.
The nice thing is that when you start you will probably have few haters. They really only like the exposure that they get by targeting people who have large followings. BUT they will show up eventually and my advice to you is to ignore them and block them whenever possible.
I KNOW, people say that you should leave their comments up on your Facebook posts and videos, but for me, I know that they hurt my soul a little bit and make me sad, so I just ignore and block.
Some things they will hate about you:
Your weight
Your hair color
How you talk
If you say um (I said um a lot and haters reminded me of that so I got better!)
What your wife looks like
That it is stupid to post pictures of your kids, dogs, life
Your gender
Your sexual orientation
Your religion
The list goes on and on. ALL of these are examples I know of actual hater's comments from my other public friends. One gal had the audacity to go from brown hair to blond and BOY did that cause a firestorm of hate!
If you are a little worried about this, please check out our book, Fearless Marketing For Women before starting!
How Do You Pick Your Topic/Passion?
So now the next thing to do is to pick which part of your topic will be your authority subject. For example, I could be an authority about a million kinds of marketing (email, social media, websites, SEO, sales pages, etc.) But by niching down to serving mainly Realtor, Writers and Etsy Sellers I am making it easy on myself to know who my audience is!
Aaron could target people who support soldiers (not necessarily the military), women who support women soldiers or even people who are interested in "feel good stories" by framing his blog posts and videos to tell the inspiring side of the tale.
You need to figure out what part of your topic you like. Then sit back and think about it to its ridiculous end.
So I like to sell vintage products. It combines my love of marketing with digging around in dusty old houses. So teaching people how to sell and source vintage items is a great niche for me. So if I take that all the way out to its ridiculous end, I could take a trip to Europe, source over there, take videos of my travels for social media and then sell high end products on Etsy.
Make sure your chosen authority topic's ridiculous end is something that would make you happy. 
For example, I could do Facebook as my topic. I could make videos and blog posts about how to use Facebook. I could teach classes and courses and work one-on-one setting up marketing campaigns for business owners who want to market on Facebook. But that is so not MY dream. The ridiculous end of that rainbow is being asked to speak at Social Media Marketing World and hob-knobbing with the other experts. Luckily Mari Smith DOES have that passion and is a great example of someone living her dream!
Exercise:
Write down everything you can think of about your chosen topic. All the ways that you can think it would be presented.
Then ask 5 of your closest friends what they think you are good at. See if there places that overlap. (I LOVE Venn Diagrams for this kind of thing!)
Here is mine: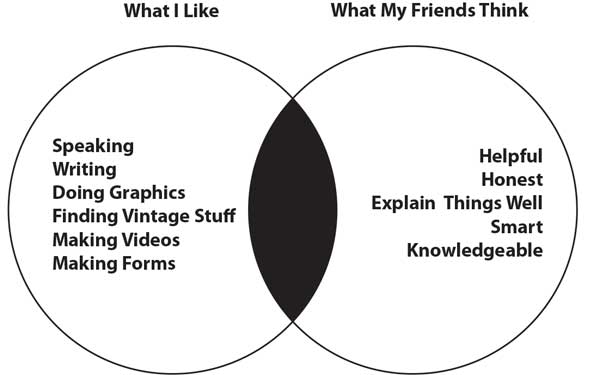 So that space in the middle is where I put what I want to do which combines my "happy stuff" with what others think.
Please take the time to do this exercise. The worst times in my business life have been when I looked to other people to tell me what I should be doing. Yes, get input about what people who love you think, and then make sure that your main focus is something that you would be happy doing for the rest of your life!
How Should You Present Yourself?
Now that you know what you want to be an authority in, start thinking about how you can best get the word out. This is really the way that your authority is going to be known. You can call yourself whatever you want, but showing people and helping them is the way that others will start noticing that you are actually accomplishing something.
So how do you present yourself? Do you do the typical "authority" dress of a suit and tie or pantsuit? Do you have to look a certain way or act a certain way?
Actually, you are fine just the way you are! I follow people who are buttoned up, sane and super normal. AND I follow people who are crazy, outrageous and out there. I am more attracted to them because they are being genuine and authentic than because they are presenting themselves in certain manner.
For example, Realtors are know for being big haired and super stylish, but one of my favorites is a little sassy and very outspoken. Leigh Brown has stick-up hair, a funny accent and is not afraid to say what she really thinks! I love that about her and am really willing to support anything she does.
So just be you. If you are tattooed and have pink hair, don't try to squash yourself into being "normal" looking. And if you are not crazy and weird, just be calm and soothing. There are people out there looking for every kind of inspiration and however you are is just fine.
What Can You Do To Establish Your Authority?
Okay enough airy-fairy stuff, now let's get down to brass tacks. What kind of marketing should you do to get the word out? First off, you need a…
Website
It is tempting to think that you can grow your following on Facebook or YouTube, but those sites are simply support channels for your main hub which should be your website (or blog). Most websites these days are self hosted wordpress blogs and that is what I recommend for ease of use and efficiency.
Here are some things that you can do with a blog you own:
Have a newsletter signup page
Give away something free to get people to sign up
Do an about page
Do a work with me page
Sell your products
Have a popups to grow your email list
Show your videos
Host your podcast
Having that one place that everything else points to is super important to your success!
Here is a great (affordable) website creator that I love! http://onederoustribe.com/affordable-websites
Podcasts
Speaking of podcasts, these are a hot new trend for authority marketers. Doing a podcast is a great way to increase your reach and show your authority.
BUT, it also a LOT of hard work. I did have a podcast for a bit, but now I focus my efforts on being a guest on other people's podcasts. This is brilliant for getting "introduced" to new people and growing your audience!
If you are going to start a podcast I recommend John Lee Dumas's Free Podcast Course
Speaking
Being a speaker for your topic is really the best way that I have found to command attention. Have two or three talks that you can give which highlight your topic and then get out there and start speaking. If you are just starting, speak for free but have a plan for how you are going to be able to convert that to paid speaking events down the road.
I have heard a lot of people speak very highly about Toastmasters if you are not sure how to get started!
Videos
Video is a great way to "speak" without having to leave the comfort of your home! I love doing videos for onboarding my email subscribers and also for adding to my blog posts. Here is some info about video that may help you pick which to use!
Facebook Live – Facebook Live has burst onto the scene as the hot new place to do videos. The nice thing about it is that you can do it "on the fly" and record it for later. I have heard many people say that their following grew exponentially by combining the power of video and Facebook's huge reach. I recommend Mari Smith for anything Facebook related!
YouTube – YouTube is the platform I use for my videos. It is easy to use and easy to embed into my blog posts. There is no great training that I can recommend right now, but you can definitely go to "YouTube University"… just type "how to do YouTube videos" into YouTube and bam, there have it!
Vimeo – You might hear about Vimeo and the fact that there is not as much competition over there. I find that it is great for making videos that are for closed courses or my newsletter list only, but for marketing purposes, definitely go with one of the other two!
Social Media
There are a million places that you can learn more about social media than I can tell you, so here is just an overview of what I think about each channel for marketing your business.
Facebook – Unless you are willing to devote a lot of time to Facebook, plan on making a sales funnel and paying for posts. If you are selling a consumer product it is great, if you are doing consulting it is great, selling business products is a bit more challenging.
Twitter – Twitter is a great platform for push marketing. That said, it is decreasing in popularity and would not be one that I would start with at this time.
LinkedIn – If you are doing a business-to-business niche or something on the more "serious" spectrum, I would give LinkedIn a look. LinkedIn is more one on one communications and a great place if you have the time to devote to more personal conversations.
Pinterest – If you can promote your message visually, PLEASE check out Pinterest. It is a great way to reach women and HUGE for selling consumer products.
Instagram – Instagram is now owned by Facebook so you can market there through the Facebook ads platform. Many people are finding success doing organic marketing using Instagram's visual interface!
Snapchat – Snapchat is no longer for teens taking selfies (okay it is still good for that) but now it is being used by many authority marketing peeps to connect with their audience on a more playful level. It should be less formal and more "fun".
Writing
Being a writer myself, I saved this one for last because it is my favorite! If you are a good writer, there are many avenues open to you for marketing!
Your Blog – I get thousands of hits a month on my blog posts which gives me the opportunity to promote my products and sell affiliate products from other people. The key to a blog is consistency and time. Set a publishing schedule and stick to it over time.
Books – Whether you self publish or go through a traditional publisher, books are a great way to get the word out about your topic in a consistent, stable manner. Blog posts are great, but when you have a book your message is perceived to be more relevant and important. If you are looking for more, check out our book, Writing A Non Fiction Business Book: The Ultimate Authority Marketing Piece.
Guest Posts – If your blog is not well established and driving a lot of traffic yet, then guest posting on another person's blog is a great idea. Here is a cool infographic that will walk you through the process!
Medium – Medium.com is a neat site that is a great publishing platform if you are not already well known. They have an active and engaged audience and can help you get exposure.
LinkedIn Publishing – Last but not least is the LinkedIn publishing platform. Instead of posting an update you write an actual post on LinkedIn. This is a good way to put out flagship content that you want to be seen and added to your LinkedIn profile.
Authority Marketing Wrapup
Okay, if you got all the way down here, you MUST be interested in authority marketing. This post is so long it is starting to rival war and peace!
This is definitely something you need to start right now! Figure out your niche, get your website going and start TODAY!
Please note, there are affiliate and regular links in this post. I only recommend products that I use personally or know the person who delivers them is of the highest quality.

Organize Your Time! The Coaching Business Planner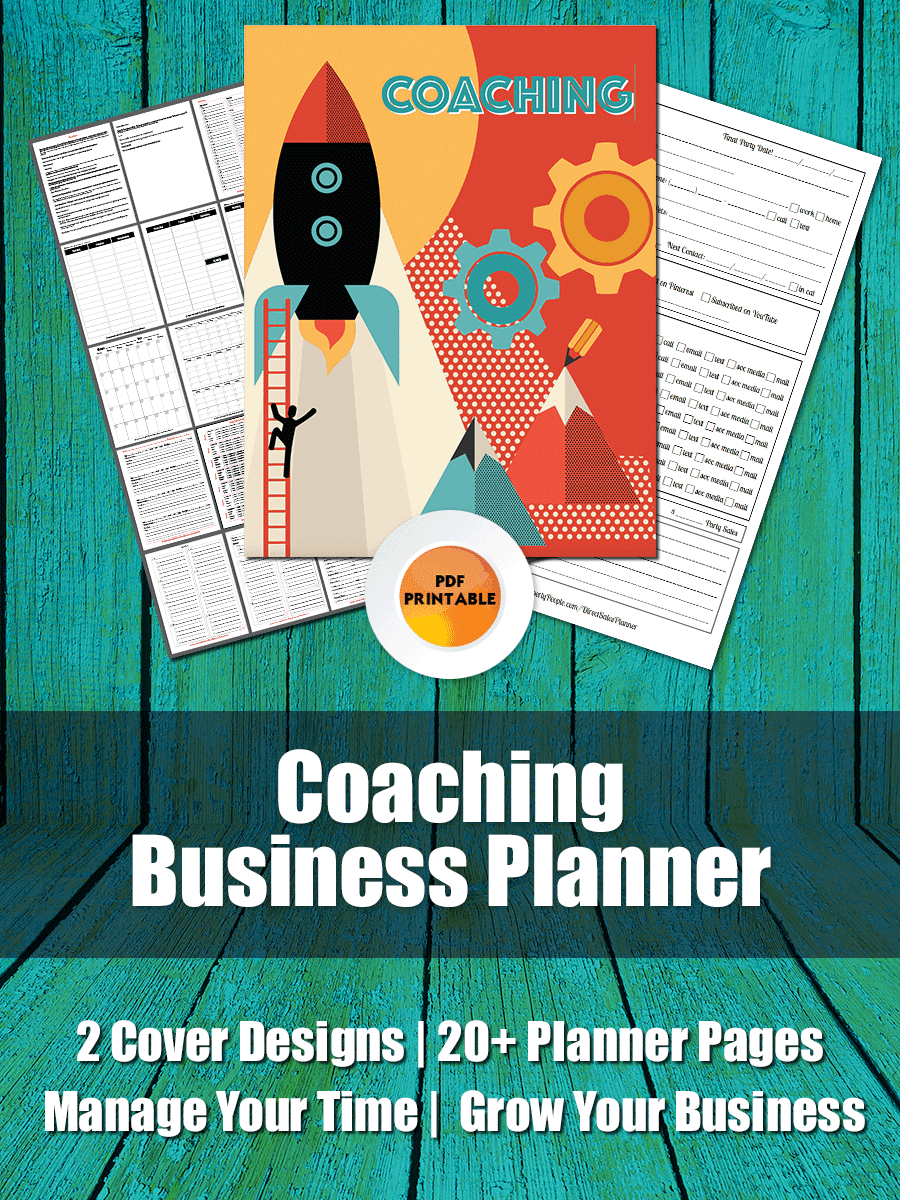 YAY YOU! I am so glad you are finally ready to get serious about organizing your time, your marketing and your business.This planner will help you with that and so much more!
Get to work on your business! Time management is great, but so is making money! I developed this planner so that you can track each day exactly what you need to do to grow your business.