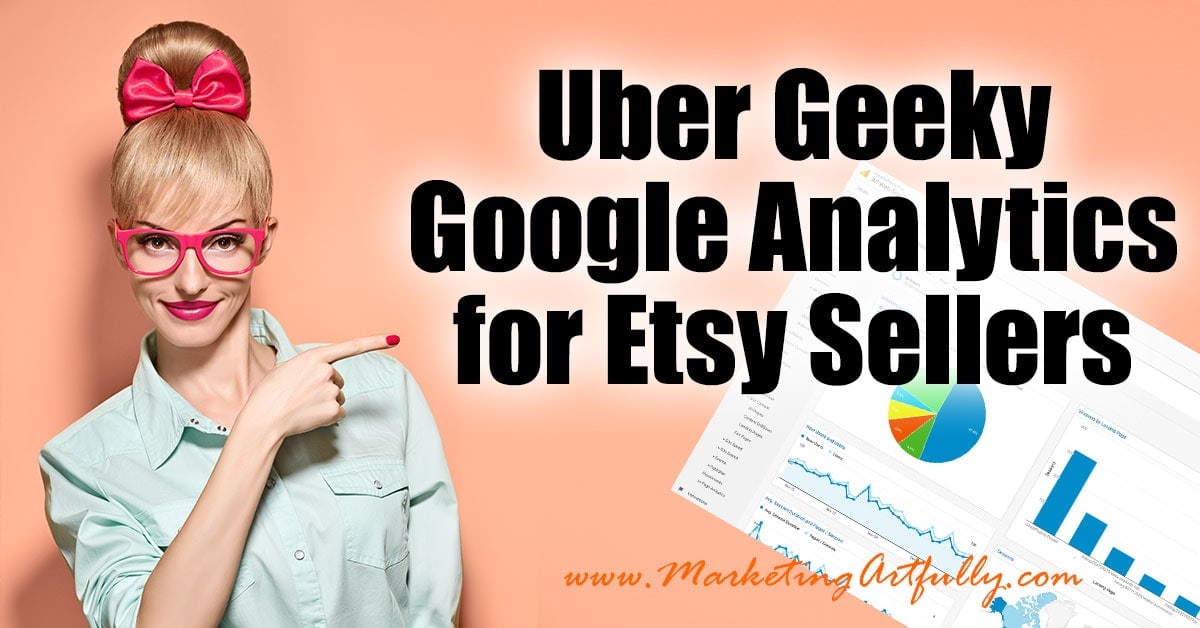 Today's post is uber geeky and only for Etsy sellers who want to dink around in Google Analytics, figuring out data that will help to grow your store! I say this because if you just want facts (how many views, purchases and favorites, you can use the stats in your Etsy store to accomplish quite a bit!)
But we do have the ability to hook our Etsy stores to Google Analytics and drill down even deeper! That said, if you are only getting a couple of views a day on your store, this is probably not something to start with. Instead you should focus on your Etsy SEO for now to grow your views inside of Etsy to a significant number.
But if you have views AND are a numbers nerd like me, then this post is for you!
Adding Google Analytics To Your Etsy Store
This is not a hard step, and BONUS you only have to do it once per store! What you are accomplishing is adding your Etsy shop raw data into Google Analytics. Using Analytics you can find out A LOT more about your buyers than you ever could
1. Go to Google Analytics > click admin > under Account, set up a new account for your Etsy Store(s). I like to keep all of my Etsy stores separate from my website analytics. Do not fret if yours is not like this, you can move these around afterward if you like!

2. Under property > click "create new property" and just add your Etsy store info. If you need more help, here is a Google Analytics help article from Etsy.
3. Under Property you will see settings and find a number that starts with UA- … that is the number that you have to copy into Etsy!
4. Go to Etsy > Your Shop > Shop Settings > Options > Web Analytics and paste that code.
5. Next you need to make sure that Google Analytics is not counting your hits as you obsessively check your store (or is that just me?)
a. Go to Google and do a search for "What is my IP?". That is the computer you are using to access the internet .. copy that number
b. Go back to your Google Analytics Account > Admin > View (on the right) > Filters. Add filter > Name "Block my hits" > Filter Type "Exclude" > Select Source or Destination "Traffic from the IP address" > Paste your IP Address > Select "That are equal to". If you need more help on this step check out this info from Google.
6. Last but not least you need to wait. Your Analytics data is not retroactive so you have to wait a little bit to start getting info into your account! In the meantime you can check out some of the things that I check on my Etsy store!
Where To Start With Google Analytics For Etsy
Most of the time when you log into analytics it will take you to your Audience Overview Page.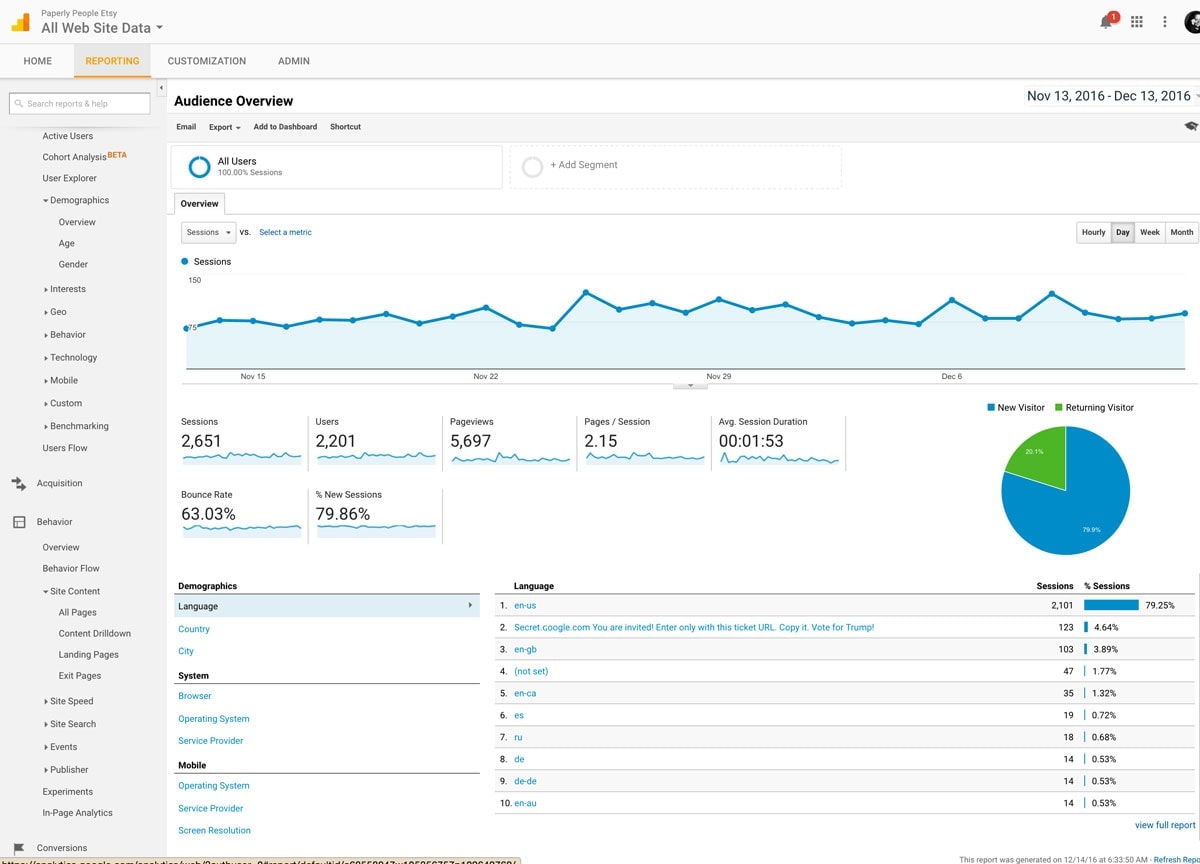 Super quick, because this is nice, but not necessarily all that helpful..
Sessions – how many time people came to your store overall
Users – how many different people came to your store
Pageviews – how many pages they looked at
Pages / Session – how many of your items they looked at each time
Avg Session Duration – how long they stayed on your store
Bounce Rate – how many times they looked at just one item and hit back to Etsy or Google search
% of New Sessions – how many times it is the first visit (it looks like Google tracks this for 6 months)
Language – what language they speak (that second one is Analytics spam and is not real, we aren't going to worry about that in this post, just know that you might get something like this… just ignore it!)
I feel like I can get most of this in my stats reports on Etsy. Maybe not this much data but enough to make guesses. The difference between Etsy stats and Google Analytics is how we can sort the data!
Segments
For me, Analytics was nice to have but not super helpful until I figured out the "Segments". Segments allow you to sort your traffic by criteria like "came from Pinterest", "visited my shop multiple times" or custom ones that I get from smart people (more about this later).
To make a custom segment go to Admin (at the top) > Segments (on the right) > Click New Segment
Here you get a WHOLE bunch of things you can segment by, but let's start with making a segment of people who came from Pinterest. Many of us spend A LOT Of time using social media, thinking that it drives traffic to our stores, now we can check and see if that is true!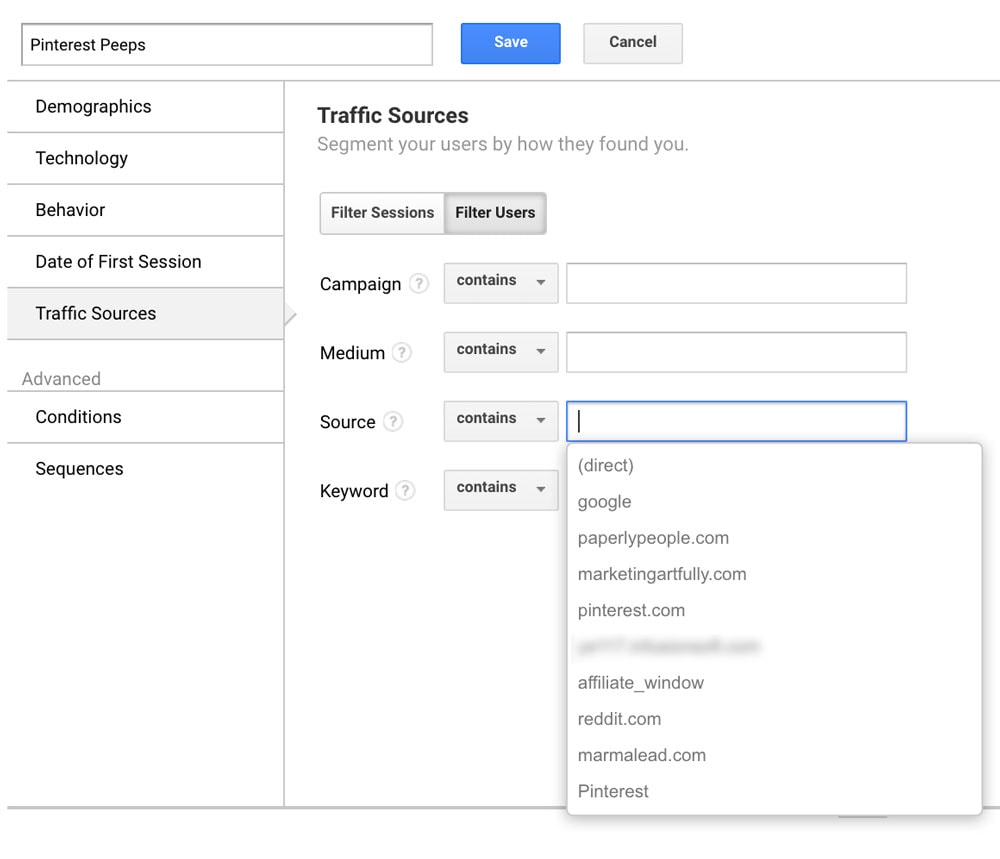 I name my segment something I can remember like "Pinterest Peeps" and then go to source > contains and pick "pinterest.com".
SO COOL… one thing to note is that all the top traffic sources to your store will show up there! The one I have blurred out is my email provider. So I could make a segment that is "Email Peeps" where I can see how many people I have driven to my Etsy store.
In fact, I could make a segment that contains ALL of the traffic that I have driven to Etsy. That way I could see if my efforts are working or if I should just focus more on increasing my Etsy SEO.
Some good segments for marketing:
Social media sites like Pinterest or Facebook
Your website
Your email provider (could look like constantcontact.com or madmimi.com … generally it is easy to tell)
All the social sites
ALL the sources that you control
Now, there are some really people on Google Analytics and they have made a bunch of segments already (mostly ones that are SUPER complex and more than I could ever figure out how to do myself!)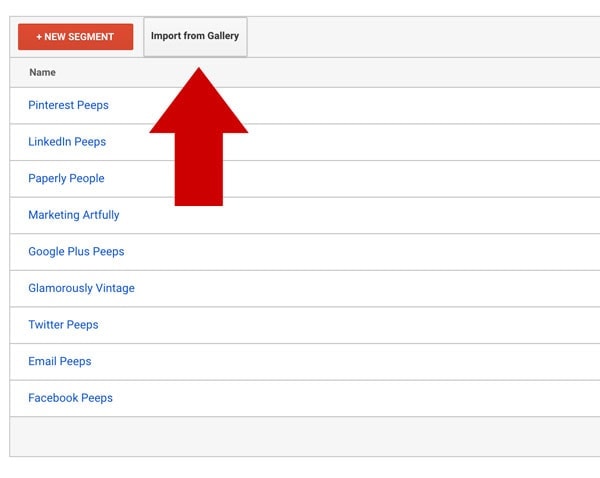 To find these "pre-made" ones, pick "Import from Gallery" instead of "New Segment".
Now, they are not exactly named things that are particularly helpful, but I have found a few that are amazingly awesome like…
Non Flirt Potential Lovers Segment.. this one is cool! It is the people who have visited multiple listings on your store! The guy whose site I am sending to you has LOTS of good stuff there!
Social Media Traffic by Rachel of the Google Analytics team.
Tip – make sure you don't have 5 stars checked as you might miss a lot of good ones!
Segments aren't permanent. So one thing I worry about when I am doing things like this is making a whole bunch of something and then realizing I don't need it and it is stuck there. Segments are SUPER easy to change, modify and delete so make a ton and then just "star" the ones you like the same way we do favorite in Etsy!



Who Are Your Shoppers?
Now we are going to learn a bit more about who visits your store. On the left side are a whole bunch of things you can check but we are going to start with Audience > Demographics > Overview
In this I can see how many men versus women and their ages. Okay, that is factually correct but not all that helpful for my marketing efforts. (this is shown in the inset report)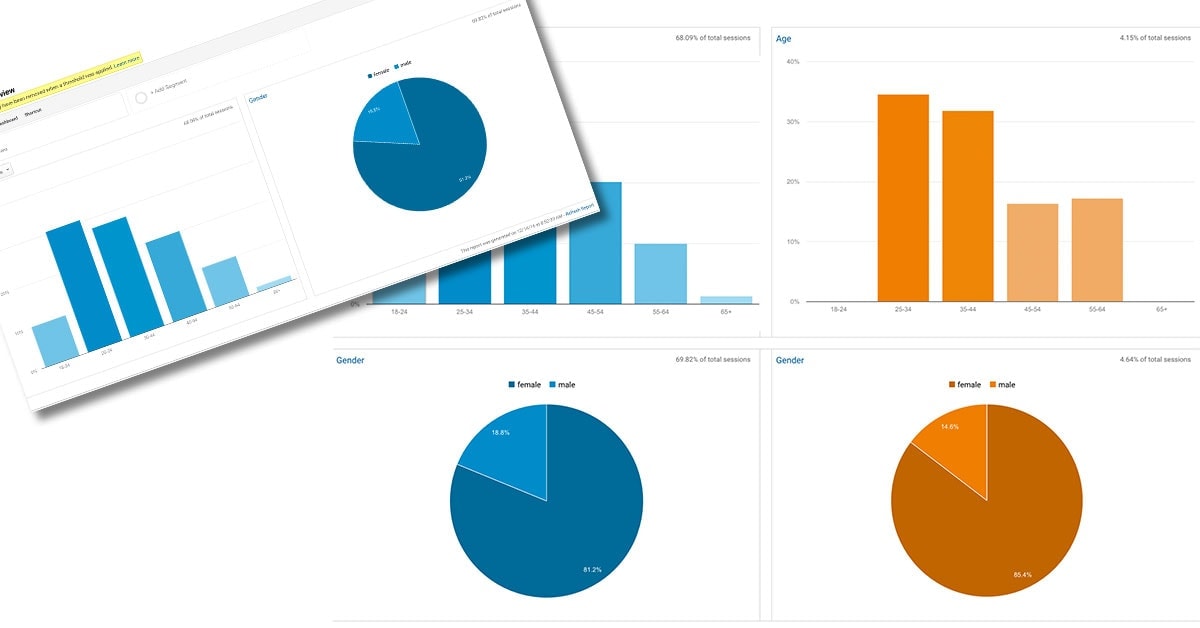 Here we see the same info, but then we can apply some refinement. I do this by adding a "Segment" – this is right beside the "All Users" button at the top. I added the "All Social Media" segment and now I can see that NO young people or old people have come to my store from social media. For me that is okay and probably not something that I would monitor on an ongoing basis because I sell to business people. BUT if you were selling something that was made for senior citizens, you would have an idea that using social media might not be the way to go.
I find that these types of demographic reports are great for high level thinking about where to spend my time marketing, but they are not ones that I use on an ongoing basis.
Monitoring My Listings
For monitoring my shop I use the "landing pages" (Behavior > Site Content > Landing Pages). This is information about which pages on my site have the most views.
This is great to use in conjunction with a segment like "Email". Here is a search that I did showing my Landing Pages (listings/store) by email.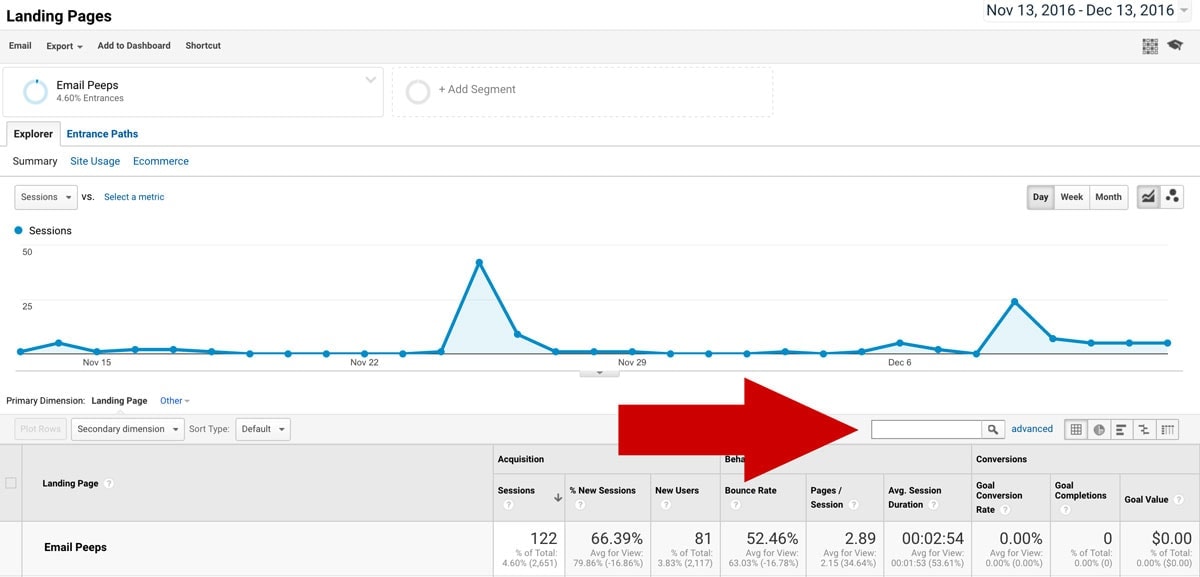 So first off, we can see that I drove 122 sessions with my email list and that they were probably during those messages that I sent out!
Pro Tip: In my stats I have all kinds of data that is not as good. My email provider uses weird shortcuts to get them there, but a common thing is that they have the site name right. So for this search I could do "real-estate" in that box I put an arrow to and get them all together!
Saving Your Data For Easy Viewing
Okay, if you are nerdy enough to get down here, you are probably going to to want to see some of this "stuff" again! There are primarily two ways to save your info for later, Dashboards and Shortcuts. I had a REALLY hard time figuring out which one to use for what things!
Dashboards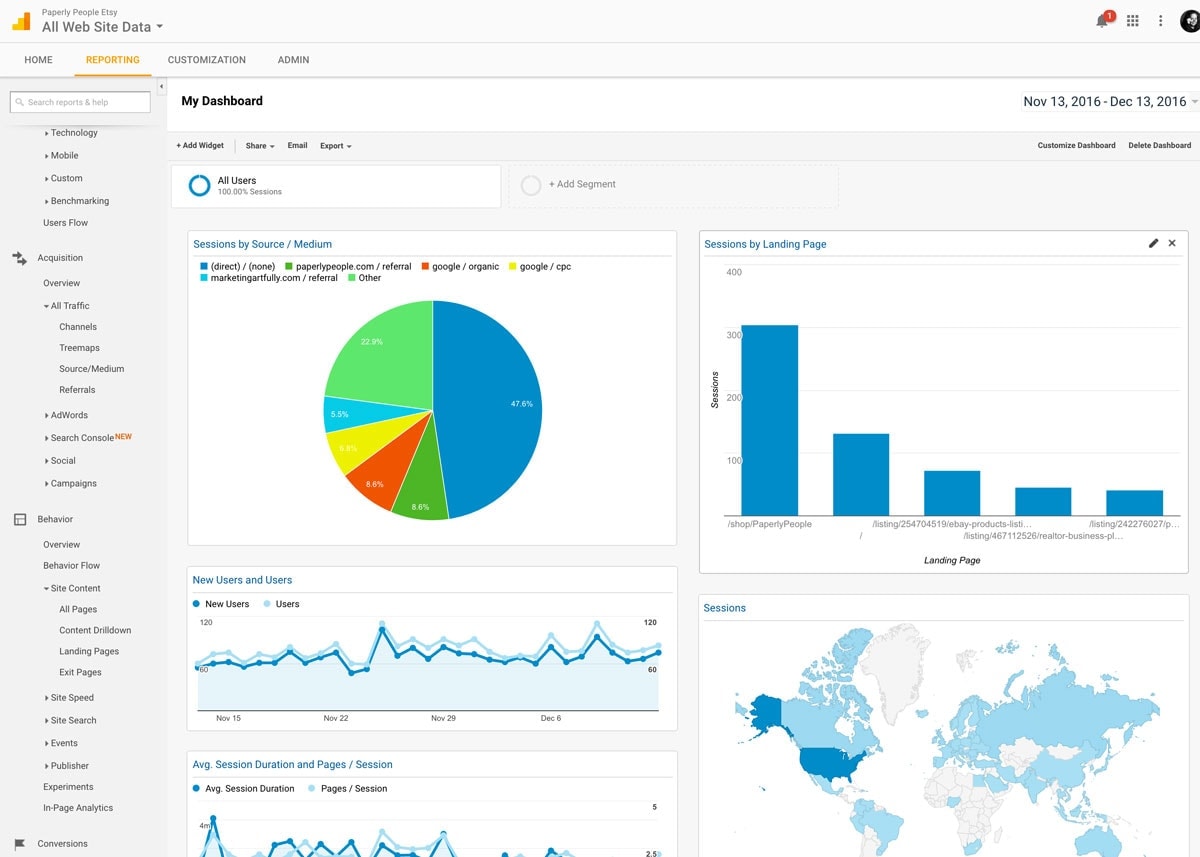 Dashboards (top left of nav) are great for monitoring one thing at a time! For example this dashboard has:
Source – which shows most of my traffic comes from Etsy, then my Paperly People website, then Google CPC (paid ads) then my Marketing Artfully website. Okey doke, I could get that sort of in Etsy but okay, nice to have a graph and see everything all at once.
Landing page – shows which pages of my site are popular. Again kind of redundant with the Etsy stats, but okay.
Country – I really only monitor this to see if Russia is making my stats sad because of site spam, but is also cool to see where all people are coming from.
Shortcuts
Shortcuts are my jam! If I have done a report that seems to be helpful rather than factual I will save it for later! For example, this is a shortcut I made to a search I did for audience overview – all traffic and social segments.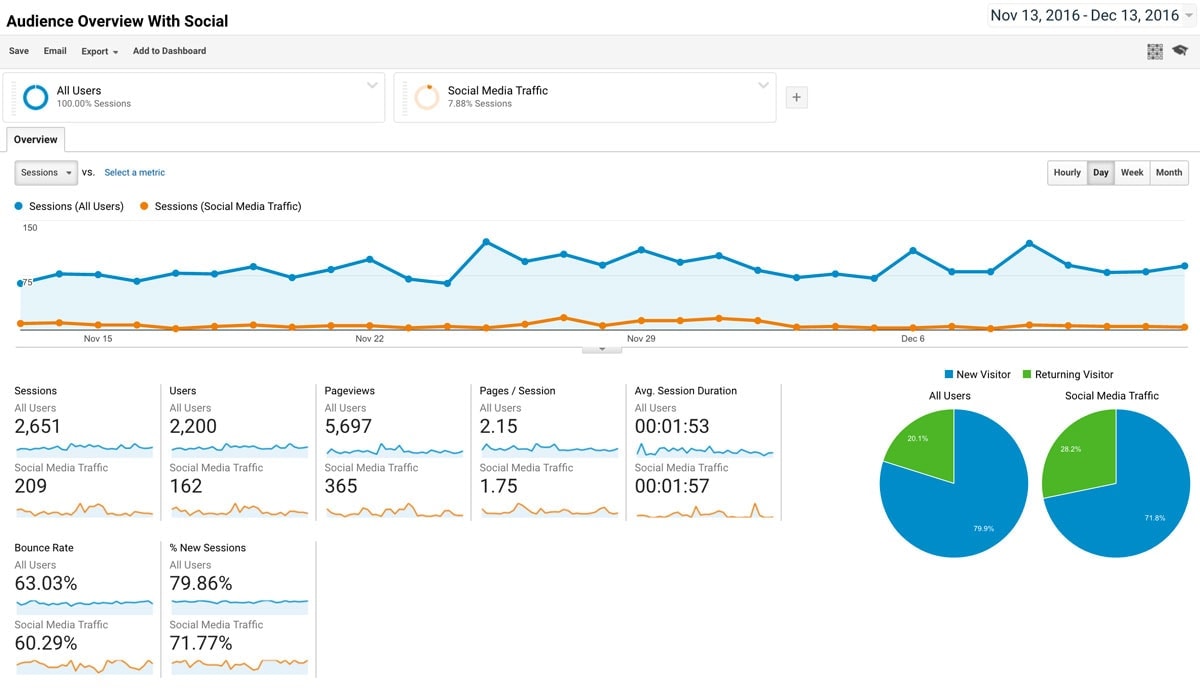 Again, this is something that I can actually use, rather than just checking in and seeing data. My social traffic is less new to my site, about a 1/3 of them have been to my store before. They look around more, 40% don't bounce, compared with all people who bounce 30% of the time. That tells me that my social audience probably knows me at least a little bit! So I should talk to them more like friends and less like a factually correct listing.
So this got me thinking, where are these social people coming from, so I did another search with Acquisition > Overview > All Traffic and then added some of my top social segments.

This would be a report I would make a shortcut to if I was really working on my social media. For example, one of the gals in my group is super focused on social and she could see if her efforts were paying off! I would definitely save this as a shortcut so I could check it regularly!
Find out who bought
Crap, I was all excited when I saw that there were conversions and purchase, etc. But Etsy must not pass that data to Google Analytics so they really don't work. If you figure out how to make them work, please email at tara (at) marketingartfully.com and I will add it to this post!
When Is Google Analytics Good For Etsy Sellers
Okay, maybe by now you are thinking, that is AWESOME, but what would I use this for (I know I did once I got everything set up and then had to sit there and try to see what I could see).
First off, if this seems like too much work for data, then I probably wouldn't do it. You could spend a whole bunch of time getting things set up and then just have information with no purpose.
Second off, if you do like it, then get it set up and start thinking about what metrics would be important to your business! Some things you might want to track…
Website Traffic
Does your regular website send traffic to your Etsy store?
If so, how does that traffic act? Do they stay longer than normal people or do they bounce right off of Etsy or to another store?
Which pages do they visit most?
I have multiple sites that I spend time writing for and maintaining. I feel like it is important to track if my website work is actually driving views to my stores. If not, I would have to start thinking about doing something else!
Email Traffic
Is your newsletter list a top source for your site?
Did you see a spike of traffic to a certain listing when you sent out a message?
Again, this is important to know so that you can see if your email marketing is working. You may be using newsletters or autoresponders and those take time. If you have been working on that a lot and have great results, keep doing it! If not, then either change how you are doing it or stop it altogether and do something else that has better results!
Social Media
Which social networks are doing the best for you now?
Is that traffic "good traffic"? Do they bounce or look at a bunch of different pages?
Do your social media peeps come back again and again? Are they first time visitors or return traffic?
Spending time on a social channel that does not convert into sales is not a good use of your time. While we can't see sales data, we know that more views definitely leads to more sales.
Which Listings Are "Popular" and Why
I love seeing that one of my sources are Pinterest (which I am working on) and then checking which pages they are showing. I can then walk back the cat and see if a pin was special. Was it a combination of pictures or just one picture. Did it have words on it or was it just plain?
Why There Aren't Standard Google Analytics For Etsy Sellers
Okay, now that we are at the end, I am sure you are like, "just tell me what I should watch!" I took a whole 30 hour course on Analytics, got to the end and thought the same thing. BUT it all depends on you, your store and your goals.
Say you are selling a $2,000 product that is very niche. Your goals would be much different than mine are for Paperly People where I am trying to get as many business people to see my products as possible.
At the same time our marketing efforts are all different. I write blog posts and do podcast interviews to get people to my stores. You might do social media or in-person craft shows.
There is no way to know what you will need until you actually start working with the data and figuring out how your results fit into your shop goals!
No I can't Help But…
Sometimes when you see a post like this you think, "maybe I could just have the author do all this for me!" Well, this is not a service that I offer. I just wrote this post to help my nerdy Etsy peeps out!
But, if you do want ask questions that will help other shops too, then you can join my Etsy Facebook group here. Because I can help lots of people all at once, I will sometimes be able to answer your questions over there!

Etsy Seller Planner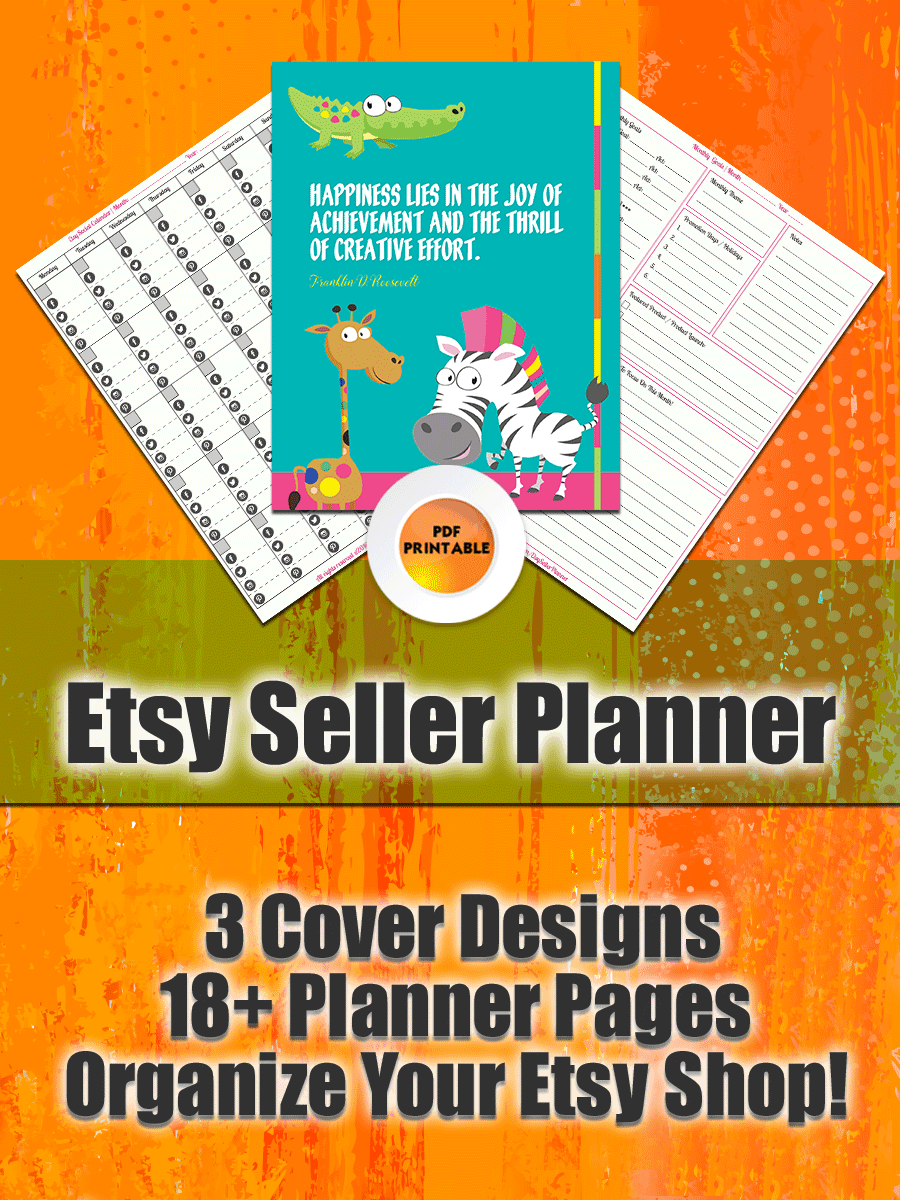 I am a current Etsy seller with two successful stores (one vintage and one digital) so many of these forms are ones that I developed to make my life easier! I also worked on this planner with the help of current Etsy sellers who let me know the things that they struggle with time-wise!
Using this planner will help streamline your systems and (as one gal put it) make sure that important things don't get lost in your "bermuda desk"!