I have been talking about this with humans A LOT lately so I am just going to get it off my chest here. There is NO ONE marketing thing that works! Facebook is not going to change your life, getting a blog or a website will not get you 1000 prospects tomorrow, new business cards – nope, print advertising – nitch, direct mail – nil, video – nada. Small business owners, entrepreneurs and realtors need to get a grip on the fact that anyone selling them THE ONE THING that will take care of all their marketing needs is lying (and not just a little bit, a big fat lie!)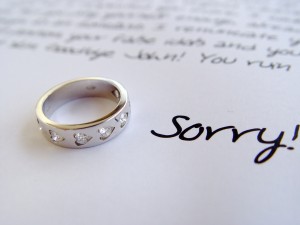 There are a bunch of small business owners who are sad. They do not like doing marketing much and prospecting (calling) is out of the question for them. They are pining for the good old days when they could just place their yellow page ad once a year and then sit back and wait for the phone to ring. Realtors are looking for a time when sitting in the office meant that you got the next live buyer or seller that walked in the door for floor time. Pine away, those days are gone and yearning for them just means your small business is slower to get going in the new, more competitive marketplace.
Think about what has come and gone even in just the last decade…
I started 2000 arguing with business owners that having a flash movie between their website and the search engines was harmful (and expensive)
HTML built websites were hard to build, expensive to change and gave way to…database and frame websites that were hard for search engines to find!
No one even knew about google
Direct mail fell off the map in the latter part of the decade (smart marketers know that now is the time to get in when competition is low)
Advertising in newspapers stopped being the other easy way to market
Snazzy marketing materials and design became affordable at Vistaprint.com
Blogs showed up as a great way to get found by search engines and were easy to use
Social networking like myspace came and went and new ones like twitter and facebook took their place
AND people started using the internet to find small businesses instead of using..wait for it…the yellow pages!!!
Now-a-days small business owners have to be more marketing savvy. They do not have to learn HOW to do the actual technical parts but they DO need to know what works the best for their business AND get involved. I can guarantee that no one will love your business like you do so handing over your marketing to a snake oil saleman could be death of it!
I am putting this out there loyal readers – before you spend more than $1,000 on any type of marketing please post a link to what you are thinking about here. If I think it is great I will publish it and give  your marketer some great publicity and you the thumbs up. If I think it less than great I will message you behind the scenes and let you know my thoughts. I have talked to too many small business owners lately who are spending a FORTUNE on snake oil…:(
There is an affiliate link for vistaprint in this post, if you click that and then sign up I will get a little bit of money, if you would like to avoid giving me a little bit of money type it in manually.
(Visited 35 times, 1 visits today)