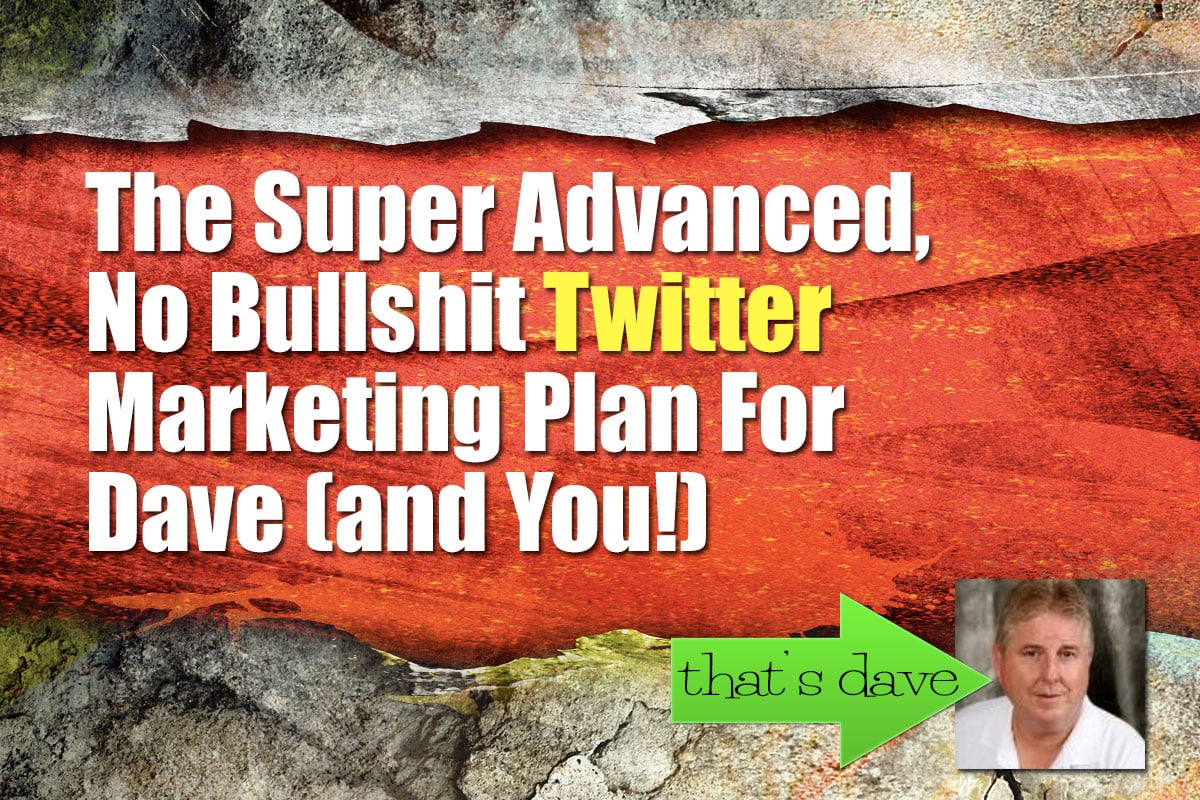 Yes that is right, this post is a comprehensive answer about doing Twitter marketing that I wrote for Dave. Luckily for you I like Dave and am willing to tell him all my best Twitter secrets! In it I tell you what I do, why I do it and how it helps my marketing efforts.
– – –
Our client Dave was watching our web show #4, the one where we talk about building big social media networks and he got a little feisty. He said,
I love your podcast but you know when you talk about networks my head hurts. Then you say to grow the network that you like the most…what you do if you don't like any of them????

Sincerely
Dave Negri
Now, Dave one of the nicest guys we know, but he is also sort of a marketing guy. He runs an awesome podcast about how contractors can increase their business using marketing (ContractorsSecretWeapon.com) and is not afraid to try new things but social media just makes him grumpy. I figure if Dave is disgruntled with social, you might be too!
My Twitter Empire
If you are a Twitter kid, this post is going to make your little heart sing, but you have to remember that you can't focus exclusively on Twitter. I am fortunate to have "elves" who can do the manual posting for me on the other social networks, but I can't just ignore big dogs like Pinterest (which I love but do poorly), Google+ (which is a great SEO tool) and Facebook (let's not talk about Facebook…sigh). That said, Twitter is the only one that I am in every day.
For those of us with multiple interests, Twitter is really cool. They do not object to having multiple accounts for the same person, you just have to have different email addresses for each. I set up forwarding addresses in my hosting to cover this.
Years ago having a generic Twitter account like my @Taradactyl twitter handle was cool. You could talk about a general topic like "marketing" and people would follow your account. That account has over 18,000 followers and is really a huge asset for my company. That said, it is harder now to grow a generic account unless people are actually following you (more about that later).
@tweetinghomes – This one is for realtors. Another old one, it got most of its followers when it was a little easier. In actualality I had set it up years ago and just let it churn, posting cool stuff and ignoring it. I also had set up TwitterFeeds to share other people's stuff so there was a little boost for that too. Every time realtors I had set up posted on their blogs, twitterfeed would post that link automatically. It has about 5,500 followers at this point and is a nice one to have, but not really on my radar much.
Today it is much easier to grow an account if you have a specific target market. Some of my more recent accounts are:
@Ebooknerds – We are writing a book a week for a year so I am pretty interested in book marketing. This account is where I share all the cool stuff that I am learning and writing about in regards to self publishing. It is the fastest growing of all of our accounts, with about 600 followers at this point.
@Searchynerds – I love figuring out how to do keyword marketing and seo so having this one is really just a great way to share all the research that I do about SEO and search. It has about 750 followers and has been growing slowly.
@smmnerds – I have to read about all of social media for my business and I didn't want to mess up my other Twitter accounts with stupid Facebook shares so I started this one. No one likes it. There are only a handful of followers (maybe because I don't love it either!)
@emailnerds – about email marketing, I think you can see the theme here! 574 followers
@mandmmonsters – the account for our Marketing and Media Monsters personal brand. We need to do a little work on this one because it is stuck at 2001 followings and we only have 1,715 followers so we need to either get more followers or stop following as many people so the ratio is better. (Twitter has a 2,000 follow limit until you get this even and then there is a ratio thingy, don't worry about it, just try to get over 2,000 followers fast). Screwing around with this is a good thing to do on a Sunday afternoon watching the World Cup, unfollowing all the icky people and following key people who are going to help your account grow.
I also just started @PodcastNerds and @VideoMkgNerds because we are doing a podcast show and a web show so I know I will be researching these topics and have fun stuff to share.
>> @TweetyNerds – if you are reading this post you HAVE to follow my Tweetynerds account! I post lots of great info about how to use Twitter. I do so love the Twitter.
Why They Help
So overall I have about 30,000-ish followers over a wide range of marketing channels. This is not an earth shattering number in the Twitter world, but the cool thing is that when I have something I want to talk about people are there to listen. Here are the reasons why I like having them…
Archive of cool stuff to read
One of the reasons that I think my accounts do so well is that I actually read almost all that I post. OR if I haven't read it, I would be interested in reading it. I sorta-kinda use my Twitter feeds to save stuff I might want to reference later.
Promoting our content
I generate A LOT of content and if I posted all of it on one account, it would seem very spammy. With this in mind I schedule the promotion of our stuff over time over all the accounts, mixing it in with the other relevant posts.
People know the Taradactyl
When you love Twitter and have an active Twitter account, people will remember your Twitter handle. Being the Taradactyl is now part of my soul and it makes me smile. It makes other people smile too.
Getting Twitter Followers
Posting great stuff. Let's start with the bullshit answer that really does work. Posting great, highly targeted stuff will make people follow your accounts. They will set up auto-tweets that share your bits every time you post because they can feel confident that you will not be a douche bag spammer.
Following other people. People who like Twitter are actually looking for people to follow who are cool. If you follow other people, some of them will follow you back.
Your signature line of your emails. I don't want people to "Like my Facebook page" or "Connect on LinkedIn", I want them to follow me on Twitter. People will do the thing they like best first so I don't give them an option. On my email signature they can connect with me on Pinterest, Twitter and Google+ (things I care about) but NOT Facebook or LinkedIn.
On your website. You should have a link to your social media properties on your website. I have not gotten militant enough to take the Facebook and LinkedIn ones off there yet, but there may come a day.
NOT on your website. One thing I think is dorky is when people put a widget with their Twitter feed on their websites. You have done all that work to get someone to actually visit your site and now you are going to send them off down the Twitter rabbit hole. I don't think so!
Following YOU This one is for Dave! If you are an author, speaker, podcaster, web show host or other celebrity (no matter how minor), people will want to stay in touch. Make sure you have the link to your Twitter account in all your books and posts and show notes. People will be following YOU not your account.
How To Post
Having all those accounts is great but how the heck do I get cool stuff on them all the time? I use a paid Bufferapp.com account. It is $10 a month to have multiple social media accounts and all I have on mine is my Twitter. (I do have another account for my other social properties, but this one is just Twitter).
What happens is you set up Buffer on your browser with a little button and any time you find something good you hit the button and pick which account to share it to. Because I am already surfing the web for this kind of content, it is easy to fill up the scheduled slots.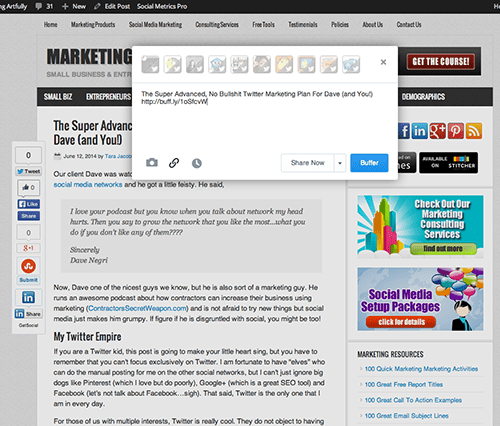 I don't spend any time thinking about what, when or how to post, I just find things that I find interesting and post them. Interesting things ALWAYS include my content, I just make sure that is not the only thing I am sharing.
I stick to the genre specific accounts (email, twitter, etc.) except for occasional posting of my stuff that gets broadcast across all the channels!
What you post matters
So if you just hit Buffer and post the title of the post, that is better than nothing. BUT I find that having a real call to action makes the retweets and shares more likely. Consider these recent posts, which would you rather retweet? I have to guess the ones with some oomph and personality!
Great post!!! :: How to Find podcasts on iTunes « iTunes http://t.co/9iTCpwwR3b

— Tara Jacobsen (@TARAdactyl) June 9, 2014
AWESOME BUZZWORD BINGO #MARKETING TERMS!! 17 Words to Stop Using on Your Landing Pages http://t.co/c6UDdyNPQx

— Tara Jacobsen (@TARAdactyl) June 9, 2014
Targeting Your Audience Earlier in the Buying Process – Whiteboard Friday #seo http://t.co/vs5T6wb8CZ

— Tara Jacobsen (@TARAdactyl) June 8, 2014
The last one is not very sexy. It doesn't have my personality in it. There are no special characters to make it stand out from the crowd. If your whole Twitter feed is just a series of shares, you are going to be one sad panda.
>> Get the Twitter Cheat Sheet and make your Twitter marketing better!
No better way to connect with fancy people
Joel Comm is a pretty big deal in the marketing world. I have met him in person and he is a cool cat who I might want to interview on our web show. But there is no reason in hell that Joel Comm will want to be on a show as little as ours is right now…unless…hmmm…maybe he knows me a little as a friend because I do nice things for him!
I share his blog posts on my Twitter, making sure to tag him with his @joelcomm handle
I give him Klout and share that on Twitter
I gave @joelcomm +K about Twitter on @klout http://t.co/snt15dL2TD

— Tara Jacobsen (@TARAdactyl) June 11, 2014
Notice that the favorite on this post is from the man himself!
I also have him on a Twitter list so that I can check and see if there is anything he posted that I can retweet. He will be notified or notice on his posts that I did that.
Now, this does seem a little stalker-ish when put all together like that, but really, I just share his stuff occasionally. He has great content that my people would like anyways, is funny and clever and a genuinely nice person that I am happy to promote.
I am also stalking @seanplatt, @chrisbrogan and other cool people that I follow.
It is really amazing to me the level of access you can get to "real" famous people today.
Hashtags
Hashtags are one of the main ways people find neat stuff on Twitter. You will want to figure out what hashtags other people use that you might be able to include in your posts. My favorite hashtags are #marketing, #socialmedia, #twitter, #amwriting and more.
This is a wicked cool tool to use to find out what hashtags match your industry >> Hashtagify.me
Advertising on Twitter
We have gotten the very best results of any of our paid marketing on the Twitter! The neat thing is that the ads are about the length of Adwords ads without all the management hassles. You just put up two posts, give it a couple of days, see which one is better, take the bad one down, put another one up and keep going. It is SO much easier than any of the other paid social media or search marketing channels.
We target accounts that we find in our Analytics which match our regular followers. So for TARAdactyl, there are 10 other accounts that seem similar when checked by Twitter. We start with those as our target ad reach and then add extra accounts depending on what we are selling. For example, if we are promoting a sales book we might add @Gitomer who is a sales guy and who has a relatively large following.
What we do not do is add anyone with millions of followers like Gary Vaynerchuk or Tony Robbins. People with accounts that large are no longer talking to a particular audience, they are now just broadcast personalities and not good for us to use in our marketing efforts.
What To Do Next
If you are down here you must REALLY like Twitter (or Dave!) Here are some next steps in case you want more:
Check out our ebook about social media marketing on amazon, it has good stuff mainard
Follow the tweetynerds twitter account to stay current on twitter
Get the Twitter cheat sheet
Thanks for reading…
XOXOX
Tara