Today it seems like gamification is the buzzword, generally I hear about the gamification of everything, but what does that have to do with marketing?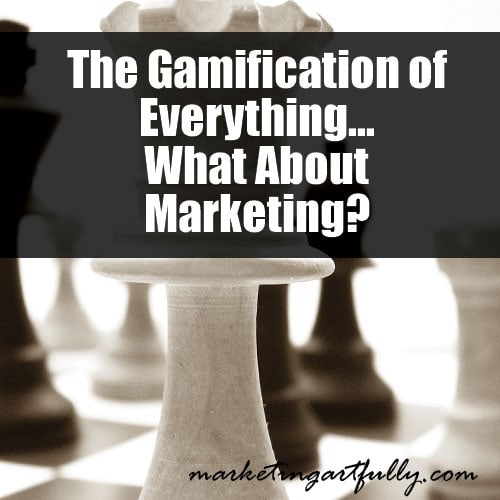 First off, what is gamification? It is taking every day things that we HAVE to do and making them a game instead of work. So, I got a Fuel Band for my Anniversary from my husband so we could move around more. In general, it counts our steps, adds what calories we burn living and gives us Fuel Points which should reach 2,000 a day. So, I am a marketing person, we spend LOTS of time behind a computer and my fuel points are deplorable. Enter the game, constant checking and a goal to reach and soon I am moving around more and expending more calories. PLUS if I move around enough, at the end of the day the little guy on my App will do a dance.
Second off we work with a great Enterprise level gamification company that does all kinds of data integration, etc. They have been with us for a while so gamification in the capital G sense has been on my radar, but I never could see how it could scale down to our little peeps (or my smaller marketing company).
Enter a little company out in Denver who does Gamification for learning. Well that is nice, but still not pushing my marketing buttons….but wait! The process of gaming and learning…what if I could make that something that would work with how I do my marketing consults with small business owners. And because I am twisted, combine it with a Cosmo style quiz about getting your man. Hmmmmm…
So, today I am laying out the framework for a game that will help people sift down what marketing they should do, and because I blog better than I work on my business, you guys are coming along for the ride!
First off at 40K feet, there are some basic types of marketing:
Online Writing – Blogging, Guest Posting, Press Releases
Online Connections – Facebook, Twitter, YouTube, LinkedIn, YouTube, Pinterest
Online Marketing – Email, AdWords, paid ads on social media
Offline Networking – Meetups, Leads Groups, Speaking
Offline Advertising – Ads in Local Papers, Promotional Items, Popbys
And then there are some basic questions I ask everyone who does a consult with me:
What are your sales goals?
What is your budget?
What are you willing to do?
So what if we made picking the type of marketing that we do a game that you could go through. You could pick and choose the bits that matter to you, what you are willing to do (any plan that involves the phone for me is a dud), what you want to accomplish and it would spit out the right answers at the end?….plus it will hook to my database (InfusionSoft)…
..not sure how this is going to work, but will keep you informed!
PS – Can you let me know of any aspects of the business world that you are more or less intrigued about doing gamification marketing with?