This is UNIVERSALLY the BIGGEST Facebook mistake made by small business owners, entrepreneurs and Realtors. If you are doing social media marketing, you need to check this today!
You are sitting at your email and BAM…you find out that people can see your email address on Facebook! The sender makes it seem like that is HORRIFIC so you rush right over to Facebook and change your privacy settings so NO ONE can see your email, darnit! Now, most of us have our email on our business cards and websites, so I am not sure this is the tragedy that you might think…
but BAM…oh my gosh, another email saying that you need fix your contact settings so no one can see your phone number…trotting to Facebook to dial back my digits…
BAM…just read a web post that said stalkers like to use your photos from Facebook to track you down and murder you in your sleep…Facebook…no photos…
BAM…shoot they are reading my wall posts and stealing my identity…no wall posts…
BAM….holy heck…have to make HTTPS because someone sat in a Starbucks and stole 50 Facebook logins in 27 seconds…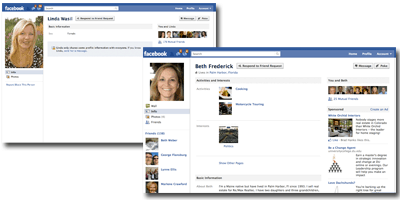 Okay, you may have figured out that this is all ridiculous hype that is just feeding into the fear that most people have about social media. Seriously, take a step back and THINK before you buy into a scary email and think about how it will effect the number of "friends" you get!
The picture to the left shows the difference between someone who has hidden ALL of her information and someone who allows at least a little information to show so that people can make a good decision whether to "friend" her or not! The lady on the left was kind enough to let me know she was female, but NOTHING ELSE. No job, no location, no photos, no wall, no nothing. She asked me to be her friend so I know she is trying to gain friends, but her privacy settings are so dialed back that she is effectively a non-person when I check to see if I should like her.
The BIGGEST Facebook Mistake – Social Media Marketing
I had over 50 friend requests on Facebook and thought I would walk you through the decision making process of how people are deciding whether to friend you or not. You have probably never sat and watched how someone goes through their friend requests so this could be pretty eye opening!
So, if you got through all 12 minutes of Facebook Profile mistakes, you know why it is so important to make sure your settings allow people to see more about you than whether you are male or female! Take a couple of minutes today and unhide all that great info about you that will make someone want to make friends with you!!!
(Visited 53 times, 1 visits today)