Who is the best dentist in Denver? I have to say, I know without a doubt that it is Dr. James Makowski…but probably NOT for the reasons you think!
So, I am a marketing kind of gal and it galls me to no end when people say, "oh I don't do any marketing, I rely on word of mouth." The reason I get so twisted about this is that most people are not good at selling their own business, let alone someone else's! So these relationship marketers sit back waiting for clients to come streaming through the door from all their unpaid salesmen out there in the field and then wonder why business is down in a recession.
First off, let me say that I DO know some rockstar networkers who live and breathe the referral and who CAN count on armies of referrals, just they are few and far between. Secondly, to rely on referral business only, you have to kick some major customer service tail, all day, every day to make it work! Here is the story of one little office doing just that…
The Best Dentist In Denver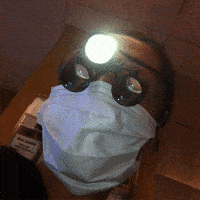 Not many people like to go to the dentist, but three or four of my husband's friends here in Denver do! When we put a call out on the Facebook for who was a great dentist to go to in our new city, both Jill and Fred waxed eloquent about this one all the way down in South Denver (a 45 minute drive for us, over an hour drive for them). Seriously, if they were that excited about this guy, guess I could hike my butt down there…sigh.
Now, a confession. I am dentist phobic. Seeing one makes me think of Pennywise the Clown from IT, maybe just showing me a nice front so they can get me to think they are okay before bludgeoning me to death! My blood pressure goes up, I forget to breathe and I generally turn from my fun loving, public speaker self into a sullen, unresponsive mess. This is because my teeth are bad, they get holes, my gums get the gingivitis and I fell down as child and lost a front one, so for most of my youth I tried to avoid doing things which might knock it off again, necessitating a trip to the dum, dum, dum…dentist!
So the first trip in, no poking no prodding, just talky talk about my teeth and my past dental experiences….grumble, grumble….so didn't want to talk with a dentist, let's get this over with.
Next trip, dreaded xrays which hurt A LOT because I have a tiny mouth. Johnnie Ann was nice about it and tried to do her best not to hurt…grumble, grumble…need the teeth scrapey thing again and have cavities…what a surprise.
Back for cavity filling (doing a ton all at once so I don't have to come back as often), got the gas, they seemed nice enough again, but I am not falling for it.
Back for a 4 hour long scrapey thing…got the gas…lady was nice.
Back for regular cleanings, holding my own until, dum dum dum, the tattletail showed up (also the lady in the picture!) Jo was doing a set of xrays a year after my scrapey thing (ouch) and started sneaking around, talking to Dr. Makowski behind my back. Well, come to find out, the girl who had done the four hour scrapey thing had missed some tartar….ack….had to come back…another two hour scrapey thing.
Now here is the good part. One, they didn't charge me for it because it was thier mistake. Two, the Jo doll had to do two hours of scrapey scrape with me…who volunteers for that kind of duty? I am a mess. Three, she did a great job (I can tell by how soar my mouth is) with a smile on her face (underneath the truly scary light and goggles contraption).
Damn, they are making it really hard to hate the dentist! PLUS there is a super nice lady named Christine who mans the front desk. She gives me a tiny water and a smile every time I am there!
Customer Service Note
Seriously, as a small business owners, if you are going to have a customer based work force, it has to start from the owner down. You cannot just talk about giving great customer service, YOU have to give great customer service to your customers AND your staff!
So, long story short (too late I know), while I am never going to go tripping into the dentist with a basket of flowers and a giggle, these guys are okay in my book. If you are looking for the best dentist in Denver, be sure to give them a call!
Dr. James Makowski
http://www.makowskidental.com/
303.751.5558
since I am a marketing pro and you may be wondering, this is a totally unsolicited and uncompensated customer service love note…:)
(Visited 31 times, 1 visits today)