Taking advantage of trends on google is a great way to get increased traffic to your website! Here is how a website took advantage of the new iPad launch to get increased traffic to their website from google.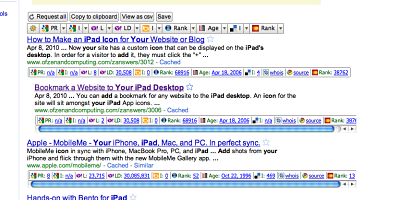 When using my new iPad, I noticed that it would be MUCH easier to have icons on the desktop that linked directly to websites rather than using the bookmark feature from within the Safari browser. I did a search for "how to add an icon to your ipad desktop" and found this link "How to Make an iPad Icon for Your Website or Blog" but below that was an indented listing of how to do what I wanted.
OfZenComputing did a great job of finding keywords that people are searching for now and having a post out there that was great bait for generating incoming links. Here are some of my observations about what they did right!
Ways that this site took advantage of trends on google
Using the keywords in their title that covered a number of different searches
Naming the picture on the page "ipad bookmark to home screen" which increased the chances of google listing them
Internally linking the first post they wrote with the followup post the next day, reinforcing the keywords internally
Providing valuable information that people need (what you needed to do was blatantly obvious after I saw it so don't assume that your knowledge has to be extremely technical)
The second day they made a photoshop picture that you could use to make your own icon on your website so that people could bookmark you too and gave it away for free
Tools to find out what is a hot topic right now – so how do you know what is trending now?
Watch the real news – many times you find out what is happening on the interwebs by watching the network news. It is their job to cover topics people are interested in.
Go to Google News and see what they are covering
Use Twitter Search to see what is hot right now and to do searches on keywords that you are interested in targeting