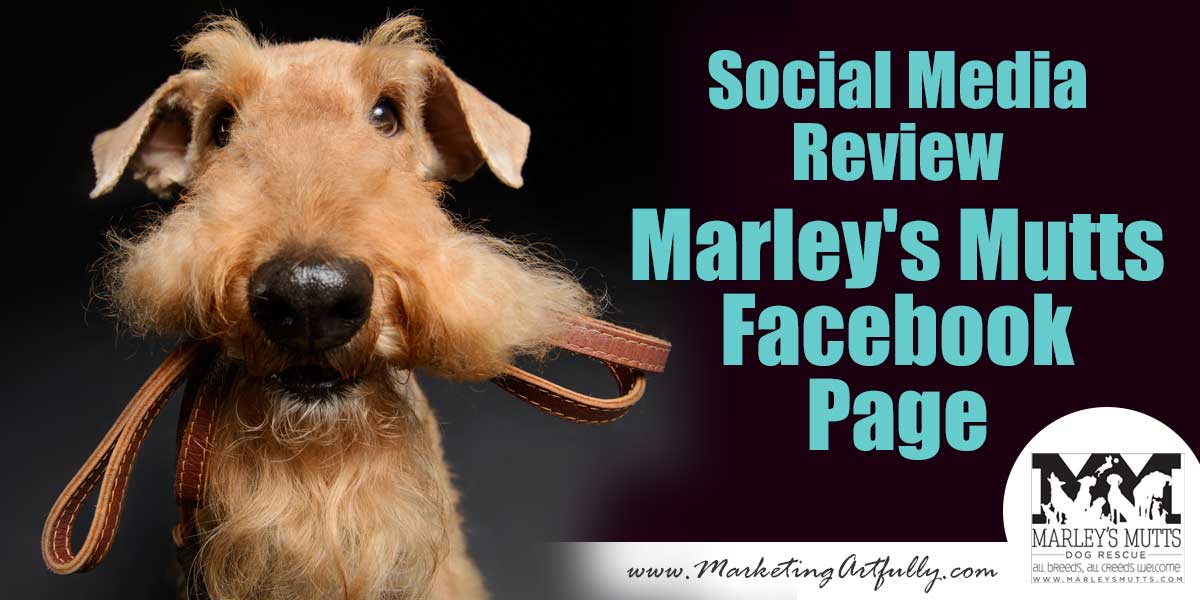 Being in social media marketing for myself and various companies, one of the things that I have found most helpful to do is reverse engineer what successful social accounts are doing and try to figure out what makes them work so well.
Just yesterday I was talking with a mastermind friend and was telling her about Marley's Mutts Facebook page and how great they are doing. Then I thought, hmmmm maybe you might like to know about it too…so here goes!
What They Are Doing Right
First off they have an active and engaged Facebook page. That comes from working REALLY hard and posting great content. One of the things that I think is important to realize is that they are a B2C company (business to consumer) rather than trying to sell business to business products or services.
This is important to know because Facebook itself tries at every turn to connect people and inhibit marketing from companies. Over the years I have seen progressively more restrictions and damping down of the ability to "market" your business on Facebook. Now, you CAN succeed on Facebook as a B2B company if you are willing to pay to play or if you spend huge amounts of time, but I have found that the effort to results ratios on the B2B side to be much less than on say Twitter or Instagram.
Secondly they post A LOT, interesting posts multiple times a day. They are not sharing other content, they are simply documenting all the things that they are doing for doggies and posting those. That is important because at one time it was okay to share other people's stuff to grow a business page, but now that seems like simply placeholder content. If you are not working your page with new content, pictures and videos then growth is hard.
Lastly, I don't know anything behind the scenes at this Facebook page. All comments are from a user standpoint and are observations only. That said, if you are trying to grow a Facebook page yourself, watching what other successful people in your industry are doing is a great way to reverse engineer a pathway to success.
Putting A Face To The Brand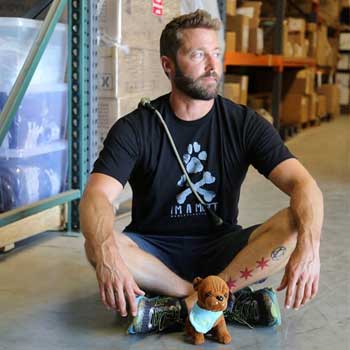 Let's start with the brand for Marley's Mutts. Their founder and front guy is Zach and he is in many of the videos that are posted. He has a great story of overcoming adversity and really accomplishing something great to help the dogs that helped him.
As he states, he was an alcoholic facing end-stage liver disease when his furry friends helped pull him back from the brink, helping him to sober up and regain his health.
Putting it all together and providing a cohesive concept of WHY you have a page is important. Yes I love dogs, but now I also love Zach, his journey and the difference he is choosing to make in the world. I am definitely "Team Zach" and want to help him succeed.
Helpful marketing tips: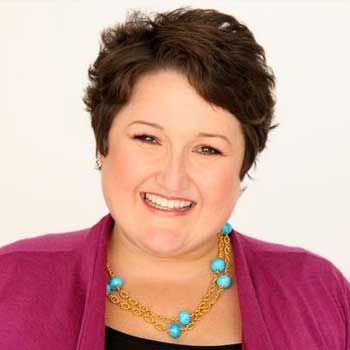 1. Zach is cute so okay that helps, but you don't have to be movie star gorgeous to be in the spotlight. Suzanne Evans restored my faith in the fact that you can be a little overweight and not everyone's idea of "beautiful" and still be a powerful, driving force for good in the world. I KNOW, I shouldn't have had to see someone else looking less than perfect to feel good about myself, but there you have it!
Naming Their Followers
Zach has named the people who follow his organization the "Mutt Militia". When they post updates they frequently refer to their tribe this way:
Greeting and Salutations from MUTTVILLE. Nothing makes your own breakfast look more delectable than watching Hooch eat his.

Big hugs to my crew for holding it down and helping out while I've had some important issues to tend to. Feels good to have friends and coworkers who understand and pitch in to help out. Hooch sends his love and so do I. Happy Saturday, Mutt Militia!
Helpful marketing tips:
1. Often when I hear people "talking" to their fans they are saying things like "hey guys" or "you all" as if being thrown into a lump is a good thing. What great marketers do is name their followers like Zach did. John Lee Dumas also did this when he called his followers "Fire Nation".
2. Everyone wants to be included in something important or interesting so naming your tribe helps to solidify your and their involvement in something bigger than just a website or a blog.
Telling Amazing Uplifting Stories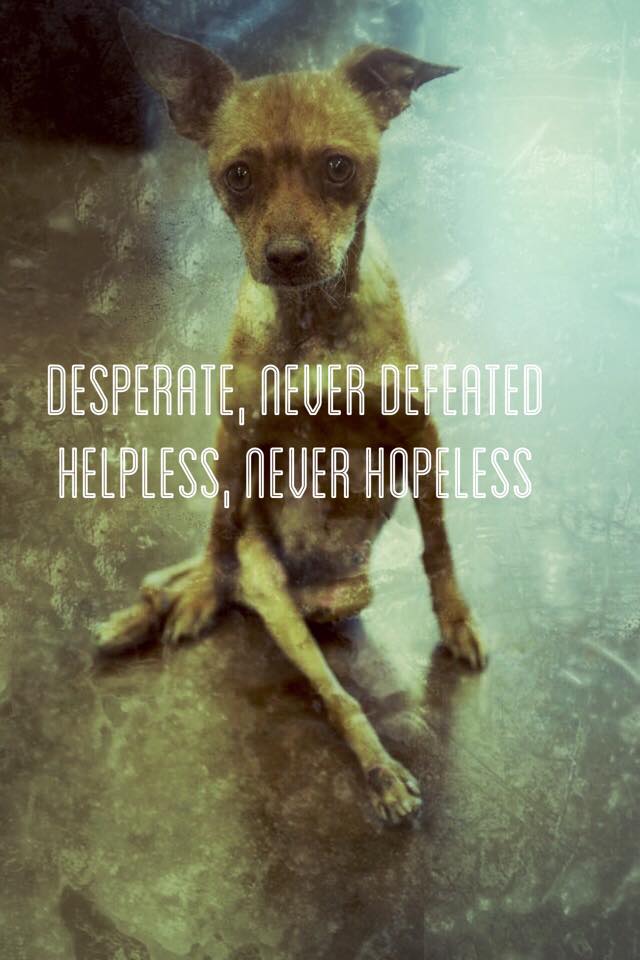 One of the reasons that I love Marley's Mutts is that they tell stories from an uplifting standpoint instead of the Sarah Mclaughlin, devastating sadness way that the ASPCA does. Best Friends does a nice job of this too on Facebook.
For example, meet Skylar. This little pup was found under a car, starving, dehydrated and paralyzed. Someone called someone and the Mutt Militia turned out to get her into a doctor's office and a foster home.
Now, seeing the devastation of this animal, it would be easy to say that the kind thing to do would be to "put her down", ie kill her for her own good. What kind of life could something so horrifically abused and neglected have. So they started by testing her for a puppy wheelchair (see the video here!)
Except that about a week later she was RUNNING, yes running, around a store, slipping and sliding around a store. How freaking cool was that?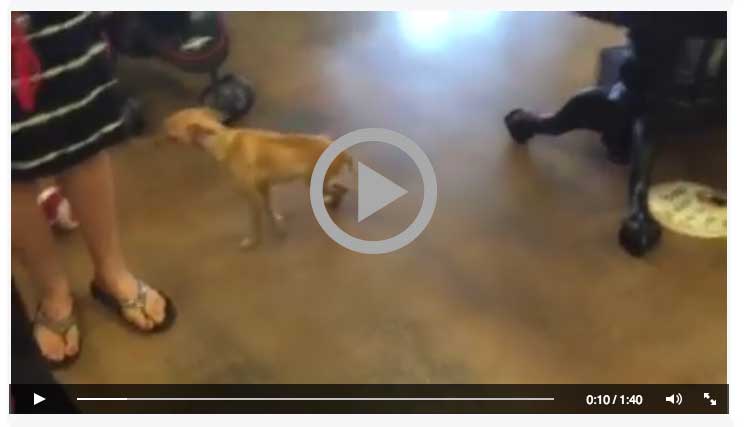 Go SKYLAR Go!!! Look who just walked in to Village Pet Market on her own four legs! From paralyzed to wheel chair to Walkabout Harnesses to strutting her stuff! Hydro therapy is really working for her as well and Momma Tammy deserves a huge round of applause from all of us for being such a dedicated and capable foster mom. Skylar is good and gettin' better! link to video
Posted by Marley's Mutts Dog Rescue on Wednesday, July 8, 2015
Helpful marketing tips:
1. This is a true "hero's journey" in copywriting talk. A hero is introduced, a challenged accepted and overcome then the startling ending. You can do this in your story telling too. Show how you started a project, document the steps and let people see behind your journey of discovery!
2. They post LOTS of videos and pictures, documenting every little piece of minutia that happens and their fans LOVE it! Now, it is not all sunshine and roses, dogs get cancer, have tumors and generally need amazing amounts of help from humans, but in the telling the positive is focused on.
3. They swing back and forth from videos to text so that everyone's favorite medium is covered.
Their "Stuff" Is Not Perfect
One last thing to note is that their content is not perfect. There are typos and oopsies and sometimes the videos are probably not exactly what they wanted them to be. And that is okay.
You should see when someone has a snarky comment about a typo, the whole Mutt Militia comes out in response to squash that in the bud! If you are providing great content and really trying to do good work, your followers will step up to your aid and you will not have to justify yourself to anyone!
Helpful marketing tips:
1. They are generating HUGE amounts of great (imperfect) content instead of two or three precious, perfect pieces. In today's cluttered world, the more chances you have to reach out to people the better! Stop worrying that your stuff is not good enough and start just doing more.
It was interesting to listen to an interview with Zach the other day where he talked about the fact that he knew he had to get better at videos and photos early on to grow his business. I am sure when he started that his content wasn't as neat as it is now, that he wasn't as comfortable in front of the camera as he is today. That comes with practice. I can't tell you how many people tell me what they are "going to do" when they get better. You will never get better without DOING something.
What They Are Doing Wrong
The only thing that I cringe at as I watch them is their almost total reliance on Facebook. For example, they have 300K followers on Facebook and only 5,000 on Instagram. Their Facebook page is vibrant and healthy and their Twitter account hasn't had a post in almost two months.
It is really a Catch 22 for everyone. There is no way to be good at every social media network out there, but there is something to be said about putting all your eggs in one basket. If something happens to their Facebook page they would lose the ability to communicate with most of their audience.
If it was me I would add an email component to the mix so that if Facebook goes away, they can just send a message and move all their people over to a new network seamlessly.
Wrapup
Well hopefully this has helped. I know it helped me to make the decision to use other social networks for marketing my new lifestyle brand, Paperly People.
Without a passion for Facebook and a team to help produce content at this scale, I feel like my startup growth will be best served on other channels like Instagram, Twitter and Pinterest. BUT if you are a B2C company who is looking for a great role model about how to do Facebook well, I would like their page and stalk them religiously. They are doing a great job!