Social media marketing is HARD! I have never worked with a marketing platform that changes more than this giant kerfuffle of sites and places that you need to have a presence on, oh and they change it constantly so that you have to be on top of what you should be doing now!
A little bit of social media marketing background. I just checked the "when did you join Twitter" website and it says I started my Taradactyl twitter account on November 30,2007. WOW, That is going on 5 years now and over that time I gathered well over 10,000 followers. The reason I start there is that this was my first foray into using social media as a marketing platform. According to facebook, I started over there July 21, 2008 after talking with a friend who said it might have some further marketing implications than posting pictures of kitties and puppies.
Upon discovering that social media marketing would work for me, we decided that we would take our mad marketing skills and start doing social media for clients. At the start, this was relatively easy as it was just a dorky LinkedIn profile, a Facebook Profile and a Twitter account that was fed by a blog. BOY did we think we were cutting edge, and dang, looking back was it easy-peasy compared to today. Basic graphics and post some stuff, and BANG you are done.
Today I have to say that if you are NOT a graphics artist or video maven, social media, website design and blogging are out of the reach of most small business owners. We have targeted for our clients the top social media sites that are effective for small business marketing today (I will break out what we recommend below, just remember that if you are reading this tomorrow it may have changed again by then…:)
Blogging for social media marketing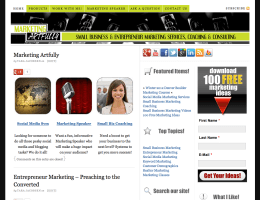 I am a HUGE proponent of blogging for social media marketing. I have this site and get SCADS of opportunities from having a big robust site with lots of content. People find us through SEO (search engine optimization), I have a place to put my speaker stuff, talk about entrepreneur marketing and discuss small business and social media marketing. Because I take the time to write good content and have a strong opinion, people read what I write and I have become an expert in my industry.
Now let's talk about blogging for the small biz owner. Seriously, who has the time to post 1-2 times per week, getting "pinable" pictures in there for your additional social media sharing (more about "pinability" later)? Additionally, aggregator sites like networked blogs and rss graffiti no longer have the impact of posting so you need to pop over to Facebook and the like to post your entry.
Having a blog means having graphics, the overall look and feel, marketing buttons, and blog post pictures.
Facebook for small business marketing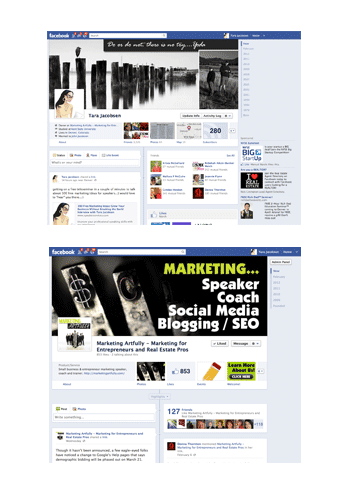 Okay, I go back and forth on this one. Originally, we used the customer's profile (human) to do marketing, then we switched when Facebook launched business pages, and now I am in a quandary. I REALLY like some of the new features of the business pages and you HAVE to have one like the old yellow page ad was mandatory, BUT…and I think this is a HUGE but for our small business people (not corporations, small biz owners) people don't like to talk to your brand, they like to talk to YOU.
What does this mean marketing-wise? We manage lots of different types of social media, restaurants, resorts, doctors, realtors, art sites, etc. Some of them have great results talking as a page (our restaurants are especially effective this way), but the realtors, spa owners and the like bomb as pages. If you are considering hiring a new hairdresser (ladies, you KNOW what a big deal this is), you don't care as much about the salon as the service and personality of hairdresser right?) This makes it hard. How much personal information to share while still keeping a professional demeanor.
I share mostly marketing on my Tara Jacobsen profile but do have pictures of my puppy after having tater tots. The tater tots post got a lot of likes and comments, while some of my marketing posts fall on the floor with a thud. Seriously, most people are on the Facebook for socializing and learning more about people, and not so much for buying stuff.
Does this mean you can ignore a page and only use your person, nope! It could change again and you would be WAY behind the curve AND it is just a cost of doing business today. You have to have a presence, both as a person and a business.
Twitter for small business marketing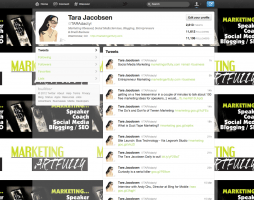 Everyone who loves twitter, raise their hand. Okay, the two of you can put your hands down now. But seriously, twitter is a GREAT platform for social media marketing. It allows you to post your message, target specific geographic or cultural users and computers love twitter.
WHAT? Why would computers like Twitter? Twitter has what is called an "open API" which means developers can make programs that pull from twitter. You can hook your blog directly to Twitter and there is nothing to stop it from appearing to all your followers. You can use hashtags (#) to mark your posts as being in #denver or about #marketing.
It is also easy to connect with people on the Twitter. I have "talked" with best selling authors, my marketing heroes and even a politician (accidentally) once.
Google+ for social media marketing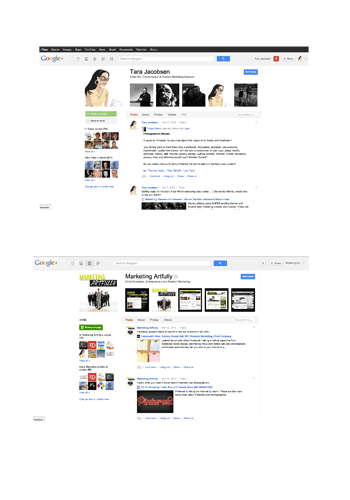 Google+ is still in it's infancy. The thing to know about it is that THE GOOGLE owns it. Seriously. Right now, that is all that we need to worry about. You need a business page, you need a profile and you need to post on there.
The other thing you want to do is to start circling people (same as adding friends on the Facebook). You can have 5,000 people in your circles and can target different industries.
As a business tool, right now, it is not that great, but it will be!
YouTube for small business marketing
Videos, that's right, videos are going to be half of the backbone of the new internet within a few years. People do not have time to read anymore, they want to watch a quick 2 minute video that gets the point across. Think about it, what if I had a video right below here where I TELL you my top pics instead you reading them. I can tell you that I had to CRAM all of this into 2 minutes which was not easy BUT now I will have a place to put a backlink to my blog and you get to "hear" my picks instead of reading them!
Pinterest for small business marketing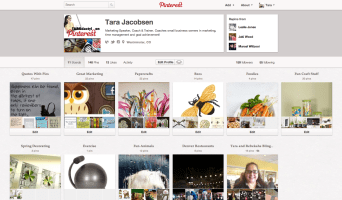 Again, this is a rather new entry to social media marketing scene and I have heard from more than one person that Pinterest is for women. Not so and I will tell you this one or one like it will be a hot player in the next few years.
So what is pinterst? It is a visual photo sharing site. You can make "boards" with your interests and save things to look at later. So let's talk about this. I have a board with marketing (of course), a board for good website buttons for future reference, a board on crafting and a board on bees. Most of my repins (sharing on Facebook) come from my success quotes, but I am building a circle of friends on here just like I did on Twitter and Facebook in the past.
WHOOP WHOOP WHOOP
Okay, I know for many of you who have reached the bottom of this page, doing this type of marketing is out of the question time-wise and ability wise (believe me, I KNOW, I was sad this morning thinking about all the changes we would have to make our clients new Facebook business page timelines next week!!!)
That having been said, if you think this is too much to handle and would like to find out how to hire a top-notch social media marketing company, give us a call today to find out more!!! 727-415-9165