Social media marketing is getting out of hand! I say that KNOWING that there is not enough time in the day for small business owners to Pin, Post, Friend, Follow and all the other bits that are required to get anywhere at all with social mediam marketing.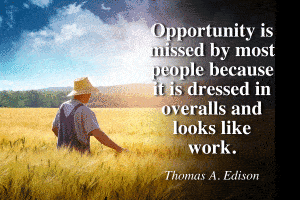 So lets break it down two different parts, the actual "stuff" to send and the growing big networks.
I tend to think that growing big networks should ALWAYS come first. I have over 50K first person connections on social media and so when I tweet, people retweet, when I post something, I get likes and follows and other great things.
My best social media nerd friend and I (not to name any names, Rebekah), have a seriously funny thing we say to each other when someone comes to us wanting to make $15,000 a webinar like Chris Brogan does. To make $15,000 a webinar, start by using gotowebinar.com, then set up a landing page, then BE Chris Brogan. HUH? You aren't Chris Brogan? Then chances are you are not going to make 15K right out of the gate!
What people like Chris and I know is that having big networks makes it easier to do everything. You have more people to talk to and share and it more fun when others are playing along with what you do!
The downside of big networks is managing OVERWHELMING amounts of notices, emails and connections. Yesterday I was at an event and told someone I get between 1,000 and 2,000 emails a day. They were like, really you meant a month right, NOPE, per day! I get twitter notifications, I get facebook notifications, I get messages from my blog(s) and from my clients. I am signed up to email newsletters and message boards and talk back and forth on them about marketing and things that interest me.
Choosing to have big networks means managing these communications in a way you can live with. I miss things occasionally and have to apologize for that. I regularly check into actual sites to see if someone talked to me and I miss the message. I HAVE to limit my phone calls, intro meetings and one-on-ones to people who want to hire me or my company. In some ways, having big networks means having LESS real engagement and more surface engagement with lots of different people.
One of the main ways that I handle this is to have my AMAZING assistant talk to people. I hear all the time what an asset she is to my business and people all just LOVE Shell. Seriously, it is SO much better to have a real person for them to talk to who is not me!
What Social Media Platforms Do You HAVE To Do?
Let's start with the standard small business marketing disclosure. If you are a mega corporation with millions of dollars to spend on advertising, do them all. If you are an itty bitty company with just you, do what you can and if you are just doing for fun, not profit, you are reading the wrong blog. We are here for small biz marketing and that is what you will get!!!
So let's talk about these one at a time and how they effect different types of business:
Facebook: Facebook is now a standard marketing channel that you have to have to appear normal and functioning. I am sad that this is so since B2B and some mid sized companies struggle to get great interactions their business pages BUT never-the-less, you HAVE to have a biz page at the least. In a perfect world you also HAVE to use your personal profile. Humans like to talk to humans more than businesses and you really shoot yourself in the foot if you don't utilize you profile.
Twitter: Twitter being an open source product means that computers are SUPER happy with Twitter. Your posts, if keyworded right, can spread throughout the twitterverse and reach further than you ever thought possible. It is also relatively easy to get followers on twitter, making it less of slog to get big numbers. You need to do the twitter.
LinkedIn: If you are going B2B, are the head of your company or your division and LIKE to talk to people one on one and grow relationships, LinkedIn is for you. This one is hard to farm out to a social media marketing company as it requires real connections and technical knowledge to succeed. I am not a huge fan of LinkedIn because of the onsey-onsey-ness of it all. (our company does not help with LinkedIn marketing)
Google Plus: I waxed elquent the other day about google plus and why it matters to have people in your circes in my post, Google Universal Search – How Google+ Effects Small Business Marketing, so I won't go into it much here except to say that there IS a value to circling people, plus oning posts and engaging on G+, which puts it in the big three for me!
YouTube: YES YouTube is a social network AND a video sharing site. They are owned by google so it is vital to have videos AND they allow you to subscribe and interact with other people on YouTube. Imagine how your videos views would go up if you had a large following of subscribers! YouTube is a MUST do in today's social media landscape.
Pinterest: Pinterest is a media darling, BUT I do think that it is going to be force to be reckoned with, for SOME companies. I find it to be the most effective with B2C and smaller companies at this point. So do we ignore it for big guys? NOPE! What if you could have been one of the starting users on Facebook years ago. What about Twitter? One of the reasons I have so many followers is that I have been on there a L-O-N-G time. So YES, get on the Pinterest, start some boards and start getting followers now, while it is still in it's infancy!
Klout: A twitter addon that greatly increases interaction and allows you to target key people in your industry.
What NOT To Do Social Media Marketing Wise
I joined a website called Empire Avenue about a month ago and messed around with it a bit. It seemed to have a good premise and was great for finding people to connect with…BUT I HAVE to do it every day or my score goes down. I am a speaker, coach and trainer. I have a family and don't work on the weekends. I am okay with consistency BUT not FORCED consistency at all costs. I am probably going to abandon it as having a lot of Empire Avenue connections DOES NOT directly equate to lots more targeted REAL social media connections.
Every couple of days I get a message from ReferralKey.com that asks if I want more business. This is a site, sort of like LinkedIn that allows people to connect. So if you find something that is sort of like (fill in the blank), DON'T do it! Just join the one that it IS instead. A site that is like Facebook, with FourSquare and dollop of Twitter has very little chance of competing with the ACTUAL sites that ARE like that!
HOW TO GET HELP
Okay, so if you are a small business owner and need help with all these sites, I am happy to say that we can help! Give me a jingle today (727-415-9165) to find out more (I PROMISE an actual person will call you back!!!) or visit our social media marketing page to find out more about our services!