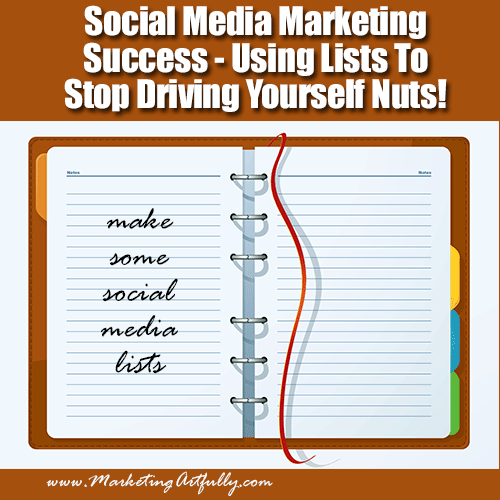 I have to say that the amount of content that I am exposed to daily is overwhelming. My day starts with checking the news on my USA Today app, going through email (not much news there, mostly spam I have to delete) and then I head over to Facebook, Twitter, LinkedIn, Google Plus, Klout and Pinterest. If I spent just 15 minutes doing each one, I would  have wasted 2 hours out of my day right off the bat (and 15 minutes would be a low estimate for some of them!)
So how do I make sure that my time is spent productively? Using lists makes it MUCH easier to fly through my day! On each of the social sites, I add people and companies to lists of things that I want to see and interact with, cutting my social time down to about half an hour and providing ONLY the content I want….
…which leads me to a question that you MUST ask yourself. Are you producing content that someone would add to a list? This is different across social media and here are a couple of things to think about:
Facebook – FB, being inherently social requires that you share a bit of yourself, your hobbies, funny bits and maybe some good quotes. FB is NOT the place to go on a rant, post provocative info or blast the other political party. You HAVE to remember that half of the county is Republican so sending out a snarky Sarah Palin post will make about half of your friends unhappy. Thinking of posting a "funny" gay bashing cartoon, most people have a friend or family member that is gay and while they may chuckle along with you, it doesn't do anything for either of yours' social standing. Something to remember…they may not unfriend you for doing this and you may have the feeling that everyone agrees with you. This can be because the people who have grown tired of your rantings have hidden you from their wall and now only people who agree with you entirely are seeing your posts.
Twitter – Twitter is simple. People are not necessarily wanting to see your whole breadth as a person, more-so they are looking for great information about single topics like marketing (YAY!), weight loss, business, camping, goal setting and the like. We have found that having a TIGHT Twitter timeline can be a very powerful thing. One of our Twitter accounts has gained over 500 followers in a little less than 2 months by focusing exclusively on the topic of Search and Search Engine Optimization. Having such a tight account makes it easy for someone to feel good about following us, they KNOW that they will get only information that they would be interested in.
LinkedIn – This one is a enigma to me. Generally all I see is recruiting, nationally recognized figures and large corporation content. So roll with it! Figure out how to post things that they might find interesting AND share the great national content that they produce. ALL posts on LinkedIn should be business related in some fashion.
Google Plus – Google Plus is for search! You can be a little more free wheeling with Google Plus because mostly people are not interacting with you on the level that Facebook requires. The main benefit of Google Plus is to grow large networks and then share content from your website or blog with keywords attached in the comments. This will make your posts show up in the "regular" Google search and is a super powerful tool!!!
Pinterest – The blessing of Pinterest is that you can have as many boards with varied interests that you like. The only thing that I make sure is that I have business related boards at the top and bottom of my profile. I feel like personal people (say people who follow my scrapbooking board will be more likely to "dig" for relevant info while business people are looking to look at the top and scroll to the bottom to see if they "like" me enough to follow my profile.
This is all great, but how can using lists for your social media marketing increase your effectiveness? I told you about all these social sites because I think it is important to know the FOCUS of the social media property before developing lists! Having a great list on Facebook will not automatically translate to a great list on Twitter!
Lists On Social Media Sites
Facebook – Let's start with 800 lb. gorilla in the room! Facebook is nice and can be a really good site to build relationships and get referrals from. That said, I think that there is a really strategic way to increase your influence on Facebook with lists…
Profile lists – Your friends and family. If you are using FB for business, it can be VERY had to find the posts that you "really" want to see (like those from your Daddy and husband). With this in mind, you need to make a list of Friends and Family that you can check at will without waiting for Facebook to show them in your timeline.
Profile lists – Business friends. Now this is still a list of real people, not businesses. These would include key influencers you are targeting, clients, referral partners and basically anyone who you want to connect with business-wise.
Profile lists – Pages. Now this is where it gets powerful. Facebook thinks that comments from humans are more important than comments from pages so you can really help boost and make an impression on the page owner if you have a targeted list of business pages. Just remember, A LOT of these pages are managed by social media managers so you may not get as big a bang for your bucks as you might on say, Twitter. But still worth-while!
Profile lists – Groups. Same as pages, just groups.
Page lists – Pages. As your page, you can make lists of complimentary businesses, other local businesses and industry leaders who are using a page instead of a profile (pages can only interact with other pages – they can't talk or comment to people although they could share a post). It is really powerful to interact as the page as this is one of the primary ways you can get likes now-a-days.
Because Facebook limits what you see on your wall, it is extremely important to have these kinds of interactions available through your pages and posts lists.
Twitter – AMAZING! Okay, I am biased because I like the Twitter so much, but Twitter lists are GREAT for finding and sharing (retweeting) information from your key influencers (again, industry peeps, clients, prospects and referral partners). Here are some reasons to do Twitter lists…
Filtering – There is SOOOO much information flying around on Twitter that without making lists, you cannot possibly find the great needles in the haystacks.
Retweeting – This is the highest compliment that you can give on Twitter. Sharing someone's post is a great way to attract their notice.
Real People – Many Twitter accounts are actually the real person! This is a way to get access to people that you might never have a chance to talk with in "real life".
Finding Content – There is A LOT of great stuff on Twitter that you can save to share for later on your social networks. That said, without having lists of types of content you will have a hard time finding anything good.
Pinterest – The cool thing about Pinterest is that lists are kinda-sorta built right in. By following boards instead of people, you will get only the "stuff" they post that is of interest to you. That said, there are no lists on Pinterest yet which is a real bummer. Moving right along…
Google Plus – You can easily make lists in Google Plus – they are called Circles and Google has made this easier than any of the other social networks. One thing to note about Google Plus circles is that you should try to limit them to 99 people or pages so that you retain the ability to email out your posts when you have something important. Sharing content works much the same as on Facebook with some notable exceptions:
Profile lists – You can mix up pages and people in these lists although I try to make Biz Page lists and people lists to keep my lists cleaner. I definitely look at people stuff before I look at business page stuff.
Biz lists – One superior thing here is that pages CAN like and circle people.
Engagement – Like and share from both lists to your profile and business pages!
LinkedIn – The most disappointing lists. Sigh. So on LinkedIn you can make lists in your contact book to email out to your contacts but you cannot make true lists of real people that you are connected to. What you can do is use Interests > Pulse to get easy access to industry leaders and people who LinkedIn as deemed as "Influencers".  These can include journalists, best selling authors or industry titans. You can also add "channels" like marketing or innovation and companies that are big enough to attract LinkedIn's notice. It is a good way to get content to share, but honestly, I doubt that many of these are real people, more likely they are being managed by Social Media Managers and are not a great way to reach key people.
There you have it! Lists for the top social media sites (I also have lists for my feed reader and Klout but seriously, how long can this post get?) If you have any great info about making lists on social, please make sure to leave me a comment below!
(Visited 16 times, 1 visits today)