Social media marketing may be free BUT it takes up all your time. To combat that I see people doing things that are spammy and which do not compliment their business model like this…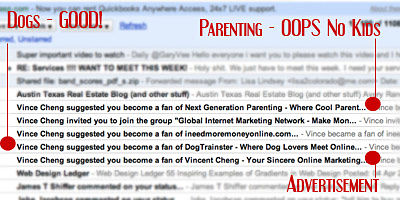 Vince is probably a great guy and he is billing himself as a "Sincere Online Marketer" BUT he is not considering his audience and how things are perceived on the other end of the interwebs! He did things when it was convenient for him all at one time NOT when it would have the highest impact or results.
He obviously had the time to sit down and ask a bunch of people to join the pages he is promoting without considering that it would show up as a series of ever increasing spam. Sooooo what is Vince to do?
He could use some of the free online scheduling tools like hootsuite.com or socialoomph.com to schedule his posts (but that would not have helped in this case)
He could have segmented his friends into lists (anytime someone mentioned dogs he could have added them to his doggie people list)
He could have scheduled time to do this every morning, sending one a day for 5 days (now you may say that would have limited the amount he could do – YES! I can guarantee you if Vince sends me 5 of these EVERY day I will just unfriend him, no harm no foul BUT he loses the chance to connect with me and the network of people I have AND I am categorically refusing to Fan any of the pages he sent today!)
Another thing I see small business owners do is mix their message! They have a huge twitter following so they decide to sell affiliate products to that list, not considering who the audience is!!! Taradactyl on twitter is actually ME, Tara Jacobsen so I have mostly marketing but some doggie stuff, charities I support and some affiliate links that co-incide with my audience. When I want to talk about lampshades and cool rusty car parts I do that over on WestDecorating where the audience is interested, even though it is a small group of people!!!
So make sure you are not being "that guy". Take the time to consider your audience and schedule your "stuff" so that there is the highest most targeted impact!
If you would like to find out how we can take all this Social Media Marketing off of your hands visit our Small Business Marketing Services page today!
(Visited 12 times, 1 visits today)