Small business marketing is ALL about making a connection with the person you hope buys your product. Email marketing is brilliant when done right and great subject lines and content are VITAL to getting someone to even take a peek at your message!
Email marketing is so "old" that we forget it takes effort to make it successful. From the second that email started as a text based only message in the 1970's to when AOL launched the infamous, "you've got mail" campaign, marketers were coming up with plans on how to use this technology to sell stuff.
Remember the bliss you felt when you heard that ping and knew someone was talking to you on that computer thing in the corner? Today email is competing with more than just online chat rooms and those new fangled website thingys. Today you have to compete with giants like smartphone apps, social media, videos, TV and dare I say it, real life humans that people may want to interact with more than your email!
So what is a poor marketer supposed to do? You have spent all this time building a list, you have grown a following, how the heck do you go about writing good email subject lines that will get people to read your message?
Writing Good Email Subject Lines
While it is good for a giggle to go through my emails and find bad subject lines…I did that before in my post Email Marketing Writing Great Subject Lines. Written just two years ago, the open rates for media (read marketing and advertising) were in the 13% range, today the email open rates have plummeted even further to 7.5% with a high average across the board of 15%-ish.
Seriously, the high is 15% of people opening your emails on average. What if you had a GREAT subject line that could move the needle a little bit and get you more readers (ie more sales).
A Bad Email Subject Line

This is what the subject line of this email is:
Launching a new product….Come check it out! – Having trouble viewing this email?
Can you figure out what is wrong before reading more?
First off, glad you are launching a new product…NOT! I don't need a new product. If it was something specific like a new product to help with productivity or a new product that could make me look younger or a new product that was for dogs, maybe you would have a chance to get my attention….just a generic new product….FAIL!
Second bad part is the words after the official subject line shows, "having trouble viewing this email" instead of a teaser that lets me know a little about what is coming.
A Good Email Subject Line

This is what the subject line of this email is:
Use This WordPress Theme To Spice Up Your Facebook Business Page – 25% Until
Can you figure out why this is good?
Because you are not me, you may not know that I am interested in WordPress and Facebook Business Pages. Those are both keywords that make me go UMMMM. Also, the teaser looks like there might be a discount!
The Little Teaser
So to me, the little teaser is often why I will open an email. Having that short little blub gives me a little more info in order to make a decision as to whether or not to open a message. Just so you know, I have over 29,000 UNREAD emails in my inbox, which does not count the ones I have read! I do not have time to read emails that are not going to enrich my life!
Social Media Emails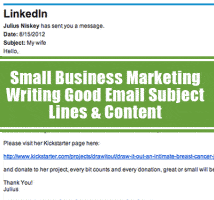 So the reason for today's post is that a connection on LinkedIn sent me an email today. Now, I get A LOT of social media emails (heck, today I even got a message through Stumble Upon). These messages come fast and furious all day long and I disregard most, if not all of them!
Today's subject line was "My Wife". This seemed like a less self serving message than most so I took a peek. In it, the husband was talking about a Kickstarter project to let his wife publish a book of drawings she did while battling cancer. HMMMMM. Went over to the kickstarter page, Draw It Out – An Intimate Breast Cancer Journey, and thought…well, could definitely get behind this lady and her dream for a book….donated a couple of bucks!
So what made this work? First off, the guy was helping his wife (I checked a little and his name matched hers and he didn't seem like a total creep). Second off, Kickstarter was taking my money so no way to lose my credit card number to a Nigerian scammer. (For those of you who don't know, kickstarter is a site where people can request funding for an upcoming project!)
Overall, thought this was the best social media email I have ever gotten and taken action on.
So why does writing a good email subject line matter so much to small business marketing? You only get one chance to make a pitch and have a great response. I KNOW you can send email after email, losing subscriber after subscriber, but we are about long term marketing plans, not get rich quick, turn em and burn em tactics. So, take some time and think about what the person the receiving end will see when they get your email! Maybe we can get these open rates up a little higher!!!
(Visited 82 times, 1 visits today)