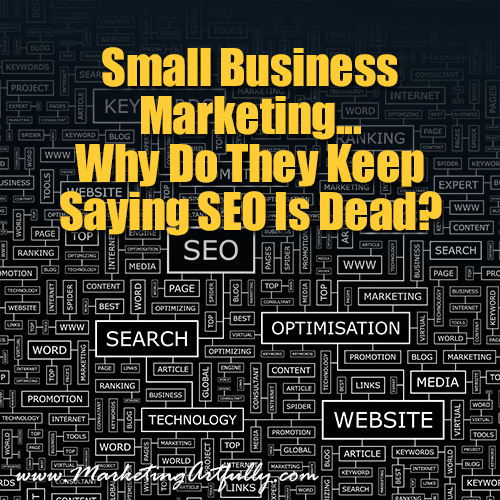 This post is for NON-SEO (search engine optimization) people, my small business owners who are out there in the trenches trying to figure out how to do SEO to get your posts and sites seen and read. It is pretty long and detailed, if you have any questions, please make sure to leave them in the comment section!
A little history of SEO
The history of SEO for me starts in about 1999 when I was working at a web hosting company and we started building websites for clients. In those days having a website was a rarity and luxury that few business owners could or would afford. In those days there were no search engines as we know them today, you just had yahoo and altavista which were sites that were effectively big directories of page links that you could add your website to. Not too much SEO going on yet…but we still tried. In those days you DID have to keyword each page because they were all separate HTML pages.
Fast forward to 2005-2006 for me and blogs had become all the rage in the big dog circles although I was still on the fence. That said, I built my two main sites there and we were off to the races. They looked clumsy and ugly, but man did they rank well in search engines like Google which was big and getting bigger all the time (check out the history of the Google here…:)
Around this time I first became aware that there were "black hat" and "white hat" methods of SEO and that some of the black hatters were doing mean things like hijacking your website and redirecting it to the porn…sigh. Oh this was high times for SEO. You could throw up a couple of "doorway pages" that were keyword stuffed and get rankings right away. You could also write a bunch of keywords in the bottom of the page and make them white so no one could "see" them…but of course the search engines could read them when the spiders came to index your site.
The other thing you could do was to make huge networks of links that were really lame and came from "thin sites" which had about 5 keyword stuffed pages. You could also pay very little to be put into gagillions of directories. All these backlinks still helped to increase your rankings on Google although everyone knew they violated the terms of service.
Onto 2009 and some really fun times. You could write a couple of posts and then "spin" them and submit them to sites like Ezine articles and article farms. There was no thought put into any of these, just tons of gibberish and sort of english sounding words all strung together. You could also find content on the internet and just pull the feed into your site as content or simply copy and paste it to your website and it would still rank well. For a while there, when you did a google search, all you got was crap sites…which leads us to a short break to talk about what Google does…
Google is focused on the user experience of the searcher and they don't care if marketers are happy. They make changes to their algorithm constantly and this causes some sites to go up and some sites to go down. Sometimes popular site are penalized by these changes and tactics that worked in the past no longer will work. Additionally, they have an internal system for figuring out page rank of sites, giving sites a score between 0-10. Having a 10 site (like www.usa.gov and www.adobe.com) link to you is like the holy grail of link juice and something that all marketers try to accomplish!
Moving on, in 2011 the Panda Update targeted thin sites that offered a poor user experience…meaning that all of those crappy sites dropped like a stone. Not only did this effect the little sites, but it made the page rank that they sent to the connected pages in the network worthless. So if someone had 100s of sites all linking to them from thin sites and google took all those sites down all that ranking love went with it. Now we recommend that people have more "authority sites" rather than little tiny websites!
The 2012 Penguin Update specifically targeted links. This one mad me very happy because I KNEW that there were black-hatters out there who were getting LOTS of traffic because they had made A LOT of fraudulent backlinks to their websites and I didn't want to cheat that way even though my clients' and my sites were struggling to show up in the non-black hat world. This update didn't just say that crappy backlinks were bad, and don't do them anymore…it said we are going to penalize you dearly for all those backlinks you ALREADY have out there and you need to try to walk back the cat and make them go away. Think about finding 5 or 10 THOUSAND of bad backlinks, emailing the site owner and begging them to remove your link…not fun!
Last but not least, the Google is a changing over to semantic search. This is a term to describe the fact that, while many people are still searching on their computers, many searches are done on a smart phone with real words, such as "siri how do I get to the grocery store on 7th and main". In the past this search would look much different as it was typed into a computer!
Now you are pretty much up to today so let's break down some of the specifics about why they say SEO is dead!!! ps – I wrote a post a while ago about bad SEO not just not helping but hurting that you might enjoy too!!
No follow links
Back in the heyday of link building, there were many sites that allowed "follow" links in their comments and even on their sites (Squidoo comes to mind). That has changed drastically now and most links that you are able to proactively create are "no follow" links which do not pass any page rank to your website.
Over-optimized links
It has been almost two years now since Google said that they would punish you for bad links and still I get user names like this in my comment section…"SEO China, SEO Hong Kong". What they are trying to do is get a link back that has the keywords SEO and SEO china in them. The problem with this is link building companies are unable to make links the way humans do. In the real world, some of those links would say "click here" and some would say the owner's name, and some would say the company name and some would link to SEO china, but not all. The SEO companies are still using old tricks that no longer work and could hurt you!
Doorway Pages
Some of you may be wondering why I am talking about something from 4-5 years ago…well I am here to tell you, these are still going on and being sold by SEO companies even though they will probably hurt the website owner! These are keyword stuffed pages that are intended to stand alone and provide a "doorway" for a particular page on a website. For example, I could make a doorway page that was super optimized for SEO Expert Denver, and have the only link go to my sales page for that service. Sounds good, right? Well it was at least 4 years ago that Google got wise to these and shut them down (even before noticing the "thin sites" that they corrected in the Panda update). These do not work!
Keyword Links to multiple pages
Dude, wouldn't it be awesome if we could just, like, rank for Social Media Expert Maryland, Social Media Expert Florida and a whole bunch of different ones like that? Then we could make pages for each one with the same content except change the words to the right city and state…people are STILL doing this to this day even though it was Panda-ed. This one just needs to die a horrible death!!!
Article Spinning
There are hundreds of article spinner softwares out there and it can be tempting to think about all the great backlinks you can get…unfortunately this is another blast from the past and it doesn't work nearly as well as it did before. You would be MUCH better off to write a number of different articles so you will know that it is original content!
Fake directories
There are literally MILLIONS of directories that you can submit your website to. None are particularly good or high quality and they don't work anymore. Here is a great article about this… What Makes a Good Web Directory, and Why Google Penalized Dozens of Bad Ones. Please note that this post is from 2007…when they started to crack down. The sad thing is this is still a service that SEO companies offer today.
Buying links
The whole idea that you will write great content and people will beat a path to your door is cute and not all that relevant. You have to work your face off to get backlinks from other sites and share it on social A LOT to get traction. This can make wanting to just buy backlinks from Fiverr or a really bad SEO company very tempting. DO NOT DO IT!!! All of those links violate the terms of service and will count AGAINST you. In plain English…you will pay someone to make a whole bunch of links that you will have to pay someone else later to get rid of through remediation and hard work.
Why EXACTLY Do They Say SEO Is Dead
Well, Google just hid all the data about what keywords people use to search for your website so it is hard to figure out what you rank for. The data in your google analytics just shows the info from Yahoo and Bing and is such a small sampling for most of us that it paints an inaccurate picture. There are a few companies out there with some data about this stored but it is getting more out of date day by day.
The "tactics and tricks" that people used in the past are all falling by the wayside as google cracks down (sometimes retro-actively) on bad practices. Being cute and trying to game the system is getting harder and harder. I wrote this post because many of our clients are still hiring "old" seo firms that are using these practices and are being hurt by them. Today's SEO landscape looks more like a soccer field with multiple players. You need to be doing social and video and blogging and myriad other things rather than relying on one company to "get your site to the top of the search engines". It isn't pretty and it is hard, but honestly you don't have any other choice.
(Visited 47 times, 1 visits today)