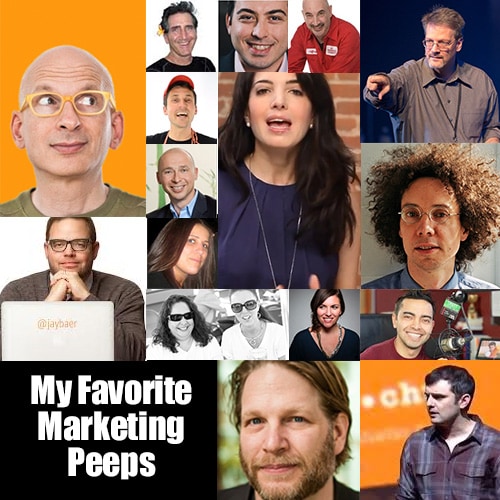 Okay, I have had two of my connections in the last day ask who I recommend to learn from that is A. reputable and B. knows what the hell they are doing. So, here is who I trust for great info and on the mark content.
Some are little guys and some big guys. Some are people we represent because we like their products and some are just people we follow! All are people I have recommended to my friend-friends and now I am sharing them with you!
General Marketing and Concepts
Seth Godin – Author of the Purple Cow and one of my favorites, the Dip. If you are looking for inspiration and the will to keep going, these are the two I recommend. Also his link goes to his blog where everyday he has an insightful comment about the state of business or marketing. In the NYC area September 17,2013? See Seth in person
Malcolm Gladwell – Author of the Tipping Point and Outliers, he is SO cool because he looks at the causal effects of the world and figures out what makes things happen. I read Outliers at least once a year.
Gary Vaynerchuk – Author of Crush It and the upcoming Jab, Jab, Jab, Right Hook. He is an AMAZING speaker…my idol. Make sure to sign up for Gary's YouTube Channel to get the most up to date info on the marketing world.
Freakonomics – Now I don't love the bits about Real Estate Agents but the overarching idea that numbers determines the way that things happen is pretty cool.
Marie Forleo – AWESOME woman who tells it like it is. Her Q and A Tuesdays are amazing on the YouTube. Marie Forleo on YouTube
Jay Baer – Author of Youtility. Really good ideas about how to provide amazing content so that people WANT to work with you! Jay's Website – Convince and Convert
Chris Brogan – SUCH a great marketing mind. Has written a number of books including The Impact Equation and just launched a new marketing magazine (Owner Magazine) that you should check out!
Internet or Affiliate Marketing
Internet Business Mastery – If you are just starting out with internet or affilate marketing, these guys are DA BOMB. Simple, easy to understand info that will help you get going fast. Their podcast is a great way to consume their content.
Pat Flynn – If you have any interest in Internet or Affiliate Marketing (or even just how to do great marketing in general), run don't walk to see Pat's Smart Passive Income Blog. If one of my friends is considering Affiliate marketing THIS is the guy I send them to!
Sugarrae – SUCH great content. Her affiliate marketing info is second to none and if you watch nothing else, make sure to check out 11 Things My Son Taught Me About Life and Business. A tear jerker but you will be FIRED UP to kick some ass!
Paid SEO Search
Perry Marshall – Actually wrote the book on how to do Adwords. I have followed Perry for years and have never had a bad experience. Quite the contrary, I am a better marketer overall for having consumed his adwords content.
Howie Jacobsen – SUCH a good adwords marketer. He has a super easy going manner and gives great information.
Data
Derick Halpern – We saw him speak at an event and he was AMAZING. Not sure which place to put him as his social triggers website is such in a class by itself (so I put him in his own category!)
Website Conversion
Tim Ash – Again, saw Tim speak and fell in love with his content. His site, Site Tuners has great info on how to optimize your website for maximum effectiveness.
Which Test Won – Sends out a weekly email detailing how small changes in a website or email copy make a huge difference in how a campaign converts.
Social Media and Video Training
James Wedmore – James' YouTube Training is where I start when I want to learn how to market instead of just making videos. And on top of that, he is freaking funny!!! Make sure to check out his YouTube Channel.
Amy Porterfield – Her information about how to do Facebook Ads is second to none. She has great, practical tips on how to make your Facebook marketing effective and affordable.
Sales
Jeffrey Gitomer – Okay, I admit it, I am not a sales kind of gal. I am a market your face off and then get the low hanging fruit. That said, sales does come into play sometimes and the only guy that ever made a ton of sense to me was Gitomer. Straight shooter and really great content!
Our Sites
So I can't let you go without reminding you about our sites!
Marketing Artfully – I have been blogging about all things marketing for almost 7 years now and I am super proud of my site! Focusing on Customer Demographics, Small Business Marketing, Entrepreneur and Realtor Marketing, she is my pride and joy!
Marketing and Media Monsters – This is the love child of Rebekah Welch (the Media Monster) and me (the Marketing Monster). We are so excited to see where marketing is headed and give great information about how to market for your industry!
(Visited 23 times, 1 visits today)