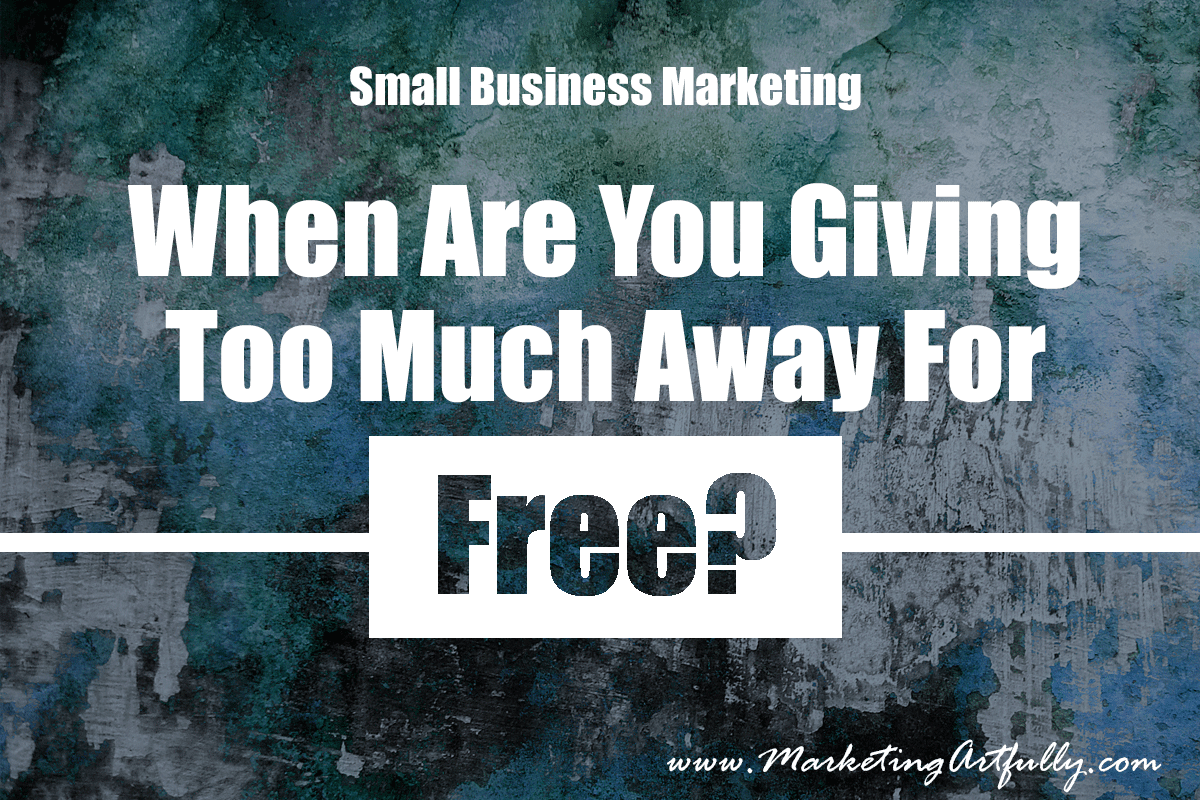 Oh what a great day for small business! Today's reader question is about how to figure out when you are giving too much away free.
Question: So as I'm creating my own business, a lot of things are new to me including, where is the line drawn where you are a resource and when it's a potential client if that makes sense? Like…how much do you tell for free? – Theresa (name changed to protect the innocent)
I actually love this one because I do think that this is a fuzzy line for some people but it is super clear to me!
How Long Does It Take?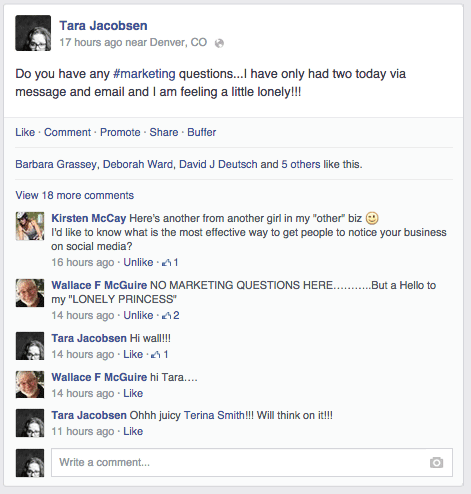 First off, I think it depends on how long it takes you to accomplish the task. I will pretty much do anything for free that takes me less than a minute.
Here I am particularly thinking about reader questions that are sort of the lifeblood of my business. I get questions emailed and Facebook messaged me every day that tell me what the marketplace needs and gives me an idea of what I should talk about (hence this blog post from a reader question! – you can click the picture to get to me on Facebook…friend or follow me) Answering most of those questions with resources or a quick response is easy so I fire them off all day long.
So what takes you no time that you can do quickly? Yours may be answering phone calls or text messages. It might be popping over to their blog post and leaving a comment.
I was so proud when one of the people on the stream said, "Love that we can always count on you!" It is building that kind of open door for tiny things which leads to giant doors opening for everything else!
Note: I model this after Seth Godin and Chris Brogan who are best selling authors and who take the time to answer all their reader question emails. I have gotten some amazing one word answers from Seth over the years and Chris is always there to answer my quick questions.
How Long Does It Take YOU? And do you like it?
That said, I do sometimes do things for free for my friends or people who refer me out frequently. I have made logos and websites, written sales copy and set up Facebook pages.
But I like doing those things (for my friends) and it keeps me at the top of my game. I am getting ready to make one of my friends an amazing website because I want to test something. Yes it will benefit her, but it is also to help me.
I often give talks for free and this blog is full of great free stuff. I do those things because I like doing them and have found ways to provide free that make me happy and serve everyone, not just one person at a time.
Note: Once you are a client I tend to do anything reasonable you ask without charging more! This is because I only work with a handful of people who have actually become friends as we have worked together over time.
Overselling On A Sales Call
One place I notice that I fall apart with my free model was back when I did face-to-face selling of our social media services product.
I would hit the door, start to tell them everything that we could do and answer every question they had about their social media. They would act all excited, tell me they would call me with a credit card and fade away. Well for heaven's sake, I sat there and gave them the roadmap for them to follow. I should have told them WHAT to do instead of HOW we are going to do it!
Shut Up And Listen
In the previous section I forgot the first rule of selling, "Shut up and listen!"
I was so busy talking that I didn't have a chance to hear what they really wanted so that I could set out to provide the answers to their real questions. Rarely does someone want just a Facebook page. They want to sell more products or services. They want to connect with their tribe. They want to be big shots. What they don't need is someone sitting in front of them telling them all about how to set up a Facebook page!
Note: I rarely do in-person selling anymore as that is not my best thing. I also am re-arranging my offerings to include less one-on-one services and more "in it for everyone" stuff because that is what I like and am good at!
Should You Go To Coffee? Or Let Someone "Pick Your Brain"?
I cannot possibly say this better than Marie does!
Note: I don't go out to coffee very often. It takes too much time to drive there, spend the time and then drive home. I always give away the farm and then they don't need to pay me so that really doesn't work for me!
Should You "Pay It Forward"?
There is a school of thought that says you should do something for free to show a prospect how great your product or service will be. This could be a free sample, making them something or just doing a little work before they hire you.
For a prospect I rarely will do anything free. I think it devalues your paid work and you have to give so many samples or free items away before one of your prospects will pull out a credit card that you could be hurting your paid clients or buyers by using your time for sales.
Wrapup
I totally loved this question! It is a problem that lots of us struggle with and few know how to handle with grace (I still flail around when talking to a humans about why I won't "grab a cup of coffee" with them!)
That said, one of the most important things I have heard lately is from Suzanne Evans… the thing that you are best as the thing that you value the least and which is your greatest asset (or something like that!)
Knowing that, it is super important to remember that your products, time, your knowledge and your experience are not things to be given away, they are meant to be packaged up and sold to amazing clients or customers who NEED you!