When you are talking about small business marketing logos, design matters VERY much. There are some basic design elements which can really help or hurt your marketing efforts!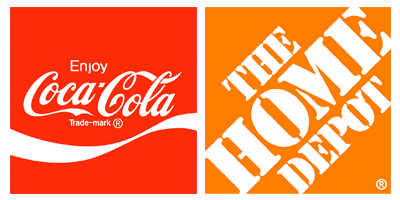 The design of your small business marketing logo is a VERY personal and subjective process. What could appeal to you might not be something that will work well with your industry or the overall function of your business. BUT, there are some basic design functions that are fundamental to your ongoing marketing success which, as a business owner, you probably never considered!
Choosing Your Logo Colors
In this day and age of digital printing, it can be very tempting to have a full color logo instead of a two color basic logo. I think that this is HUGE mistake that can affect the cost of everything from name tags and embroidery to printing and branding. Having two colors allows you to buy offset printing if you get big enough to do large print runs, as well as semi-forcing you to use one of your colors as a "signature color" for your business. I can tell you that for my company, I use the acid green from my logo on EVERYTHING so that when people see it, they think Marketing Artfully!
Another color consideration for your business is that there are "industry" colors that will immediately allow consumers to identify what you might be selling. Some examples include:
Red and blue for healthcare
Green for environment products
Yellow for construction
Black, gray and navy for technology
Blue for social media
It is easy to think of companies by the colors they keep! Coca Cola is red, McDonalds is red and yellow, Home Depot is orange, the list is endless. What never ceases to amaze me is that small biz owners do not recognize that having a really strong, simple vector logo is a hallmark of EVERY large corporation. Even knowing that, many of them want to use fancy graphics or design "fluff" which leads me to my next marketing logos rule:
DO NOT USE GRADIENTS IN YOUR MARKETING LOGOS
Can you tell this one of my all time major pet peeves? Having a fancy-smancy gradient is the hallmark of a designer that is not willing to have a fierce conversation with their client! Many of my clients have requested that we do them a logo with all kinds of design fluff that will only cause trouble for them in the future.
Gradients are when the color blends from dark to light or one color to another. It is a "shiney" silver sheen on a logo or a starburst light flash. When you use a gradient in your logo, many things can go wrong. It can be VERY hard to print good black and white copies of it. If you want to use it on a golf shirt, the setup costs can be astronomical, and it requires that you ALWAYS use four color printing.
I cannot stress enough that if you cannot use just two colors then make sure that you have a two-dimensional vector logo that will serve you well for years and years!
Corporate Logo Mistakes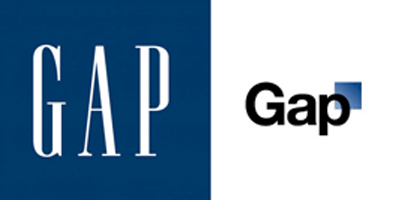 I am not sure if you are aware of it BUT in my marketing world there was a HUGE snafu lately when the gap tried to reinvent their logo. They went from a clean crisp gap word on blue background to a new-fangled gap word with a gradient square. Now I am not saying that the gradient was the entire problem but they DID have to change it back after the uproar!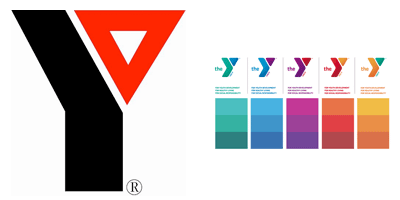 I am on the wrong side of this one, but I HATE the new YMCA marketing logos! They have 5 (count them 5) different color variations, a gradient and no consistent theme to the coloring. The thinking is that "the Y" will become a hip-hop-happening place because of the new modern colors and the rounded corners on the Y. Give me the old standby that is recognizable and basic design and dress up the brand with some great creative design rather than messing with a good solid logo!
Small Business Marketing Logos Exceptions
As I said before, logo design is VERY subjective. If you cannot stand the thought of a two color logo, make sure that you ADORE whatever you choose!
One of favorite clients, Palm Harbor Realtors Matt and Julia Fishel had us design a VERY unique realtor logo. It was not overly house-y and it was lots of different colors. That having been said, we found great beachy colors to signify their waterfront housing focus and made sure that it had a solid vector design. Then we paired it with "the shacks" that were the same colors as their logo and bada-bing, design brilliance!
The bonus – just this week Julia got a lead from the internet and when asked why they picked her, the new client said because they liked her logo!