Small business marketing is all about getting prospective customers to notice you. I KNOW, you think that small business marketing is about getting them to BUY from you, but first they have to know you exist!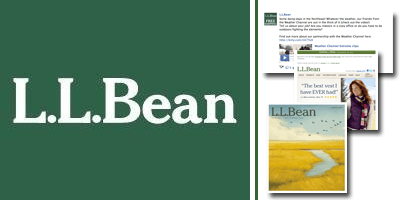 The easiest way to get people to notice you is to show up everywhere they go, from in person, to their mailbox, online at social media and in their email inbox. This process of being everywhere is officially called layering and should be part of a planned structured marketing campaign.
LL Bean is stalking me. Don't get me wrong, I LOVE the LL Bean gang! They have American made clothes (I am from the rust belt near Pittsburgh so this has always mattered to me). Their clothing is unbelievably high quality and they have a no questions asked return policy. Seriously, you can wear your shoes, clothes or coats for YEARS and if something goes wrong, they will make it right, no questions asked.
Years ago I got on their mailing list and they have continued to send me catalogs, even though I have not ordered in quite some time. Sort of nice, but did not compel me to buy.
Social Media Marketing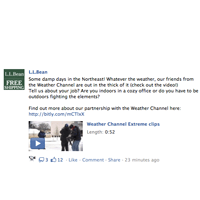 So today I opened my Facebook and they had posted a message about extreme weather clips on the LL Bean Facebook page. Not a picture of their product with a link (although they have them too!), a video from the weather channel about terrible cold weather.
Small Business Marketing Tip – So NOW I am thinking about cold weather in conjuction with LL Bean! They have snuggly warm coats and slippers in case it snows like that here.
Email Marketing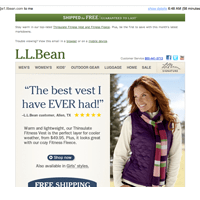 After cruising the Social Media and noticing the LL Bean clip (I didn't watch the video but got the gist and the association stuck). I popped open my inbox to delete messages (I mean read my email…hehehe). What showed up there? An email from LL Bean!
Now I am in marketing so I tend to notice when things happen like this, but I am also human and the urge to buy something from LL Bean is getting greater and greater!
Direct Mail Marketing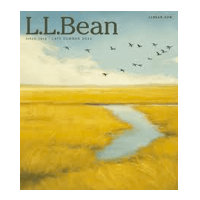 So, as most of you know I am an internetty kind of gal. I get leads from the internet, teach internet marketing classes and have every whiz-bangy kind of appliance needed to access the internet at my disposal.
That having been said, I rarely BUY things on the internet. I go to stores and look at catalogs (doh, I just happen to have an LL Bean catalog handy!). Sending me a catalog will definitely make this layering marketing work better for the Bean!
How To Do Layering For Small Business Marketing
So you are a small business owner or entrepreneur and you are thinking to your self (in a really snarky tone, I can hear you) that you do not have the millions of dollar advertising budget that LL Bean has! That figuring out all that technology is going to take time and money you don't have.
Here are some easy ways for small business owners to capitalize on what we have seen here today!
Direct mail marketing – There are two ways to do direct mail marketing on a shoestring. Print dinky postcards on colored paper, 4 to a sheet or buy them from Vistaprint for pennies on the dollar. I checked yesterday and the cost for a postcard stamp is 29 cents so the cost to do a 100 piece mailing should be less than 50 bucks total. I am getting ready to send a 100 piece dinky postcard mailing this week and will let you know what the response rate is!
Email marketing – if you are not using an online database like Constant Contact or Office Auto Pilot (the one I use) yet, start today. Figure it out and start building a list! Send them informative emails. I KNOW, you are all clamoring about what to send, send something that is related to your business!
Pick up the phone – Call them to see if they got what you sent! Your mailing made this a much warmer call.
Social Media Marketing – Post something about this on your social media like Facebook, Twitter, Google Plus or LinkedIn. Be careful not to be too salesy, just something good and interesting for them to enjoy that is related to your business.
With my coaching clients, I recommend that we have "theme months" where we pick a theme and market to that using multiple sales channels. I can't stress enough that you should pick a theme for this month RIGHT NOW, set up some of these layered sales outlets and get started bringing in more prospects and sales!
— — —
If you would like to find out more about my Small Business Marketing coaching programs today, give me a call 727-415-9165.