These arbitrary small business marketing goals are part of continuing series about how Small Business Marketing Goals Make A Huge Difference. Read at your own risk, they coud make you do something!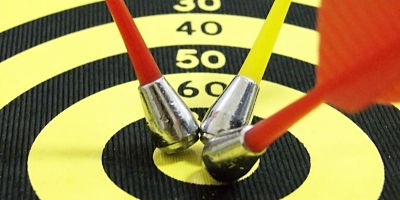 Social Networking or Social Media
If I get one more email that tells me that they can get 10,000 in 15 minutes I am going to scream! The best way to grow a marketing channel that will respond to your offers and listen to what you say is to grow it slowly and patiently.
Having a gagillion person list when you sell weight loss is silly. Most of the people will disregard what you are sending or unfriend or unfollow you. Having built a list of ladies primarily, who are concerned about their weight or appearance and who are looking for help…that is priceless to the marketer who is focused on the weight loss niche.
If you want numbers to shoot for…follow 50 people a day on Twitter (some will follow you back), friend 10 a day on Facebook and get as many connections as you can on LinkedIn. Hit Plaxo just for fun and then establish a presence only on the hundreds (or maybe thousands) of other sites out there.
Then, this is the hardest. Post every day. I post every weekday which says that I am interested in my account, providing great info to my friends and followers and are not using it as purely a spam-engine to sell them something.
Blogging for Business
Having a blog is harder work than having a website. A website takes a little time once and then fades into obscurity. A blog wants to be fed which in turn calls the search engines and also can help populate a bunch of your social networking.
If you do not have a blog start one today. WordPress.com has free ones and we sell business blogs that work. Start writing. If you are new, one post a week is a great way to start. It will take you what feels like forever but soon it will become a habit and will seem less hard. Also you will get in the groove of finding out what your readers like which takes me to part two of blogging…
If you have a blog, look at your stats and see what is generating traffic and write more about that. You KNOW google is sending people to your blog for that keyword phrase and will be reinforcing their faith in your site to provide great content on that topic!
If you have a blog, and you get more hits on the day you post, what would happen if yoiu committed to posting one more day a week? I get up to 10 times more traffic on the days that I post than on just normal days.
Last but not least, bookmark your posts. Get the little button at the bottom that says share and share on StumbleUpon, Digg, Delicios, Google, Yahoo and more. Set up your accounts once and then you can just fly through posting easily!
Local Marketing
This is a new field that is growing because of the capabilities of the GPS Phones and the growth of online marketing for local businesses. If you are not on there yet make sure you hit gowalla.com, foursquare.com, google and yahoo local.
Even if you are a work from homer or online business, set up your stuff!
There you have it! If you do a couple of these things your business will grow, if you do them all you should be able to count on getting more leads and increasing your revenue much faster!