If you are using Facebook for your small business marketing efforts, how you set up your privacy setting could have a HUGE negative impact on your success.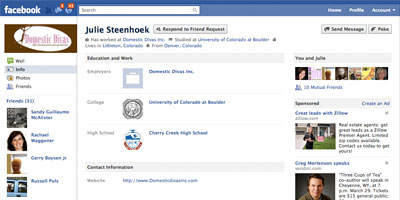 If you are playing around on Facebook with a little business thrown in or are a personal user, this post is not for you. I am talking ONLY to small business owners who wish to use this valuable marketing channel to grow their contacts, sell products and grow relationships online for business purposes.
Facebook Privacy Settings and the Small Biz Owner
You can dial up or dial down how much people who are not your friends can see. I have found that this can impact how many people are willing to be your friend, whether you are instigating the connection or they are seeking you out. The business owner in the top picture KNOWS that the more information that she shows, the more likely that someone will be interested enough to "friend" her. She says where she works, where she went to school and where she lives now, BEFORE you click to become her friend.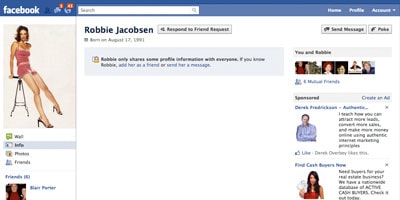 The person in this profile has done everything possible to assure that I will not be her friend. She has a fake picture and locked down her information so that I have to be her friend BEFORE I can see anything about her. In the beginning when everyone wanted more friends, this might have worked but now she is facing a LONG climb to get a decent number of friends.
Think about it, would you want to start a friendship with a real human who did not tell you anything about themselves? I wouldn't. I like to know a little before I will even consider hitting that "become my friend" button.
How SHOULD You Set Your Privacy Settings For Small Business?
Again, if you are using the Facebook for personal use these settings may not be for you, BUT if you are going to be using it for business, these are the suggestions that I am making and how I have my account set up!
Posts by me – EVERYONE (I want them to be able to see how cool I am without having to be my friend!)
Family – EVERYONE
Relationships – EVERYONE
Interested in and looking for – EVERYONE (Now all I have is networking, BUT if you are wanting to keep your dating preferences under wraps you might want to limit this one)
Bio and favorite quotations – EVERYONE (this one is vital to showing you are a well rounded human)
Website – EVERYONE (OF COURSE! kinda the point)
Religious and political views – FRIENDS ONLY (I don't have anything listed here BUT no sense alienating someone before I even get a shot!)
Birthday – EVERYONE
Places I check in to – FRIENDS ONLY
Include me in "People Here Now" after I check in – I check YES, this is personal preference
Edit album privacy for existing photos. – See comments below
Photos and videos I'm tagged in – FRIENDS OF FRIENDS (I thought about making this everyone but it is dependant on someone else so this is okay for now)
Can comment on posts – EVERYONE (I monitor my account pretty well and delete any spam so I am good with this AND might make some new friends I wouldn't have "met" otherwise)
Friends can post on my Wall – EVERYONE (only do this if you check often so you don't get a wall of spam)
Can see Wall posts by friends – EVERYONE
Friends can check me in to Places – DISABLED (I don't need my friends to do this for me)
Mobile phone – FRIENDS ONLY (please DO NOT limit this, if a prospective client wants to call, don't make them jump through hoops to find your number!)
Other phone – FRIENDS ONLY
Address – FRIENDS OF FRIENDS (This ONLY shows your city, state and zip, NOT your street address. I WOULD allow access to this!)
IM screen name – FRIENDS ONLY
Email Address – FRIENDS ONLY
When you are changing these settings so that only your friends can see things, PLEASE remember that you should assume that NOTHING you do on Facebook is truly private. I NEVER send anything by Facebook email that I would be sorry to see posted on my wall. I NEVER post a picture and think that only a few people will see it if I make my privacy settings right. If I want to talk privately with a client or a friend I call or email them outside of Facebook!
Well there you have it, Small Business Marketing and Facebook Privacy Settings. Hope that helps setting up your account to be able to get the most friends, the easiest way possible!
PS – If you would like to find out how to have US handle these for you, give us a call at (727) 505-5384 to find out more about our Social Media Marketing Services!