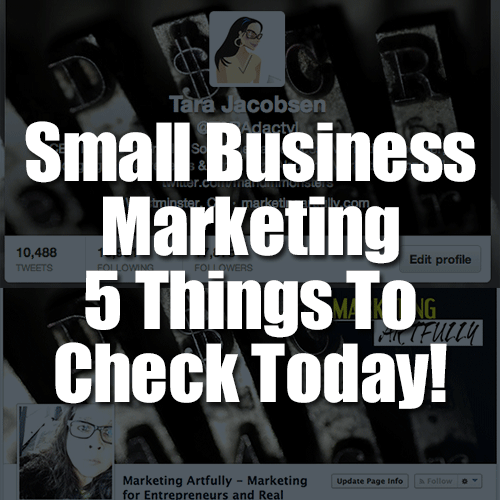 Okay, we all are busy and life gets in the way of us having optimal online lives. Today, yes TODAY, you should take a peek at these 5 things and see if they are still working for you! Some of you may not be able to change certain ones, but the ones you can, either schedule time to change or do right away!
I KNOW, you are swamped today, but aren't you swamped everyday? These are things that will make a huge difference to your success this year and are basically easy fixes!
Your Email Signature
Seriously, this is the one thing that EVERYONE you talk to sees EVERY time you send them a message! Here is my old signature line…not heinous, but not setting the world on fire either…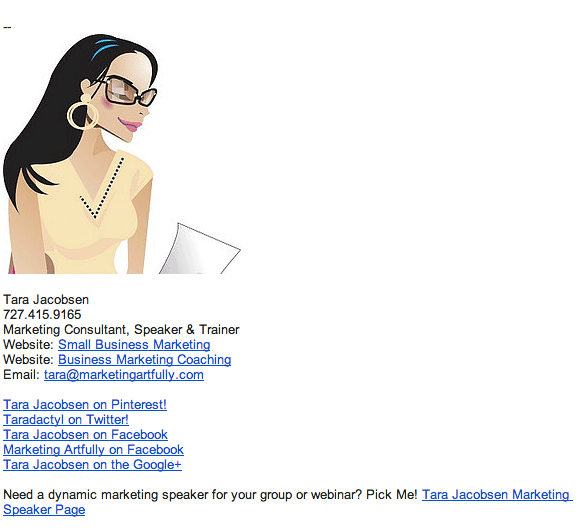 So how do you figure out what needs to be there? First off, what is THE MOST IMPORTANT THING you want them to do? For me it is to get into my database and I don't have the option for that anywhere…sigh. When I fixed this, you will notice that I broke up the word "FR|E|E" so that I would not get stuck in everyone's spam filters.
Next are my contact bits…moved a couple of things around here and eliminated the link to my Facebook business page. Heaven forbid they sign up for that as Facebook shows so little of what I actually post there. That time has passed and now I just want them in my database!
Finally, I have used the avatar on the left FOR YEARS so I am keeping her active, BUT there is a school of psychiatry that says that "seeing" us in an email is just as good as "seeing" us in real life. I finally took a selfie that I like enough to include on my emails so my friends and clients can see me. I also made it a little smaller since so many people are using phones to access their email now.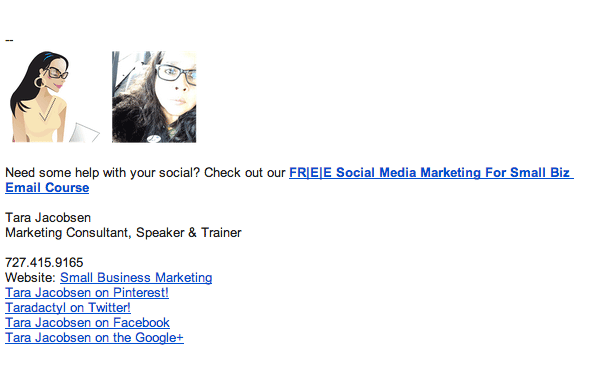 Still busy but have my call to action and the picture of me. I will use it for a little bit and see how it goes.
Your Website Layout
Now if you are using a "real" website, moving things around is probably a nightmare, but for those of us who are using wordpress, sliding things around is relatively easy peasy. I noticed the other day that it was REALLY hard to find the newest posts on Marketing Artfully. They were there, just down in the bottom with no pictures. As I really do want people to read my stuff, I am going to move some things around a bit!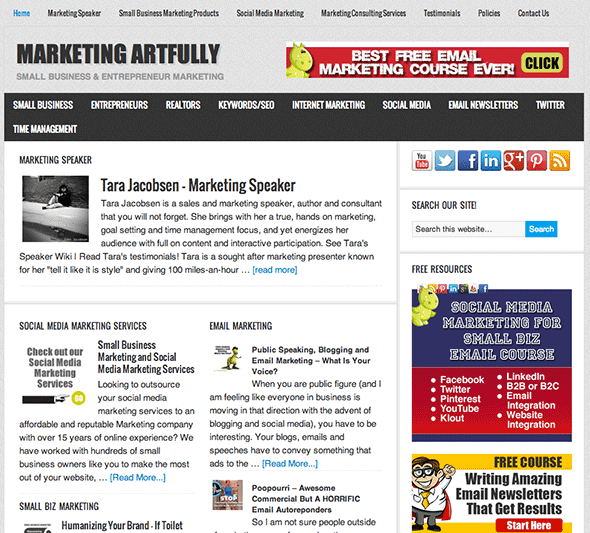 So I moved the recent posts up into the middle of the home page, reduced the number of small business marketing posts and added real estate marketing and customer demographic posts to the mix.
Now, there are other things that I think could do with some fixing, like I have TOO MANY competing things on the sidebar, but today is just the basics and I got those fixed! Check out the new layout with the recent posts front and center…
Your Social Media Descriptions
It is amazing how out of date these can get fast. I did this with my Twitter just a couple of weeks ago and was AMAZED at how off target it was. Make sure that you have the following bits in your social descriptions:
Links to your MOST IMPORTANT THING
Hashtags if appropriate (like on google or instagram)
Keywords like you use on your website (social profiles show up well in the google search)
What you are currently offering, most important to least important
Here is my updated Twitter profile that talks about EXACTLY where my business is TODAY: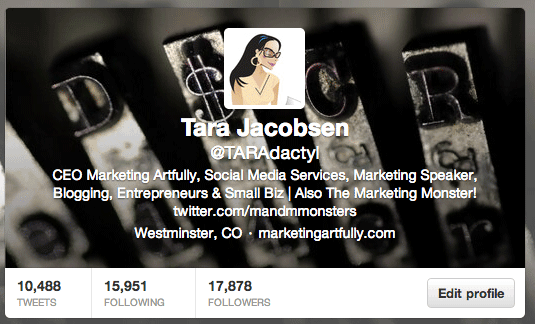 Your Social Media Graphics
Okay, I admit I am not the best at practicing what I preach but WHAT WAS I THINKING when I did my Facebook business banner THIS WAY. It doesn't use any of the imagery I use in anything else, it doesn't have Marketing Artfully green, and my logo might as well not even be on there for how present it is. What happened was, I saw a technigue and wanted to try it and was less than impressed…so I left it there?!?!?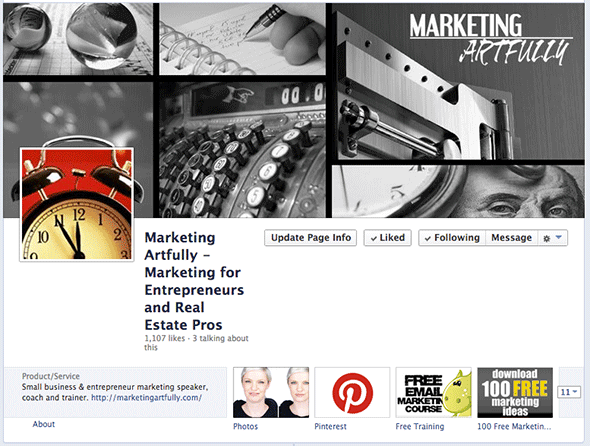 So this one is not going to set the world on fire, but at least it is congruent with my branding and it is better than what it was (that is our theme for today…good enough is good enough!) I also changed out the avatar which leads me to the last tip…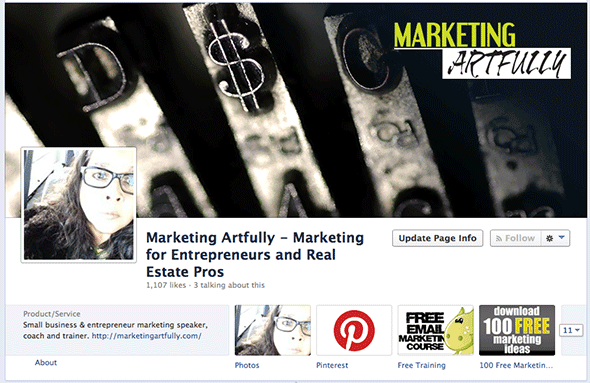 Make sure you like all your profile pictures
I hated my LinkedIn profile picture and they MADE me use a "real" picture instead of my beautiful avatar lady who always looks great and never gets old. That said, I did (finally) get a picture that I didn't hate so I swapped it out…this icky old one for my shiney new selfie: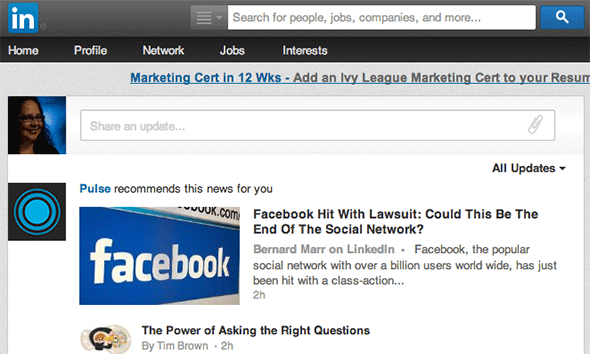 It is VITAL that you find a picture of yourself that you like. If you don't have one, you are less happy with your social overall and will not be as effective.
Don't let anyone tell you the "right" kind of picture. As you can see, mine is obviously a selfie, not perfect and DEFINITELY not professionally done, but I like it!
There you have it, my top 5 things that you need to check on your small biz marketing!!!

PS – all changes where made in the hour it took to write this post so don't make this harder than it has to be, get some stuff fixed and then put the rest on your to-do list for fixing soon!
(Visited 61 times, 1 visits today)