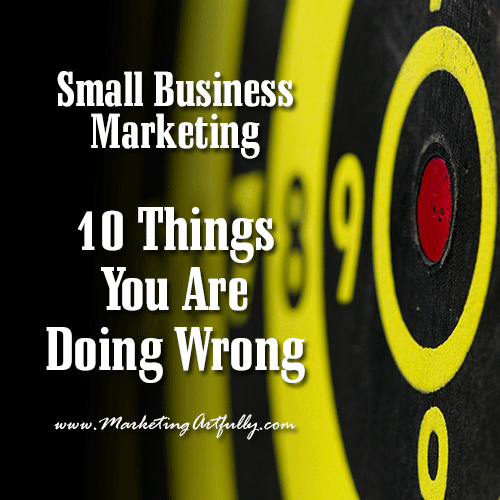 When you are doing small business marketing and trying your hardest, it can seem like all you are doing is spinning your wheels. You market your face off but it seems like no one is listening and when they do they are not responding. Having talked to A LOT of small biz owners, I can tell you that the problem is probably one of these:
Product development – We can't understand what you are selling
The number one problem I see with small business owners is not having a super clear, you can rattle it off in 30 second message about what they are selling. Now, what you are selling in public may not be the actual product you get paid for (I am a speaker so I always "sell" getting my next speaking event BUT my actual sales are of social media marketing or marketing consulting services).
That said, frequently when I am at networking or a Chamber event, a business owner will flail around for 5 minutes, explaining what they do, not telling me in clear terms EXACTLY what they are selling!
Your mission…figure out EXACTLY what you are selling. If this is your first effort keep it to three things max, if you are seasoned you can probably go up to 5 which you can rotate at events. You MUST be able to spit it out in 30 seconds or less and you need to check with people who don't know you to see if it is actually comprehensible!

Product development – Naming it something cute
In the day of the internet, A LOT of your leads, traffic and comprehension will come from people already knowing what you do. We have an amazing friend who built a huge marketing campaign around being a "megapreneur" or something along those lines. While the concept is interesting, in practice no one is looking for a made-up product word. They may be looking for entrepreneur marketing or entrepreneur consulting, but trying to build a brand from nothing that humans say is a long hard schlog.
When I lived in Clearwater, Knology was coming to town and it was AMAZING to watch the money being spent on branding them and rolling them out to the public. First went up billboards that had interesting sayings and a teaser that said something new was coming. Next were TV ads with the same (I think) red color and more teasers. Radio spots were bought and paid for, the local paper had some ads and then…wha wha…they let us know they were a cable and internet company.
Now, we never switched because we had Time Warner and were relatively happy, and I really only noticed because I am in marketing. BUT my frugal little heart wondered if naming the company a made up word was worth the MILLIONS they had to have spent to launch into the Tampa marketplace.
Your mission…take a real look at the name of your product or company. If it is made up, create a tagline that DOES have what humans say. If you are in the process of rolling out a new product or service, please make sure it has the actual function of the item in the name and leave the "cute" bits to the tagline.
Event marketing – Not enough time
Oh the humanity. My marketing besty, the Colorado Connector is an amazing PR and new media marketer. She can fill a room and generate buzz about any event we are having here in the Denver area. She has a huge database of people to contact and we sometimes consult with people on their event marketing efforts. It is at this consultation that I see the flaws in timing most marketers have.
First off, if you are having ANYTHING, you need a six week lead time. No questions asked and that doesn't mean you are waiting to hear back about who the speaker is. You need to have your sales page and collateral materials ready to go including a online landing page (no we can't share your Word Document flyer), at least a couple of graphics that you can share on social media, a press release, and handout flyers that you can take around to events. Next you need to have a plan for posting, schlepping around locally and basically how you are going to market your event.
Your mission: for your next event, do everything right. Give yourself time, hire a copywriter to write your sales page, go on fiverr.com to get some graphics made. Once you know what a true event marketing plan looks like, you can simply duplicate that for every other event you do going forward. I think you will be surprised at how effective (and popular) you will become!!!
Event marketing – Bad content
Okay, last event marketing one, BUT this is a biggie! Most people do not know how to write an amazing sales letter and your event NEEDS a sales letter. Just posting on Meetup.com that you are having something is not enough anymore. You need to SELL your event, your speaker, your USP or benefit to people who are going to attend. This is super important if you are charging but maybe even more so if it is a free event.
People have been burned too often on their time and now are hesitant to commit to wasting more of it on your free event.
Your mission: find an event that you felt like was a MUST ATTEND and figure out why you were so compelled to go. Look closely at their sales page and reverse engineer the reason that it tugged at you. Collect these so when you are writing your events up, you can use these same triggers to fill your room.
Small business marketing – Not enough time
Speaking of time, too many small business owners are frustrated because they feel like everything takes too much time…they want marketing to work RIGHT NOW. I wrote a post on how long it takes to get a great post ranked Small Business Marketing – How To Write Authoritative Hero Blog Posts. In it, I basically lay out that it takes about THREE MONTHS to get a really good blog post to start ranking. That is three months of promotion, sharing and slogging to get ONE POST popular.
I was giggling about this the other day with one of my marketing peeps….:) So many small business owners worry about what time to post their info. What time? Seriously, I don't care what time you do something, it is the frequency and dedication that you use to get it done that matters. I post most of my blog posts about 10 times over the course of months to get traction. I post them on Facebook, Twitter, Pinterest, Google Plus, make a video, heck anything that I can think of to get exposure for it.
This same thing applies to ALL of your marketing. Building a blog? Sad a week later that no one is reading? CRAZY! Start a Twitter account and KNOW that you will have thousands of followers in a week? UNREALISTIC. Building all of these properties takes time, dedication and patience.
Your mission: do something AMAZING and then plan to promote it for three months. Could be a video, blog post, or even a great graphic. Post it and share, talk about it, email your friends and ask them to share it too!
Small business marketing – Listening to too many gurus
This is a huge one for me! You NEED to find only one or two people to follow marketing-wise. If you have a 100 different "gurus" you are following they are all going to, over the course of a month, try to sell you something. Even if you only buy 5% of what is being sold, you will have spent hundreds (if not thousands) of dollars. The reason this happens is that they are GOOD marketing people, their job is to get you to buy, buy, buy.
The problem is that if you are buying new systems, plans and products each month, you are not PLANNING and IMPLEMENTING against that plan. Honestly, you need to stop buying any new marketing products or courses until you know EXACTLY what you are doing and why you are doing it!
Your mission: if you have not met with a marketing consultant yet, find one and settle on a firm plan for your marketing. A good consultant will take into consideration what you want to sell, what your skill sets are and how much you have to spend on your marketing. Need a great marketing consultant? I would love to throw my hat into the ring to help you today!!! Find out more
Bandwagon jumping – By the time they tell you about it, it doesn't work
Speaking of gurus, PLEASE know that by the time they are showing you the latest trick, it has flamed out. Do you really think that someone who is making GAGILLIONS of dollars a month doing something is going to sell you the "secret" for $47 or even $297? Telling you how to do something that is in direct competition with them (like buying Facebook Ads) is not smart, and these guys and gals are SMART.
We heard a great webinar the other day talking about how Facebook contests got the presenter thousands of new likes on their page. The "catch" was that they said early on that they had done this about 9 months ago. Well, Facebook has changed the contest format since then and contests are about as popular as Groupon giveaways now. The presenter was not lying, they did use a contest to get those likes, but by the time they are talking about it, that loophole has closed and it is not such an effortless sale anymore.
Your mission: Stop chasing easy and develop a plan for your marketing. Stick with it for at least 90 days before jumping to the next magical marketing trick. Bonus if you put all the "make money online" or "internet marketing" guys in a folder on your email that you never look at.
Productivity – No systems
Okay, this is a huge one! Do you know that I have a system IN WRITING for how to promote my blog posts and videos. This includes a worksheet where I list what I have done, where I have shared it and what I am selling for each item. I meet with my business partner each week to make sure we are on track and doing what we are supposed to do…:)
Once you have a marketing plan, this gets much easier. You know what you need to write about, what your videos should look like and how to get people down your sales funnel and into buying something. You feel better about yourself because you know what your top tasks are and when they are done for the day, you know that you have accomplished something worthwhile!
Your mission: First off, figure out what ONLY YOU can do for your business to market it (could be writing blog posts, making videos, chatting with prospects on the phone). Next make sure that you have a plan IN WRITING everyday for accomplishing this. Sounds easy but "real work" always gets in the way. I have seen that the best and most successful business people ignore what "has" to be done and do what "needs" to be done to grow their business every day.
Social media marketing – Posting one and done
Every thing that you create, including blog posts, videos, Facebook pages, etc. needs to be promoted multiple times. I KNOW, it can seem like you sent it out and you don't want people to get "sick" of seeing it. I have a secret for you, most people are not paying that much attention to you! They are not worrying that they have seen something more than once because they probably didn't even "SEE" it the first time.
Additionally (and I think this is a huge one) it depends what you are saying WHEN they are hearing it. By this I mean that someone who has never looked at Twitter will not like my Twitter posts, but if they start using this social media service, all of a sudden they can start "seeing" my posts from a couple of months ago that now have new life!
Your mission: Make yourself a worksheet! Plan how often each week you will blog. Figure out how many videos a month you will make. Daily post and follow new people on Facebook, Twitter, Google Plus, Pinterest, Klout, LinkedIn (check out Tip 3 on this post to see an in depth description Internet Marketing 5 Tips To Organize Your Work Flow.)
Social media marketing – Thinking this is marketing
Okay last one! If you made it down here I have a REALLY GOOD feeling about your marketing chops! This one is HUGE and super important.
Most small business owners think that social media is marketing. The thing is that social media is just a little piece of the marketing puzzle. In my experience doing JUST social media is not an effective use of marketing time or money. Social media has to be a part of a blog, email, direct mail and in person marketing campaign.
It can be very powerful when used to build relationships, but standing alone as a prayer for generating sales it is a dud. We get A LOT of people who contact us and think that by setting up a Facebook page they are going to get hundreds of leads a week. That is just not true. Setting up a Facebook page is step one in a hundred step process to grow a sales funnel. Additionally Facebook is just one piece, Twitter, Pinterest, Linkedin and YouTube also need to be in the mix.
THEN you need to have a way to capture names (an email database), an autoresponder series to keep them interested, maybe send them a post card or personal note. I KNOW….the gurus are telling you that all you need is Facebook or LinkedIn, but everything changes and you NEED to have a comprehensive marketing plan and system that will get moving down a pipeline from your "stuff" to a paying client over time!
(Visited 423 times, 1 visits today)