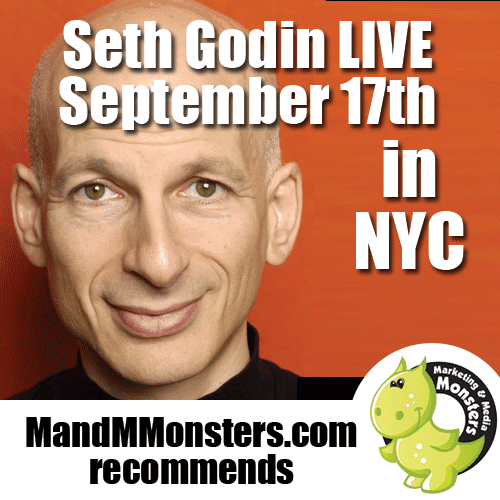 Seth Godin is speaking at an Infusionsoft sponsored marketing meetup event September 17th, 2013 in NYC!
During this three hour event Seth Godin will be doing a rare question and answer session…OMG if you have ever seen one of his keynotes, you know how wonderful his vision of how to do small business in the digital age is!
The Marketing and Media Monsters will be flying in to see this amazing networking and speaker presentation.
Some of the topics that will be covered include:
The way we work and play has changed. Big companies who have not innovated have failed. Small companies who have innovated are thriving.
Laggard companies are being crushed. Companies who can strategically innovate are being created and growing.
Will your business thrive? Will it survive?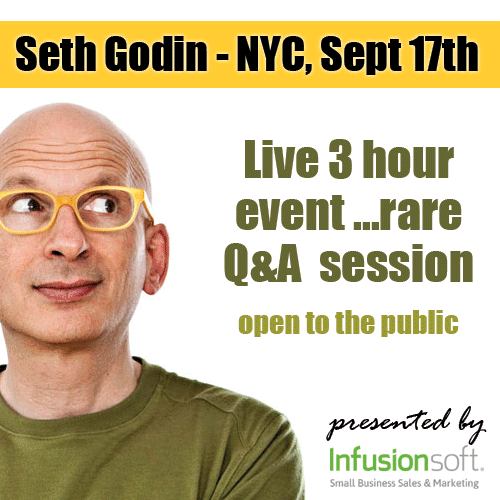 If you have never seen Seth speak, you need to make a point of signing up RIGHT NOW! This is truly a once in a lifetime opportunity to see Seth in a small setting. We signed up for the VIP tickets which were about a hundred bucks and included reserved seating and private networking afterward.
The best part? We got our readers reduced seats because of our association with Infusionsoft!!!! Seeing Seth Godin for under $30…are you kidding me? His keynotes generally cost thousands of dollars…so glad that we have this opportunity!!!
(Visited 32 times, 1 visits today)