SEO Copywriting is an art which most small business owners struggle with. I am hoping this example from a client who is trying to rock the SEO, but who is doing all the right things, the wrong way will help some of you recognize how you are sabotaging your own SEO Copywriting efforts!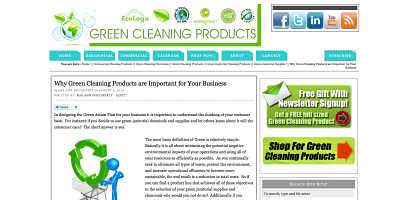 Rae Ann, of Green Cleaning Products fame, has been learning all she can about how to write well for the internet. She has taken courses that told her to use tags (good) and has added a bunch of plugins to help do this automatically (bad). Here is the story of one of her blog posts and how we took it from good to great!
Names were NOT changed to protect the innocent BUT I warned her about this post!
SEO Copywriting
SEO Copywriting starts with having one keyword that you are trying to rank for per post. Trying to rank for two or three different keywords will just dilute your message so much that you wind up ranking for none!
This is the title of the post we are using: Why Green Cleaning Products are Important for Your Business. I like it and will use "Green Cleaning Products" and Business as something to try and rank for.
Her original first paragraph (which we will also use as the blog description) was:
In designing the Green Action Plan for your business it is important to understand the thinking of your customer base. For instance if you decide to use green janitorial chemicals and supplies and let others know about it will the consumer care? The short answer is yes.
Our keywords are not in this paragraph, in any order. Here is the re-written first paragraph:
We are often asked by clients, why are green cleaning products important for your business? If you are designing the Green Action Plan for your company, it is important to understand the thinking of your customer base. For instance if you decide to use green janitorial chemicals and supplies and let others know about it will the consumer care? The short answer is yes.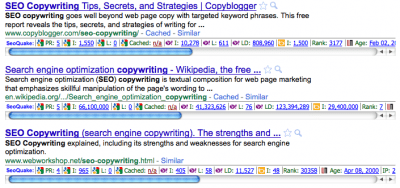 Reinforcing that phrase in that order will allow the search engines to index her page for things that are important to us. Here is how SEO Copywriting comes up in a google search (that is the term that I am trying to rank for for this post). You will notice the bold bits where google has highlighted that your search term is in the title AND the description tag.
The next thing we wanted to do was reinforce that phrase in the body of her post. We do this by using <bold> tags or <H2> tags around the phrase. The html will look like this:
<H2>Measuring Green Cleaning Products Business Goals</H2>
We use bold, H1 and H2 tags to show Google that highlighted content that contains our search phrase is indeed important to the context of the post. It is SO worth your while to learn just a little bit about HTML and how it affects your SEO (search engine optimization efforts) BUT you can also use the WYSIWYG editor and just select the Paragraph Style, Heading Two or B for Bold.
One last benefit to this this is read-ability. Having your content broken up into sections with these headers makes the post more readable!
Keyword Ready Blogs and Static Front Pages
One thing Rae Ann wanted when we started her site was for it to look more more like a website than a blog. With that in mind we set up a static front page that had links to some of her favorite keyword posts. It did look nice BUT… We changed it over to a true blog format with rotating content on the front page last week and her search engine traffic jumped immediately.
I am seeing more and more blog designers who are making "websites" with a blog button that gives access to the content. I have had some fierce conversations with clients about this and (though it is anecdotal right now) I firmly believe it takes some of the great blog ranking love out to "hide" your content through a blog button and will fight against this with every fiber of my being!
SEO Picture Naming Conventions
One thing Rae Ann did right was to name her pictures with her keywords in the title (ie seo-copywriting-keywords.jpg) AND she uses her keywords in the description and alt tags.
The Last KEYWord
When you are wrapping up your post, you should use your exact phrase again one last time at the end. I generally try and pair it with a call to action to get them to call or contact us.
Well there you have it, green cleaning products ARE important for your business. Click the link if you would like to find out more about our commercial green cleaning products or give us a call today (720) 746-0803!
How Much Is Too Much
So we have her keywords in the title, the description, the metatag keywords, her pictures, the headlines, and the last sentance – whew. That is A LOT of keywords. So when is it too much of a good thing? Conventional wisdom says that your keywords should not be more than 5 percent of your content of the post. It also says that your post should be at least 300 words long (mine are frequently 800 to 1,000 words or more). What I do to make this less of a hassle I write a post that I like and THEN go back and add all the seo copywriting bits.