Real Estate Videos are one area that I see agents missing the boat on. It amazes me that there are these FABULOUS opportunities out there to get traffic to your website or blog and so many agents are not capitalizing on this opportunity.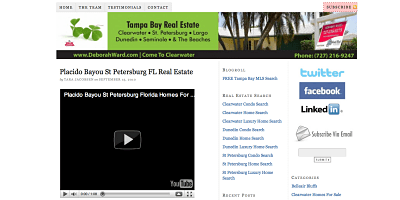 I think that one of the reasons that real estate agents do not make videos is that they do not want to be on camera. This is an easy peasy one, very few people want to "see" you. They are looking for information about an area or a house, not for the smiling face of the agent. Additionally, our voice always sounds funny when we are not hearing it inside of our head. This one you are just going to have to get over, remember that what you are hearing on the video sounds like what everyone else hears all of the time!
Some Suggested Real Estate Videos That You Can Put On YouTube
Videos Of Your Farm Or Target Market Area
There are GREAT opportunities to drive around and take videos of your farm area. Make sure that you talk about the subdivision name, what kinds of housing there is (single family, condos, villas), and what amenities are offered. Here are two great real estate agent videos of their farm areas:
What you will notice about each of these is that they are not perfect BUT you get a flavor of the area, you get to see the neighborhood AND you get to "meet" the agent! These real estate marketing videos were placed on YouTube and then embedded on the agent's blog!
Videos Of Your Listings
What if you could show how great your new listing is? Well you can! Follow Deborah Ward of Deborah Ward and Associates around her Placido Bayou home for sale in St. Petersburg, FL.
What you will notice about this is that she is not pumping up herself, she is simply showing you around a property, BUT by SEOing the YouTube Video and the blog post, we can help her rank higher for the search term "St. Petersburg Waterfront Pool Home"!
Some other Video Marketing Ideas
Get testimonials from your past clients – hit them at the closing table when they are happiest!
Introduce yourself or your team members
Show off area attractions, making sure to include real estate related keywords
Make videos to send to buyer prospects and post them on YouTube

Basically there is ABSOLUTELY no down side to making your own real estate videos, just grab a Flip Camera or your iPhone and start shooting!