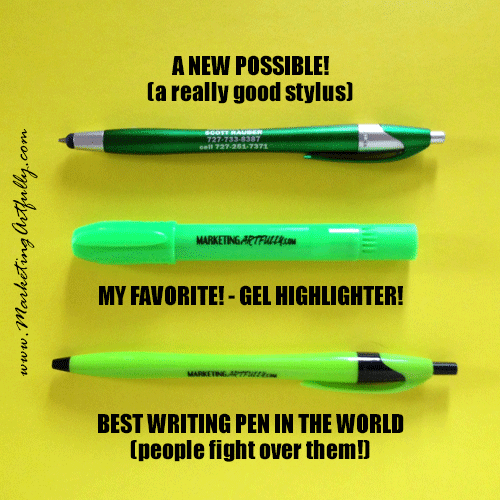 Okay, a confession, I LOVE promotional products. From cool screwdrivers to nail files and more, I love them all. That said, I need to have promotional products that I can afford to give away A LOT of and for me, pens are the answer!
The top pen in the picture are a new sample I just got from Uncle Scott (not my Uncle but two of my clients and my assistant's Uncle Scott). It is a stylus for using on iPads and tablets that also has a pen inside (pretty cool). I have the other two in my arsenal for handouts already.
Why should you use pens as handouts?
They are really affordable!
I use them all the time and so I am branding my company everywhere I go.
People LOVE the Javelin Pens – they are a really good writing pen!
The Sharpie gel highlighter is not that much more expensive but seems to be considered a high value item. I frequently throw them at people who ask good questions at my events!
I have really been looking for javelin stylus for myself (have been using a Bamboo one that is okay but not great)….this one "writes" really skinny on the tablet which is important to me! They are pretty cheap and would also be a high value item.
In talking about these, some things come to mind.
PLEASE do not get something that is "cool" that you would not love getting. I have a highlighter jones anyways so I think a gel highlighter is really neat…that translates to the value people feel when I give them one! The pen-pens are an amazing handout that I can throw in my speaking bag, handfuls at a time without over thinking whether the group I am going to give them to is "worth" it (we have some clients that buy really expensive handouts and never give any away because no one is deemed worthy!)
Well that is my ode to promotional products pens! If you have any questions about them, give Uncle Scott a call!
Scott Rauber
727-733-8387
Authorized Kaeser & Blair, Inc Dealer Since 1997
(this is NOT an affilate post! just a shoutout to my favorite pen guy and no, you probably can't send me pens and have me write a post about your promotional products…:)