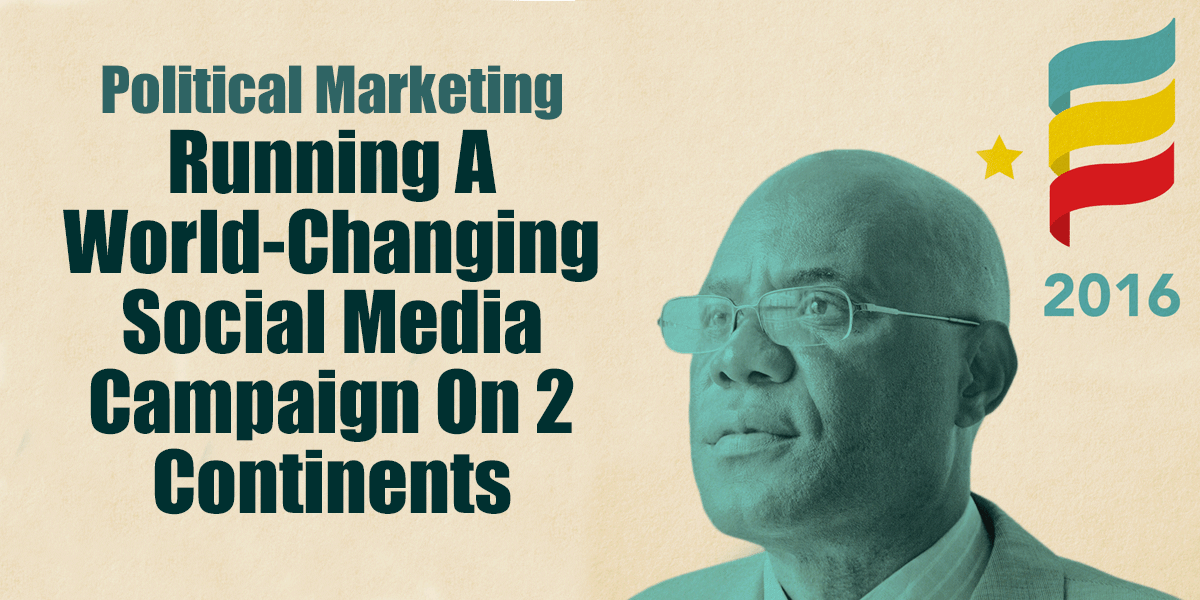 Today's post is rare guest appearance. I generally don't allow guest posts, but upon hearing about Emmanuel Weyi, President of Democratic Republic of Congo Candidate and the challenges associated with running a two continent political marketing campaign, I was hooked! This post is written by Brenton Weyi, Campaign Architect, Weyi for President.
– – –
Engaging a large audience via social media is one of the most important challenges for all organizations these days. But imagine, that instead of having reach one audience in one country, you had to engage two massive audiences, in three different languages, on two different continents? Well this is exactly the challenge that our organization has undertaken.
To many people in the West, Africa is still one of the great mysteries of the world. But for us here at the Emmanuel Weyi Presidential Campaign, clearing up that mystery means changing the lives of 80 million people in Congo and writing a positive chapter in world history.
The Democratic Republic of Congo is perhaps one of the top 5 most important countries to the world economy and the global political sphere. And for us, the goal has been showing the Western audience the powerful connection between the Congo and the United States.
And so we've had to form two full-scale social media efforts for two different global audiences.
Targeting Two Different Audiences
Did you know that Congo has $24 trillion dollars of total mineral wealth? Or that it's the fourth most biodiverse place in the planet? Or…that millions of people have perished there in the last decade? (click here for an amazing infographic). Probably not. And that's only the tip of the iceberg of the information we need to share via social media.
But the power (and challenge) in social media is developing an understanding of what will compel your audience.
In The Congo
In the Congo, most people don't have access to consistent and reliable internet. And the few that do principally use Facebook or Twitter. With the Congolese people, we have really focused on how our campaign is advocating for their basic rights — food, clean water, shelter, and medicine — and giving them a new hope.
The people in the Congo don't need to hear about the difficult things that are happening. They are there. They are living it. What we really want to focus on with our social media messaging is the solutions we want to bring.
A lot of our Twitter and Facebook posts, along with our Youtube videos, have focused on solutions. We've talked about the new country we want to build. We've talked about covering everyone's basic needs. We've talked about innovation, education and women's empowerment.
The Congolese people have become a lot more pragmatic and want to see a campaign with an actual plan. We've had people join our movement just because of the fact that we have a platform and we want to focus on building infrastructure, green tech medicine and education, women's entrepreneurship, etc.
In America
On the American side, it's almost the exact opposite because most people here don't know what's happening in the Congo. A lot of our social media must to start with a very bird's eye view of what's happening. So we have to talk about general human rights issues and then move more specifically toward the Congo.
The biggest barrier to entry is educating people on what's happening in the country in a simple way. There are so many different types of media and media outlets on the Internet competing for the attention of an American person. We have to distill all of this very rich history and information into a tiny hashtag or a one-sentence blurb, which can be incredibly challenging. However, when people do actually engage in what's happening down on the ground, it really strikes a chord in a very powerful way.
A Hashtag Launches A Movement
Earlier this year, we launched a viral social media campaign called #whatcanyoubalance, challenging people all over the west to see what interesting objects they could balance on their heads in solidarity with women of the Congo. It was a fun way to get people engaged with our campaign, it was effective in bringing attention and engagement about the importance of the Congo to the Western audience.
Both The American and Congolese Audiences Are Truly Important
Needless to say, the Congolese audience is important because that's whom we are trying to reach, and whose lives we are going to transform.
The American side helps us to spread and amplify our message. In the eyes of the world, whatever Americans care about is of paramount importance. And the Western audience has the power to shed light on any world issue (remember Kony?). The Western audience is also essential for bringing light upon a place that has existed in so much darkness.
There is definitely a social media challenge happening where we're constantly having to look at which medium we need to be using, which audience we need to be focusing on, but at the same time needing to pay credence and heed to both at the same time, but in very different ways.
That is the challenge. But that is also the beauty: using the tools of social media to bring together a world united and show people that they can build a bright future together. And that they are not as different as they might think.
Contact Brenton Weyi
Campaign Architect, Weyi for President
http://emmanuelweyi.com
Facebook – President of Democratic Republic of Congo Candidate
Twitter – Weyi For President