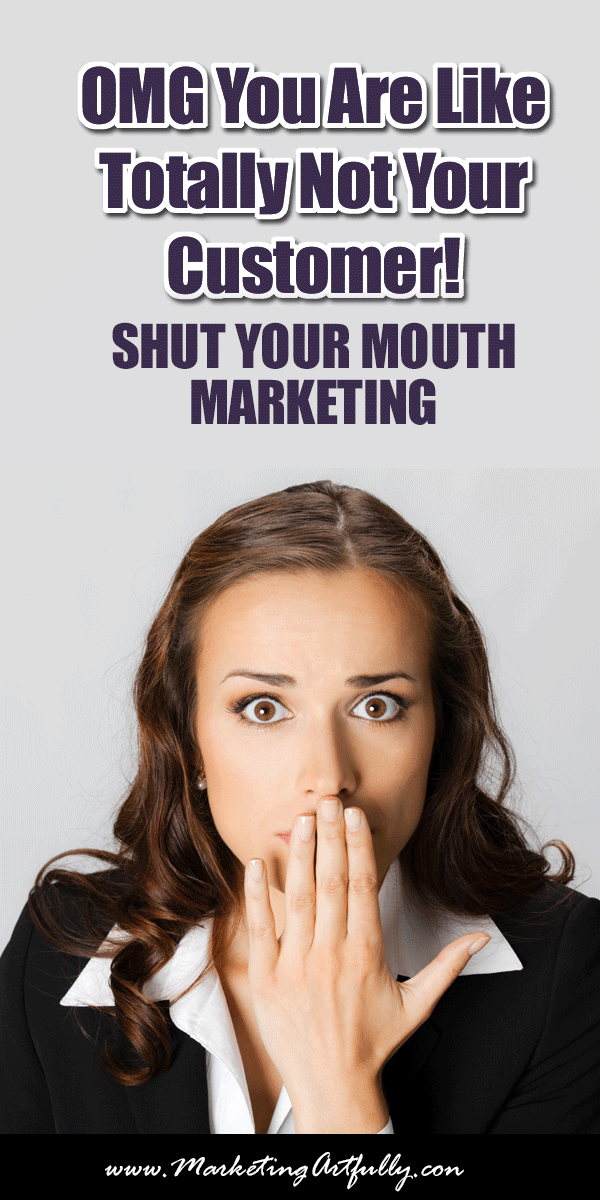 There is a phrase in small business marketing that we forget all..the..time..YOU ARE NOT YOUR CUSTOMER!
When I was growing up we said "like" A LOT. Like, almost every other word. It was severely annoying to my Daddy who thought that was the dumbest sounding thing he had ever heard. More recently the kids have said things like "OMG" for Oh, My God and "No, I'm Good" to mean almost any negative response…you want to go to the mall, "No, I'm Good". One of the mommies at the bus stop is ready to pull her hair out over her daughters almost universal negative answers…You want to take out the trash? No, I am good!
I know, you are thinking how dumb kids are, but wait, there is more. When I was in the corporate world we had a fun little game we played on conference calls, buzzword B-I-N-G-O. In this super fun game we would vaguely listen to what the person on the other end of the line was saying, except to try and note when they used industry buzzwords (mostly in the wrong way!) There were "stakeholders" and "metrics", "blowback" and "buy in". Much like the OMGs and Likes of the kids, having these sort of touchstone words made our clients and prospects feel more secure in their world.
So we have found out that people do things in "packs" because that makes them feel like part of a club.
Rarely Is Our World Our Exactly Our Customer's World
Sometimes in business we are exactly match our customers, or we think we do. Funny story… a client who loves super healthy living and takes women out in the wilderness and has them cook their own food on campfires for a week took her gang to the store where mayhem ruled.
The premise of the camping trip was sort of back to nature, healthy living, etc. but no one told one lady who felt that her "cooking" should be ice cream for dinner. My client was astounded, who would eat ice cream for dinner? There was a complete mis-match between Chris' world and her client's perception.
So we have confirmed that we are probably NOT exactly like every one of our customers.
Facebook Marketing Won't Work Because I Say So
Lately I have been trying to figure out Facebook paid marketing. With the death of posts showing up in the feeds, to keep this as more than a placeholder channel I am probably going to have to spend a bit of money…sigh. That makes me sad because I really hate Facebook, shocking for a marketing person I know! The problem is I am an introvert so all that liking, sharing, talking, poking, Happy Birthdays and the rest wears me out. It makes me a little more tired and doesn't provide any kind of "juice" to my day. Additionally I would NEVER buy anything from a Facebook ad so it is hard to understand this as a marketing channel.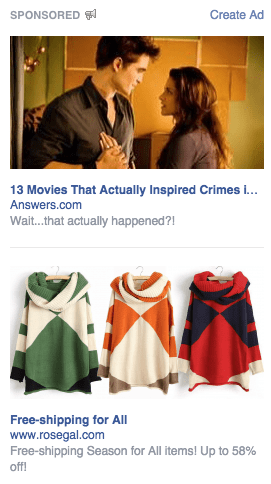 EXCEPT that companies have been showing me "ads" like the one on the top…a kinda cool story about true crimes. Now, I have indicated I like Shemar Moore and Criminal Minds, I like the show Bones and mystery books…hmmm wonder how they knew I would like a post like that. I don't know how this company generates revenue, it could be by hits to their website and so me reading that, maybe liking it and then sharing it with my network would pay off for them.
That said, the next ad down would NOT appeal to me at all…I don't wear those kinds of fancy clothes, but wait…I do have a 16 year old daughter who loves cute clothes.
They have shown me a bunch of different kinds of clothing but ultimately I clicked on one that I thought would appeal to Britty. Imagine that, do you think that company selling cute clothes knows about my daughter and her cuteness? I am sure they do!
So now we have figured out there are ways to make any kind of marketing work if you know what you are doing.
Marketing "Tricks" Don't Work On Me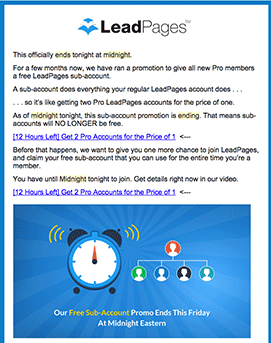 Besides those rascally Facebook marketers, I just want you to know that absolutely no other marketing "tricks" work on me (I know them all!) Um…except that I did buy LeadPages on a certain day because they told me a feature that I liked was going to end at midnight.
I have been meaning to get LeadPages for a while now, but I have been busy. I launched a marketing workbook that I have aggressive goals for selling and LeadPages would help with that, but did I really have time to learn a new system and get everything set up? Then one day they said that if you bought today you could still get a free extra account but tomorrow that offer would be off the table. I had attended webinars with them and they were giving away TONS of bonuses for all different kinds of things, but I never bit. But that one email made me get my credit card out and sign up that day.
This matters because there are other products out there competing with LeadPages that I have been looking at. They are cheaper and I might have been vulnerable to have had LeadPages sell me on the concept and then one of those other companies close me. It was vital that they get my buy-in so that I became a customer and they finally found something that would tip me over to the point of purchasing.
So now we know that marketing "tricks" work when someone really does want to buy what you are selling.
SHUT YOUR MOUTH – Small Business Marketing
So if you are like me and thinking about a new marketing channel or trying a new marketing tactic, you need to shut your mouth and ignore that little voice in your head that says, "no one buys from infomercials" – they do!, "no one buys from Facebook" – they do, "no one every makes a sale at networking" – they do!
It is your (and my) limiting beliefs that make sure it won't work.
If you are sure Facebook marketing will not work, there is a good chance you will not put in the time to understand the best messages for your audience. You will probably not monitor and track your results as much as you should to get the best sale-through rates. You won't think that your team's time spent learning about Facebook is valuable.
I recommend that you make a list of every marketing channel you have ever heard of and then start researching them. Find out if your competition is on there. Find out if anyone has a course telling you how to do it. Find out if your marketing budget matches what you are trying to accomplish on that channel. Once you have picked a course of action, go all in. Take the time to learn, monitor and tweak that marketing until it is getting you the best possible results!
PS – I have an affiliate link in here for LeadPages because one of my sales channels is to promote great products that I use myself. If you are thinking about some kind of marketing and want to know which course I recommend, shoot me an email today! Tara (at) MarketingArtfully.com (I get at least two messages a day from people with questions!)
One Last Thing To Think About