So I was lifting my skirt a little bit last week when I was talking about my Business Strategy, Motivation and Everything Falling Apart (if you are going to be playing along today, it might worth it to check out that one first).
In a nutshell, I sat down and really focused on what three areas of my business would most fit my life now and have firmly decided on:
Affiliate Sales
One-On-One Coaching
Clients (SMM)
These are my business strategy for the rest of this year. Whoo whoo! How freeing. If it is something else that is shiney and pretty, it has to wait a while to get my attention.
Is This A New Business Strategy?
I was talking with a potential coaching client the other day and he was a little surprised that I wasn't going to try and tell him all different kinds of new things that he could do to market his business. Instead we looked at what he was already doing and just restructured his efforts.
"Tara Jacobsen and Marketing Artfully were exactly the punch in the face I needed to get me focused on what's really important for my authority-based business. I didn't even know I had an authority-based business, until Tara showed it to me. Now I have direction and (way more important) a kick-butt strategy for moving fast toward my goals. I'm a raving fan."
Me going through this process is the same. I had to really sit down and take a look at all the things that I have right now and how they will fit into my goals and lifestyle.
If you are playing along at home, mostly you don't have to look beyond what you are already doing, you just need to either focus all your bits at one target or cut out the bits that not helping you get where you want to go!
A Marketing Plan
If you are reading this post, there is a good chance you at least sort of like marketing! Well I am here to tell you that I don't just like marketing, I LOVE IT! And because of that, there are so many things I COULD do marketing wise that I am drowning in possibilities.
But worse than that, I am spending all my time feeling guilty that I am not doing everything I have heard about and doing it well. So now I am back to the notecards…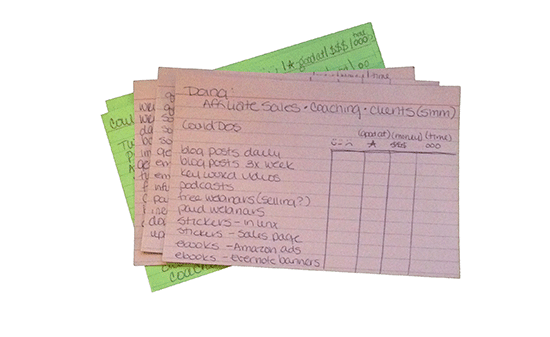 Okay, I have three pages of "could dos" (I am a marketing junky…don't judge me!)
These include:
blog posts daily
blog posts 3X per week
keyword videos
podcast
free webinars (selling?)
paid webinars
stickers – inlinkz
stickers – sales page
ebooks – amazon ads
ebooks – evernote banners
meet edgar
download pictures daily
quote graphics daily

quote graphics 3X per week
social media – twitter
social media – facebook
social media – pinterest
get 50K visitors month to blog
email – fix autoresponders
email – lead boxes resources
infusionsoft quiz
paid newsletter
update social media with new info

writing linkedin posts
writing medium posts
daily short videos
book promotion videos
IMF – making friends
get 50K twitter followers
twitter ads
funny mail
creative do dads
half postcards
direct mailings (to who?)
daily instagram pictures
tweek website
fix about us page
Nothing But Time
If I had 100 hours in a day, I would love to do most of those things (just having them all in one place let me see that there are a couple I wouldn't want to do anyways). So my next step is to make a "perfect week" or "perfect month" calendar that will show exactly how much time I have to do all these wonderful things.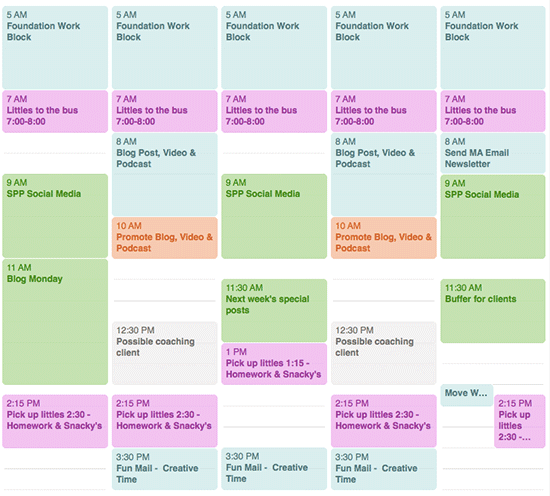 So there is a basic layout of my week. I have left some a little wiggle-room time (the fabulous Chris Brogan says to leave 40% but I am a bit tighter than that. So functionally it looks like I can have 2 coaching clients a week for a total of 12-ish monthly right now (I am at at 8 and closing my doors soon). When I turn over the SPP social media guys I can add some more coaching clients, but sort of glad that I have a 6 week runway for getting this started.
For you it might look differently. You might be a night owl who can do their blog posts after everyone has gone to bed or you might not have as much time tied up in client work.
Whatever you do decide, you cannot add more hours in a day. I think that is the biggest mistake I see people make. They have all these great plans and schemes, but then cannot implement because there is no time to do everything they have committed to.
The Marketing Plan Details
Okay, we are down here where the rubber meets the road now! It is great that I have all the big areas filled up, but what is going to go into the blog parts, videos and podcast content. What should I do in my foundation work blocks.
I am a super nut about having checklists so I made myself a worksheet that will show EXACTLY the tasks that I have to get done each day. Because I have thought them out carefully and said that THESE are the things that matter, I feel confident that I will be able to get at 75% of them accomplished weekly.
Wait a second…what did I just say? That I would not commit myself to doing 110%? I am as dedicated as the next gal and work my face off, but have also learned over the years that a great plan executed well will make much more of a difference than a perfect plan abandoned because of ridiculous expectations.
Instead of thinking like a drill sergeant, I like to be a little kinder to myself and go with the old Alcoholics Anonymous model, know what your goal is and then take one day at a time. If I miss a day, all is not lost. I pick myself off, stop with the horrible self talk, dust myself off and win the next day instead!
So there you have it! My mini business strategy and marketing plan seminar, all in two posts! If this helped at all, please email me at tara (at) marketingartfully.com and let me know. I love hearing success stories!!
(Visited 62 times, 1 visits today)