There are some big changes in how Google delivers search results. The three that I am obsessed with right now are the Google and Twitter real time search results, the Google local search functions and the Google "your friends" search results.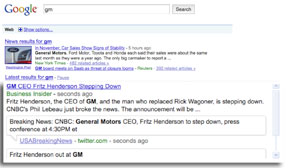 GOOGLE REAL TIME TWITTER RESULTS
Google returns twitter results in real time right on the search page. Did you know that? Did you think of how that could effect what you post on Twitter? Now don't get me wrong, they are not posting up to the minute "tweets" on every topic BUT they are posting tweets on trending topics like they did during the superbowl for "superbowl ads". There they were returning real time twitter results at the top of the search page right under the first organic listing.
So when you post to twitter are you using your keywords? Google is a giant database that has nothing to use to categorize your information other than words (OK – I know that they are working on categorizing videos too but that is a post for another day!) SOOOO when you post a tweet about your blog post or a Facebook note or something else that leads from your breadcrumbs back your main site, make sure you great keywords as part of your 140 characters!
Here is some great insider information on the google blog about the real time twitter search results.
GOOGLE LOCAL SEARCH RESULTS
This one is pretty annoying to marketers. Basically it means that Google can change the results you are shown based upon your IP address, whether or not you are logged into google when searching and even some of what you have searched for and clicked on previously.
This means that although you do a search and your site shows up in the top ten results on the first page, that may not be the case all across America (or even across town). The way to check and see if you are seeing a true result is to go to a proxy site like the elegantly named Hide My Ass and THEN type in the google search site. This will allow you to see what search results are coming up without all the baggage that comes with using your computer at your home or office.
Additionally, this means that there is no easy SEO solution!!!! If someone calls you and guarantees that they can get your site on the first page of google for a search phrase, ask them how they are going to accomplish that so it works globally. Additionally, paying lots of money for one search phrase is silly – if you are going to spend that kind of money use adwords and get lots of search phrases!
YOUR FRIENDS GOOGLE SEARCH RESULTS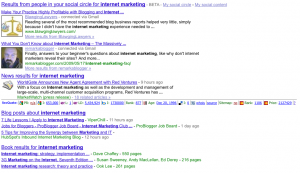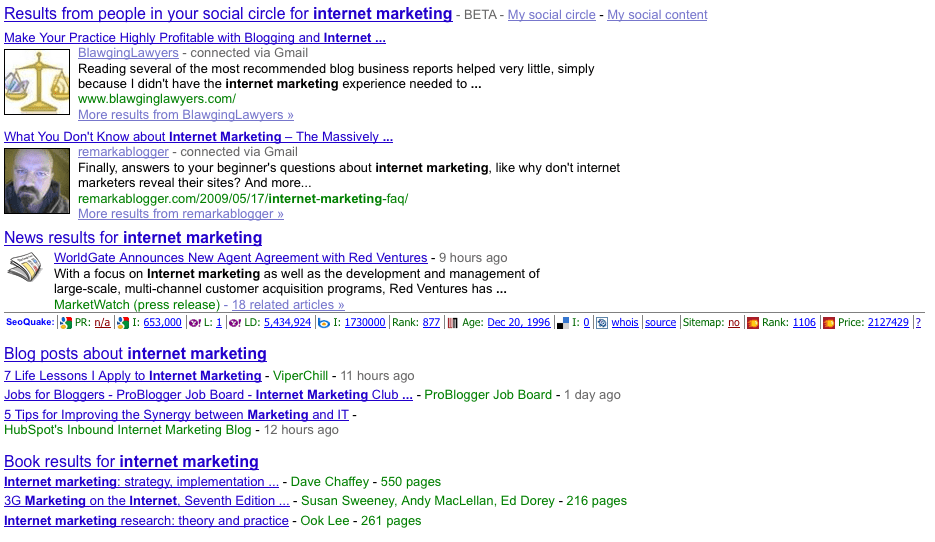 Last but not least, Google now tells me the search results that my friends are returning. My blogging buddy Michael Martine over at Remarkablogger is "ranking on the first page" of my search results for internet marketing because google knows that he is is in my gmail contacts. THAT IS HUGE! That means that people google thinks are connected to me will see MY results on the first page.
Many times small business owners want me to tell them how social networking benefits them. They want to know that all that effort they are putting in makes a difference. Well, if you had asked me last week for a really great reason to have friends, and twitter friends and big contact lists in google I may have answered differently. Today with google buzz starting up and then seeing these new search results, I am more committed to growing large networks than ever!