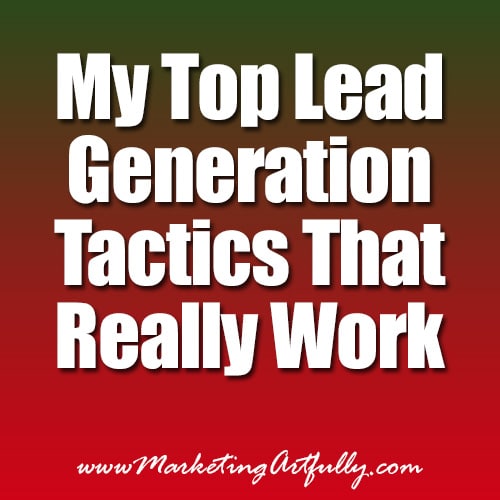 What are lead generation tactics anyways? Let' step back one pace and talk about "what are leads".
Too many of my peeps think that leads are sure things. They are people ready, willing and able to buy today. Sigh. Leads are people who have raised their hand and said they are somewhat interested in what you are selling BUT have not said that they are willing to spend their hard earned dollars – YET.
When you are lucky enough to attract a lead, you need to make sure that you have an effective sales funnel to move them from lead status to customer status.
Okay, enough about stupid leads already…onto my personal top lead generation tactics that really work!
1. Speaking
My first love and greatest lead magnet is to be a speaker. When you are the trusted authority at the front of the room, lead generation turns from begging and groveling one-on-one to one-on-many conversations where people WANT to be on your list, get your stuff and buy your products. Now, they are not all ready to buy today so you need to use some kind of followup system (we use and recommend Infusionsoft!)
One last thing I see with speakers is that they have a buy or "wha-wha-wha" mentality. By this I mean that unless someone purchases something, they are not included in the lead capture for the on-site event. If you are doing this you are leaving A LOT future revenue on the table. Stop focusing on the people running to the back of the room to buy and start cultivating EVERYONE in the room as a lifetime customer.
2. Blogging
I cannot even tell you how many opportunities I have gotten because I am willing to talk about marketing and put myself out there. I truly believe that everyone needs to have a blog as a HUB to drive everything back to! If you have a fancy formal site, it is really hard to go on a rant and talk about something that matters to you passionately. It is hard to write a quick post and plop a video into it. So, if you are still living in 1999 with your website, get on the blog bus and start writing.
3. Having partners
Some people call these referrals, referral partners and the like, but for me this is just people out in the marketplace who are willing to recommend me when they hear someone has a need I can help with. NOW, I don't think they are great at selling their own businesses so I am not counting on them to generate sales copy, printed materials and the like that they can share. Instead I give the materials that represent my company the way that I like to be seen (this is one of the things that we give to share – Social Media Magazine) They get a few printed copies that they can give to prospects they think might be a good fit!
4. Being proactive
This is a biggie! Just last week we were talking with a client who was confused about why no one was taking her up on her free offer. She was offering a FREE Half Hour consult and no one was biting. We asked what she was doing….come to find out she would meet someone, engage in delightful conversation and then give them her business card that had her offer on the back. She would then go back to her office and wait for them to call her.
In my world, this goes a little differently. I speak (or meet someone), tell them what I do, and IF they are interested in taking it a step further I immediately ask them for their card and let them know that my Gal will give them a call. I don't try to negotiate pricing, schedule a time or any other bits. My Executive Admin Shell then calls them, figures out what is the best fit for them, does all the preliminary legwork (like getting me paid) and THEN I am notified on my calendar that I have an appointment.
The reason this works so well is that I am not constantly being rejected, having to follow up a gagillion times (which takes away from my work time), or hearing the same "stuff" over and over. If I was doing all this part, I would be less inclined to get leads because I would know that they would just mean pain for me to do the legwork. If you do not have somebody following up on your leads, get someone TODAY!
5. Last but certainly not least, I play the WIFT channel in my head at all times!
This is the "What's In It For Me" channel that everyone has going in their head all the time. You know the feeling when you are listening to a speaker and they start giving you an extended sales pitch, part way through you think, "surely they will tell me something that will help me without having to buy", and the overwhelming feeling that you will NEVER buy from them because they just wasted an hour of your life. Gary Vaynerchuk calls this the 19 year old dude syndrom. Trying to "score" too soon can mean you lose the game entirely.
Instead you HAVE to provide value to your target demographic and keep giving them value. Now-a-days we think that everyone on the internet is trying to sell us some snake oil and so you have to make sure you build the know, like and trust factor BEFORE you jump on them asking them to "buy my stuff". You can do this automatically buy giving something away for free like our Best Darn Email Marketing Course EVER. When someone signs up they get tremendous value PLUS I get the chance to "talk" with them as the consume 6 emails with videos of me talking.
I couldn't PAY them to listen to me talk about my business for an hour and a half, but because I am helping them, they are happy to listen and start to know me a bit! We also have offers and calls to actions sprinkled throughout which lead to more sales!
(Visited 33 times, 1 visits today)