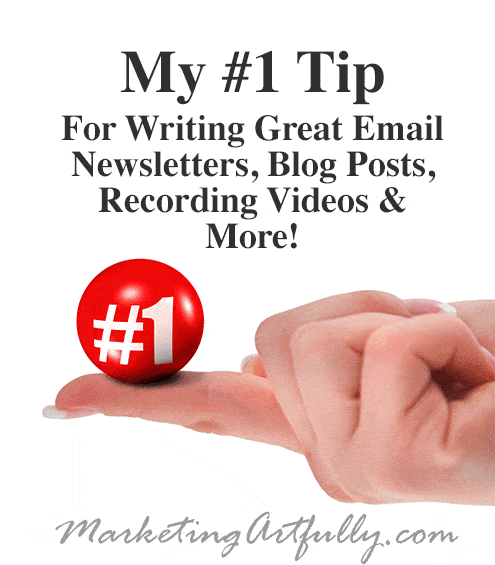 I never talk about my number one tip for anything because things change, I learn something new, and generally marketing is moving target so I have to stay nimble like a tiger.
But today, I am throwing down with my #1, all time, most important, never goes out of style tip for writing great email newsletters, crafting amazing blog posts, recording stunning videos and every other sort of marketing that you do. In fact, it is one of the main, evergreen tenants of good marketing theory and I don't we are talking about it enough!
You are only talking to one person.
There, for you High D's who are worried that this is going to take too long, I have just blurted it out, for the rest of you, follow along!
When we are crafting blog posts or email newsletters, oftentimes we are thinking about all the people who are reading, listening or generally going to consume our info. We use terms like, "you all", "you guys" or "everybody". But think about it for a minute. Almost EVERY piece of content is being seen by just one person sitting at their computer or looking at it on their smart phone.
How To Go About Writing Great Email Newsletters, Articles or Blog Posts and Record Amazing Videos
Unlike "the news" which really is made for mass consumption, your written words are going to be sent out via email or over the internet. There will not be a gang of people sitting in a room waiting to read your pearls of wisdom, there will only be one person clicking that link and reading your words.
The easiest way to write for one person is to get a real person (or two) in your head and write as if you are talking to them. In another post I did for our Marketing and Media Monsters site I wrote today about new age marketing, I was thinking of two gals, Andye Murphy and Regina Sisco. Some of the ideas were specific to each of their businesses and I got double the great tips out because each has a little different business.
Another thing to check when you are producing content is are you saying YOU more than you are saying I or WE. If you are saying "we do this", "I am" or "our tools" too much, your reader or listener will get grouchy and abandon all hope of you helping them! Howie Jacobson has my favorite saying, "are you we'ing all over them?" (read it out loud, it is really funny!) This is a SUPER easy way to tell if you content is great.
Last but not least, my besty the Colorado Connector talks A LOT about the WIFM (what's in it for me) Channel that people are always playing in their heads. If your content is all about me, what I do or how I can help them, they will go away. Every person wants to know that you like them, that you care about their problems and that you have the solution for solving those problems.
Seriously, just making sure that you are talking to one person will make a tremendous difference in how your marketing is received! Now, go look at your web pages, listen to your videos and check out your last couple of email newsletters. Do not beat yourself up, just start a list of what you need to fix and grind through it. Then, start writing as if you are talking to your friends or best clients. Write as if you are telling them something and watch the accolades roll in!