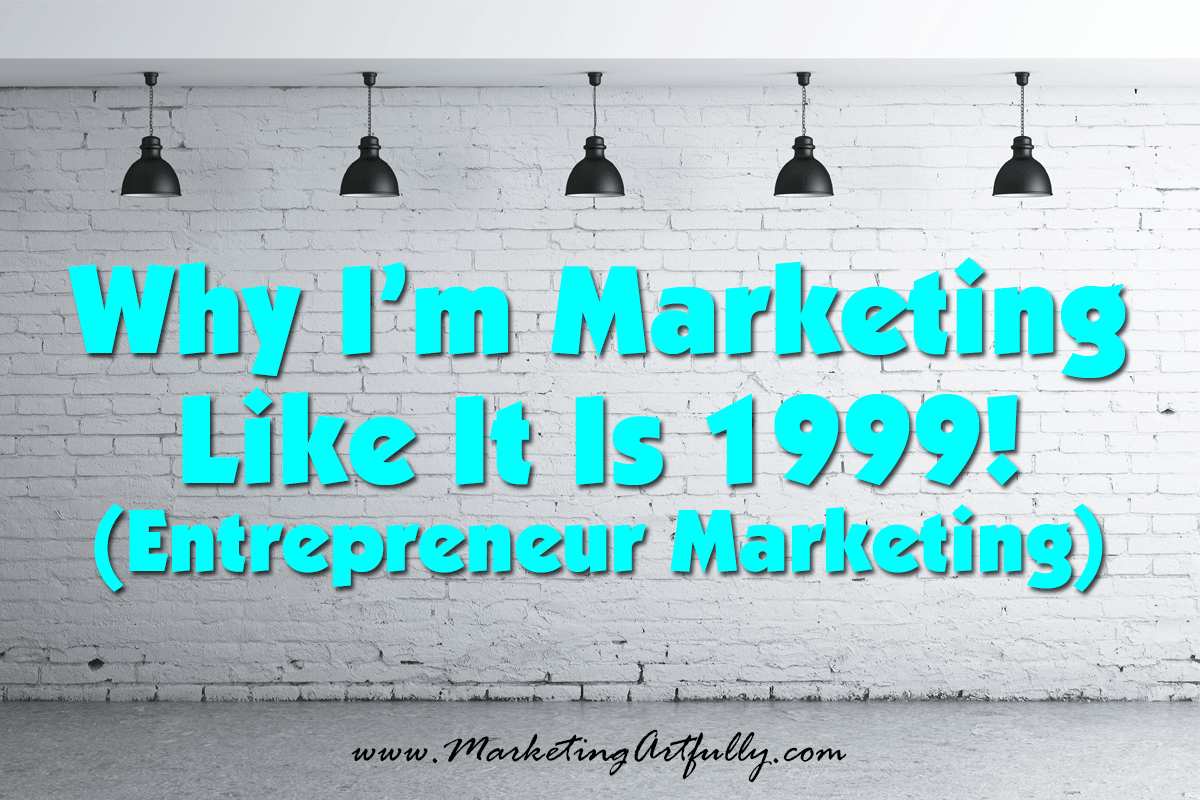 I have fallen off the internet marketing wagon and I am doing my entrepreneur marketing like it is 1999!
What was so special about 1999? That was the first year I actually started working on the computer every day and sent my first email message to a group that included a Gigabite sized picture (that would be big today, then it was HUGE and email guy politely told me he liked my marketing very much but if I sent 100 gigs over the email system again he would kill me!)
It also sounds like a Prince Song that I like (unfortunately Prince isn't an internet guy so I can't share a video with you – ironic!)
Offline Marketing Tips and Tricks for Entrepreneurs
Somedays I really don't want to spend all my time banging away on a computer. Somedays I want old-school marketing to be back in style and to not have to friend, like or post anything. Well recently I took this show on the road and started making a 1999 product that is going to be the cornerstone of my business!
Marketing Strategy Workbook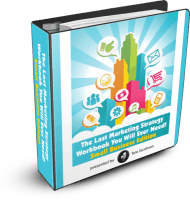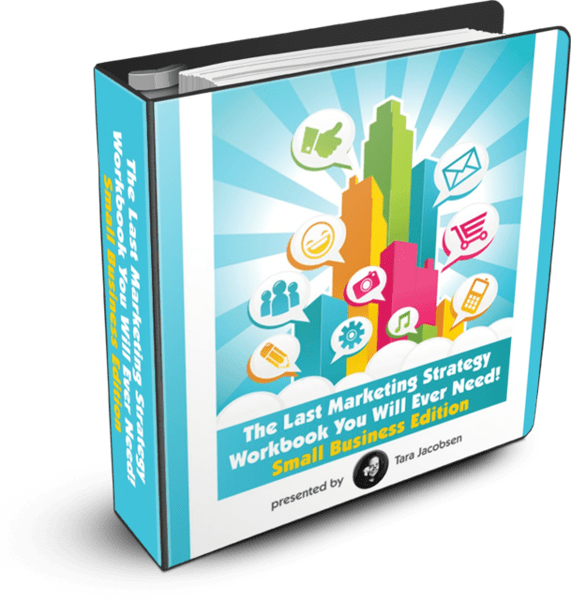 With all the online, ereader and ebook options, why did I make a 100+ page workbook that you have to print out to use? A couple of reasons. I am a writer. I like notebooks and workbooks and to put pen to paper to get my thoughts down. I KNOW, there are ways that I can do this with a stylus and my iPad, but that is just not the same. I don't take as much consideration, stopping everything and really thinking about what I am doing.
Additionally I like to have a record of where I started and where I am now. Keeping files on the computer is nice, but really who ever goes back and "flips" through old files? With pieces of paper I can take a peek back and see if I have accomplished what I set out to do.
Lastly I think there are other people like me who want to have more than just a PDF that they put on their reader and ignore. My workbook will be available for sale in hard copy wherever I am. My newsletter will be going out in hard copy to my members on hole punched paper so they can just add it right in.
I know that having a real workbook is a quaint idea in this day and age, but I am so happy I did it this way!
>> find out more about my amazingly brilliant marketing strategy workbook!
Speaking
Having just done a "launch" of my product online, I can tell you in all sincerity that at least 3/4 of the people who bought have seen me speak in person. There is nothing that can compete with getting the chance to stand up in front of a group and show how helpful and knowledgable you are.
One of the reasons this might have been so successful was that I had never really had a tangible asset to sell them. I had had courses (online), offers of of coaching (ephemeral) and upcoming events, but never something that they could print out whole and hold in their hands.
Postcards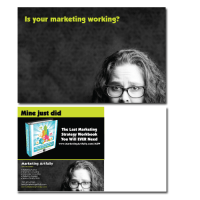 Remember when entrepreneur marketing WAS postcards and direct mail. When the only way to get your message out was to send it out on 5.5X8.5″ cardstock. Well those days are done. Today I use Vistaprint and spend about $20 to get 50 postcards. Each of those postcards gives me a chance of selling something. Of getting a new client and making another sale.
Because so few people send postcards, the impact that you can make selling them is really high!
Personal Notes
The last thing I am implementing throughout the rest of this year and beyond is to send personal notes when someone does something nice (like buys my product or asks me to speak!) Figuring this one out took a little bit of thought on my part (had to get back in the habit of asking for a physical address instead of just collecting an email address – oh the horror!)
Truthfully, the power of the personal note is that it just is nice to get something in the mail from someone when you never expected it…:)
The Real Truth – How Internet Marketing Supports Offline Marketing
So now that I am all sanctimonious about my 1999 marketing, let's talk for real about why this is all possible in this day and age!
Resources On My Website
Making a workbook is nice, but how was I going to put all of the supporting material into a workbook. Explaining how to do some of the things is so much easier by doing a video and posting it to YouTube. Back in 1999 it would have been a multi-month process to build my own video platform, then I would have had to had a videographer to record it. Today I just use Screencast-O-Matic, record them and upload to YouTube in a matter of minutes.
Creative Cloud
Back in the day there was only Microsoft Word or Publisher to make a big document like my workbook. Today I use Adobe Creative Cloud and InDesign to make it. I have a digital subscription that gives me access to every kind of Adobe product available for about $50 a month (back in 1999 that one piece of software would cost almost $1,000!)
Stock Photography and Small Print Runs
Another brilliant thing about today is that I can buy stock photography for pennies. Using a site like DepositPhotos.com I pay about $20 a month for as many pictures as I want. Considering stock photos used to be hundreds of dollars each, score! Remember my little postcard campaign, before print on demand I would have had to order thousands of cards and spend hundreds of dollars instead of about $20!
Email List
To advertise my workbook launch I used my email list. Instead of having to send something out after reviewing my Rolodex, I was able to send a message to thousands of people all at once for free (minus the cost of Infusionsoft!) I put everyone from my speaking events into that database and grow it online with an opt-in form.
Social Media Circles
In addition to my email database I sent out messages on social media reminding people that my launch was ending soon and the price would be going up. Broadcasting like that to thousands of people would have only been possible with a TV commercial before. Today we are each a media company in and of ourselves!
Website
Last but not least I have a website that gets great traffic for my chosen category (entrepreneur marketing). Each day hundreds of people come by to see my "stuff" and I get a chance to sell them my workbook by writing posts (like this one) and banner ads. Not only that but they might join my email list and buy my workbook later.
For less than about $200 a year I have all my website software, hosting and tools to use to have an online presence. In 1999 it cost between $10,000 and $40,000 to have a site like mine! (I know because I was in the business of selling websites then!)
Wrapup
So which is better? Online or offline marketing? I think that is the wrong question!
The right question is, what are your skillsets and interests. I like sending mail (going to the Post Office is fun, my dad likes it too!) I like speaking and making workbooks and worksheets. I like designing postcards. I like writing blog posts.
Stop right now and think about what you like to do! Do you like meeting new people face-to-face (then start doing old school networking with an online backup of "friending" them on Facebook and adding them to your email database. Like making phone calls? Follow them up with a Video email a couple of days later to see if they are ready to buy.
There is no sense of not using all the entrepreneur marketing tools we have at our disposal, old-fashioned and new-fangled alike!