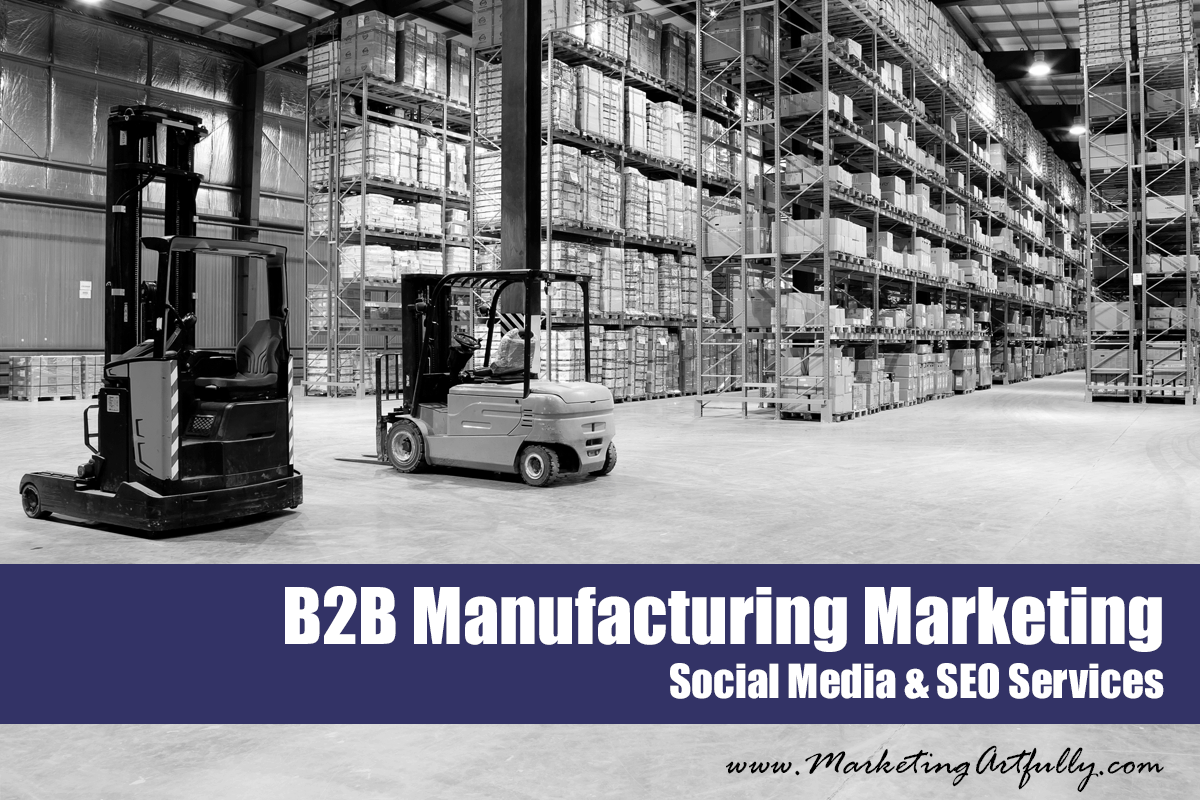 Manufacturing marketing on social media or Google is completely different than doing a campaign to consumers. The very nature of B2B (Business To Business) marketing is that it is not to provide fun and distraction to people, but to serve as a source of information and practical sales generating content that increases brand awareness and industry influence.
As such, the goals for manufacturing marketing differ from today's general marketing goals in very significant ways.
Goals For Manufacturing Marketing
Goals for manufacturing marketing reflect the changing nature of the marketing world in general. In the past it was easy enough to generate business and create leads just by advertising in the industry publications and attending trade shows. Today's manufacturing marketing looks more like a three-ring circus than a straight-line with 77% of manufacturers using Facebook, 67% using YouTube, 61% using LinkedIn and 57% using Twitter to communicate with their customers and prospects.[1]
Additionally, goals for this sector are less about "closing the sale" and more about generating opportunities. Social media and SEO marketing can help your company be a dominant player in your industry.
Connect with distributors, keeping your product top of mind
Find new distributors by targeting key influencers in a targeted geographic area
Provide content for your team to share on their social media channels
Show social proof that your products are effective
Dominate the search terms for your industry on Google
Share relevant industry information and be a thought leader in your space
Keys To A Successful Manufacturer Marketing Campaign
Social media is not any different than other forms of marketing. There is a formula for increasing your revenue using social, as long as you know your goals and objectives before starting a social media marketing campaign.
Some things that will increase the likelihood that your campaign will be profitable include:
Defined strategy for social media marketing
Well thought out plan for setting up your social presence
Focused means of driving sales through calls to action and lead capture
Step-By-Step system for social success
Integration with your website and targeted content plan
Done For You Marketing
We have a comprehensive "done for you" solution that will take all the work off your hands and make being a social media success a turnkey process for you!
Just think of it, no more finding "stuff" to post, following a bunch of strangers, and hoping that someday they will buy something. Now you can go back to working and making money without having to worry about Tweeting, Hashtagging or any other of the strange things you have to do make social successful.
Is it too late? With social media marketing it can feel like you are behind the curve and will not be able to get caught up with everyone else out there. Fortunately for you and unfortunately for us, many manufacturers are just plain ignorant of the fact that they have to have a social presence to market their business today. They are hoping that it will all just go away so things can get back to "normal". This creates opportunity in the market place for a smart manufacturing company to set in and take an unfair slice of the marketshare now while few are competing for it.
Call today to find out more about our Manufacturing Marketing Services! (727) 415-9165
Done For You Pricing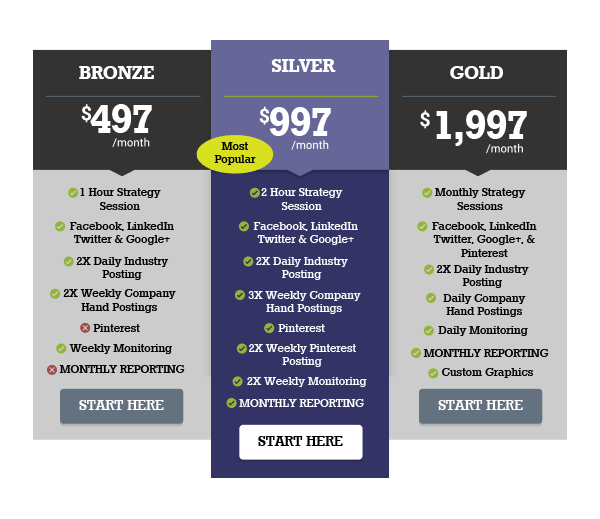 Social doesn't have to be cost prohibitive, but is certainly is not free like common lore tries to tell us. As a business owner, you know that marketing costs money and there is no marketing channel on the planet that doesn't require a dedicated budget and measurable results to determine success or failure.
We work with Manufacturing Companies, keeping our prices affordable and our deliverables tightly focused.
Systems For Success
One of the most important aspects of getting ROI on your social media is to have clear-cut goals and metrics that you are going to use to determine the effectiveness of your campaigns.
Some common metrics that you can use include:
Social site connection counts
Social interactions
Website hits
Influencer engagement
Public relations mentions
Database leads generated
Free offer signups
Inbound phone calls
Demo requests
Sales
It may come as a surprise that only one of the metrics mentioned is actually a confirmed sale. Social media is a marketing channel, not a sales channel and as such is serves the same purpose as print, direct mail and the like. Your goal with social media should be to drive some kind of engagement with your company, putting people into your pipeline and consistently driving them through your sales funnel to a closed sale.
>> Schedule a sales call to discuss your options today (727) 415-9165
Principals & Staff
The Marketing Artfully website and services are provided by Tara Jacobsen.
Tara is a nationally recognized marketing speaker who has owned and operated a marketing company since before there even was social media. Her expertise is in crafting a marketing plan that will generate measurable results for your business.
Our workers are primarily Colorado based, with a couple of others spread out over the United States. We think that we should provide jobs for people "here at home" instead of outsourcing them outside of the country. Additionally, we avoid ESL (English as a Second Language) trouble by hiring American.
All of our staff has been with us for over a year and some have been with us over seven years. None are interns or unpaid help. We structure our company that way so that we can control their schedules and assure our clients that all their content will be fun, innovative and appropriate for their industry with no "oops" or malicious postings by unhappy workers.
Start Here
What should you do next to get the ball rolling with your social media marketing efforts?

You can give us a no obligation call to find out more about our Manufacturing Marketing services and to request that we give you and idea about what sort of work we could do for you…(727) 415-9165