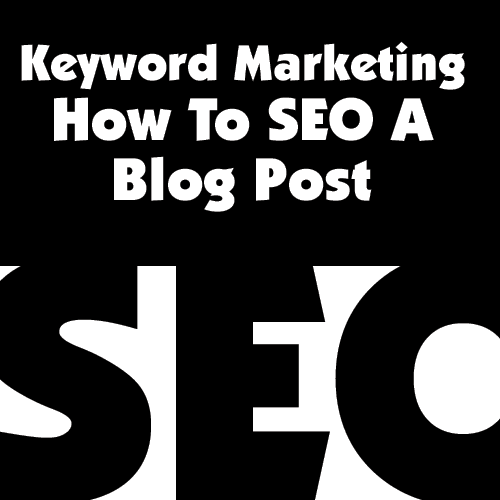 Years ago I wrote the perfect blog post and have been using it ever since to illustrate how to use Keyword Marketing to SEO a blog post (search engine optimize).
Just do a search for FUNNY REALTOR POSTCARDS and my post Realtor Marketing Funny Realtor Postcards comes up at the top of the list….but why?
There are a number of reasons:
Generally I rank on Page 1 of the Google for Realtor Marketing so my posts about realtor marketing rank well too! PLEASE know that this is because I wrote LOTS of realtor marketing posts and eventually I made the grade. I have three terms I am trying to rank for including realtor marketing, entrepreneur marketing and small business marketing. What are your three main keyword phrases?
I did all of the on-page SEO perfectly (if you don't know what that is, never fear, I will be breaking it out for you below).
Lastly I found a keyword phrase that gets SOME traffic and which could help my top level keyword move up. I use a neat plugin (SEO SearchTerms Tagging 2) to see what terms people used to get to my pages and for this page they used: realtor postcards ideas, funny real estate postcards, funny real estate postcard ideas, clever real estate postcards, humorous real estate postcards, funny realtor postcards, humerous (sp.) real estate postcards, funny real estate marketing postcards, realtor postcard ideas, and Funny Real Estate Marketing.
Now, I feel a little funny when I tell small business owners about this when they are just starting out as it is possible that ranking well for the search term realtor marketing might have given me an edge that is hard to overcome.
What to do, what to do? Okay, I am going to write a blog post that is perfect in every way for a site that DOES NOT rank highly or nationally for a search term and see how it goes!
The SEO Challenge
Get a post related to property management or denver property management to rank for the DenverRealtyAndRentals.com website. I have been kicking around the idea of having Tena rank for something along the lines of "executive property management" or "luxury property management" so let's start with doing some searches using the Google external keyword tool…here are the terms I looked for:
executive property management
luxury property management
denver executive property management
denver luxury propert management
ft collins executive property management
ft collins luxury property management

IMMEDIATE SCORE! Executive property management had an immediate score….low competition according to Google and high local monthly searches (2,400). In comparison "luxury property management had 3X fewer searches, giving us a clear winner.
Next I wanted to see how much competition there was so I went online and did a Google search for "executive property management" WITH the quotes which shows me who I am competing directly with nationally. Okay, 775,000 results nationally…not bad but sigh, that is a lot of direct competition.  Now the good thing was they were almost all geographically centered sites…so, what does it look like right here in Colorado….
DOH….there are NO competing sites at all for "denver executive property management"…double score. What about "ft collins executive property management"? Same thing, no results.
Now I have been doing keyword research for going on 15 years and I would have guessed that luxury property management would have been the higher search. This is why you always have to check!
The Metadata
I hate when people talk about Metadata because it is confusing to my biz peeps. Basically metadata just means that it is the bits the computers and Google use to know how to classify a site. There are 3 parts to metadata, the title, the description and the keywords (we are not going to look at these today as they are not as important as they were in the past).
The Title
Do a google search for something like "Small Business Marketing" (without the quotes) and you will see that all the top results have that phrase or close to that phrase in their post title tags…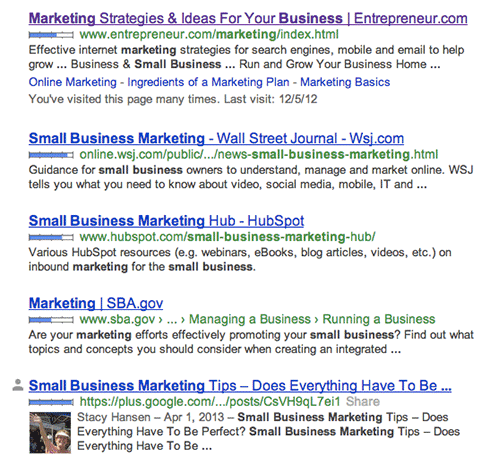 As you can see here, almost every post has that phrase, in that exact order. So, we need to make sure we don't mess up the SEO for our perfect post! While it would be tempting to use:
Denver and Ft Collins Executive Property Management Services
you probably have guessed that will not work as well as using:
Denver Executive Property Management | Ft Collins Executive Property Management Services
because we need to get the words we want to rank for in the property order! That straight up and down line between is a really great way to separate our search phrases as it doesn't bother the search engines. You make it by doing Shift plus forward slash which is above the Enter key on my keyboard.
The Description
The next thing you might have noticed from the above picture is that the words "small business marketing" are prominently displayed in the content of the top results. This is going to be important to getting us good rankings.
SOOOO….next I have to figure out what kind of content ranks well in the search engines so I am going to do a search for "new york executive property management" and see what I can swipe – use this as a model ONLY!, copying someone else's stuff verbatim really won't hurt them too much but will assure that the search engines think you have duplicate content and will not help you at all!
Rats, for a search term that has decent results, we got a whole lot of nothing to copy…so I will have to wing it:
Providing Executive Property Management services in the Denver and Ft. Collins Metro Areas, Denver Realty and Rentals is your best choice for superior property management service.
You are going to use this description as your metatags description AND as the first paragraph of your post!
The Picture
Another great place to get your words in is on your photo. We named this photo denver-ft-collins-executive-property-managment.png and made sure the description and alt tags of the photo read the same!
Additional SEO Items
You want to make a sandwich of your SEO using your main keywords in the first paragraph and then also as the end paragraph
Make sure that some of your subheads or bolds include your targeted keywords
DO NOT stuff your keywords in there excessively! You should have a nice mix of keywords and content so that people can read what you are writing. We have all had the experience of reading garbled text because they tried to use their keywords too frequently – don't be that guy!
Curious about what all this SEO looks like in real life? Well, check out our final product at the perfect post:
Denver Executive Property Management | Ft Collins Executive Property Management Services
The Results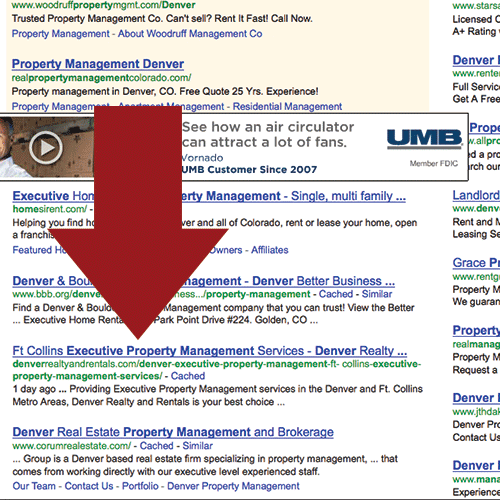 Less than a week later, Tena ranks #3 on PAGE ONE OF GOOGLE for an anonymised search for Denver Executive Property Management! WHOO WHOO
New Update! A month or so later, Tena is the top 3 of 4 listings for "Denver Executive Property Management"!