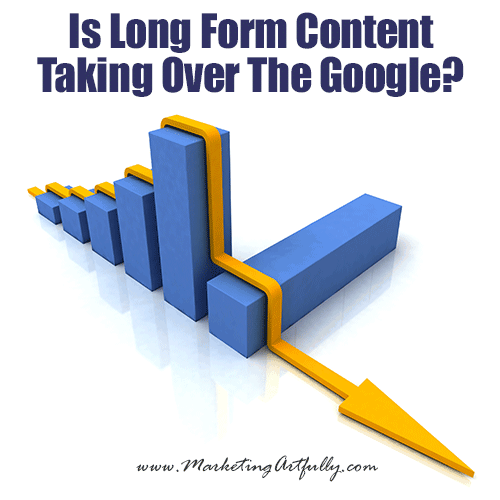 I read an article the other day about how long form content (a fancy word for really long articles) is dominating Google now. This seems to be counter intuitive to today's busy world as people try to consume less info in smaller chunks AND Gary Vee is writing whole books about how being brief and to the point is winning over long, intense posts.
What does make sense to me is that the "thin" sites from days of yore were made precisely to game the systems. These were full of short, crappy, spun posts that did not benefit Google's users, the searcher. So maybe deep in the bowels of Google's algorithm is a favoritism towards long content. How does Matt Cutts sleep at night knowing all the secrets of Google and still not telling us!!!
A Non Scientific Study of Long Form Content Results – My Data
I am not a math girl so I am not going to do an in depth study of numbers and variables, but what I do have is my analytics data that shows my old-old site with great traffic and a newer site that is process of growing. Let's take a peek at what those sites tell us about the length of articles in combination with their popularity (only based on my numbers – I know, you math whizzes are cringing right now!)
Best pages with views and word count Marketing Artfully (minus the home page and sales pages):
100 Great Email Subject Lines – Email Newsletters (2,635 views | 2,368 words)
What are important customer demographics? (717 views | 594 words)
Real Estate Marketing | 100 Great SEO Keywords for Realtors (713 views | 598 words)
Work Quotes With Pictures | Labor Day Quotes (612 views | 318 words)
Giving Thanks Quotes For Small Business (508 views | 755 words)
100 Great Twitter Tweet Examples (494 views | 1629 words)
Customer Demographics – Age Demographics for Advertising (441 views | 656 words)
Small Business Marketing – 100 Great Call To Action Examples (290 views | 769 words)
Best pages with views and word count M&M Monsters (minus the home page and sales pages):
Real Estate Marketing – Tips For Listing Agents, Writing Your MLS Listing (72 views | 885 words)
Easy Email Follow Up Plan for Networking (61 views | 1392 words)
Why Knowing Who Your Perfect Customer Is Matters (31 views | 869 words)
Why Infusionsoft! (29 views | 873 words)
Real Estate Marketing – What Should You Send In Your Email Newsletters? (26 views | 810 words)
Real Estate Marketing – How To Market To A Farm (24 views | 639 words)
Real Estate Newsletters – Are Newsletters Dead (23 views | 476 words)
Email Marketing – What is the difference between autoresponders and drip campaigns (21 views | 818 words)
Conclusions…first off, I don't really write posts between 300-400 words so there is NO chance for that length to be represented. That said, here is the breakdown by percentage of my top blog posts by length:
Epic (1500-2500 words) – 12.5%
Wordy-McWorderson (1000-1500) – 6.25%
Long But Not Stupid Long (500-1000) – 68.75%
Shortys – (400-500) – 12.5%
It seems like the sweet spot for getting traffic is somewhere between 500 and 1,000 words with 800-ish topping the list.
Google Results
Now lets go outside my posts and see how long the top Google results are for things I care about!
Customer Demographics
#1 – What are important customer demographics? (mine) 594 words
#2 – Customer Demographics (Frost & Sullivan – case study) 839 words
#3 – 14 Tips to Nail Down Demographics (Mashable) 1,245 words
#4 – Know Your Target Market (Entrepreneur.com) 1,281 words
#5 – What Are Your Customer Demographics? (Experian) 546 words
#6 – Demographics (Wikipedia) 650 words
#7 – The Difference Between Your Customer Demographics and Psychographics (YellowPages.com) 498 words
#8 – What are my best customers like? (Neilsen) 126 words
Conclusions – well I am in REALLY good company! I am sharing the first page with the likes of Entrepreneur, Neilsen and Mashable. All are between 498 and 1,281 words (with the exception of Neilsen's 126 words with a couple of graphs). Pretty spread out, let's look at another one!
Realtor Marketing
#1 – Realtor.com no words mostly pictures (stupid realtor.com)
#2 – Mobile List Builder Realtor.com no words mostly pictures (stupid realtor.com)
#3 – Realtor.org Field Guide to Marketing Tips for REALTORS® 768 words
#4 – Inman Next category page
#5 – Agent Boost 21 Low/No Cost Real Estate Marketing Tips 617 words
#6 – Marketing Monday 10 Killer Real Estate Marketing Ideas 2308 words
#7 – Mine – Realtor Marketing – Stop Offering A CMA | Comparative Market Analysis 561 views
#8 – Zillow Blog – Drones taking off as real estate marketing tool 645 views (first page, 1,142 total)
Conclusions – The NAR (National Association of Realtors) and Realtor.com dominate this keyword. That said, if you are a Realtor looking for marketing help you may wind up skipping the "official" sites after you have visited them once and move onto the sites lower down the page. I get a lot of traffic from Realtors looking for marketing help so they must be coming from somewhere!
Other Smart People Who Are Talking About This Too
Final long form content and Google thoughts. I think that we can safely say that a sweet spot to rank in Google for a specific keyword is about 800-1,000 words. There is also a bunch there around the 500 word mark but the concept that you can churn out 300 word minimum posts and get a quick hit ranking from Google is probably an urban myth. Hitting those high spots takes time, dedication and great content.
Side note, I follow ALL of these sites and they do not have just one amazing post about the topic. To rank well for a search term, your whole website has to have a cumulative ranking for that term and then you can break through with a great post that ranks on page one.
What does that mean? If you have a website that is all about Customer Demographics and write an AMAZING post about Social Media Marketing you may have a chance of that one ranking. BUT, if you have a site about weight loss and write that same AMAZING post about Social Media Marketing, your chances of ranking well diminish greatly!
(Visited 41 times, 1 visits today)